WOULD YOU CARE TO UPSIZE YOUR DYSON?
Author

Publish Date

Tue, 31 Mar 2020, 12:28PM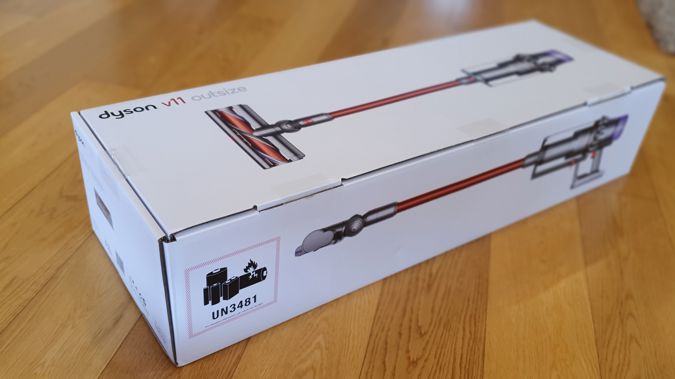 WOULD YOU CARE TO UPSIZE YOUR DYSON?
Author

Publish Date

Tue, 31 Mar 2020, 12:28PM
I think we're all agreed aren't we?
When it comes to cordless vacuums, Dyson is pretty much in a class of its own. There are plenty of imitators out there but other than the people who make those other machines, I haven't heard anyone claiming they perform anywhere near the level Dysons do.
This is largely due to the culture of design innovation Sir James Dyson and his team have established. I've met some of the Dyson engineers over the years and they're fanatical in their dedication to making their already great products even better.
Last year's V11 cordless vacuum had it all; intelligent sensors to automatically adjust suction for different surfaces. Unprecedented battery life, with a crystal clear LCD display to show you how much charge remains to the nearest second. And of course, the freaky little heart of it all, Dyson's patented Radial Cyclone technology and Hyperdymium motor, spinning at almost supernatural rates to provide more suction than you can shake a stick vacuum at.
So yes, the 2020 model is even better. But this time the improvements are so simple, they may be the most ingenious yet...
I've waxed lyrical many times before on the captivating design prowess entwined into any Dyson device. None more so than the last few generations of stick vacuums. So the prospect of trying out the new Dyson V11 Outsize was positively mouthwatering. Trouble is, I can't get my hands on the damn thing!
I don't know what it's like in your bubble, but living in lockdown has meant a massive spike in housework rates at the glennzb residence. Desperate for something, anything to do, even my kids have taken up some cleaning duties - although doing a terrible job of most of them obviously.
Not the case with the vacuuming though. Very difficult to get that wrong with a Dyson as part of the equation. Especially one with a 25% wider cleaner head. Yes, this year's first stroke of genius from the boffins at Dyson was to take that already amazing, auto-sensing, High-Torque head and stretch it... quite a bit. This means a significant time-saving of course, as you're covering more floor area with less strokes. It's still as manoeuvrable as ever, still knows the difference between carpet and hard floors - it's just wider.
As usual, there's an alternative "fluffy" head, specifically tailored for wood and tiles included in the box but if my experience with the original V11 is anything to go by, the auto-sensing head is so effective, the fluffy will probably stay in that box. Unlike the other five tools you'll also find in there, two of which you can carry around with you, snapped securely into the wand storage clip.
The second big innovation of the year is the other reason the Outsize is called the Outsize. The bin now has a generous 1.9 litre capacity - 150% bigger than before. Most weeks the V11 could handle me vacuuming my whole large family home without having to empty the bin halfway through... most weeks. Let's just say between three long-haired women, two medium-haired cats and Dyson's unparalleled suction power, you'd be amazed how much gunk can be sucked up on any given Friday morning. Now the V11 Outsize has plenty of room to spare. See? Simple but genius.
There's a third major upgrade which isn't really about size at all but will still be music to any Dyson fan's ears. The V11 Outsize features a replaceable battery - the feature some people have been waiting for before they purchase a Dyson at all. For a device of this size and power, the battery life is impressive anyway; up to sixty minutes on Eco mode. However, it does take a few hours to charge so running flat in the middle of your vacuuming can definitely put a dampener on things. Now you have the option of purchasing a spare click-in battery, which can be left charging in the same drop-in wall dock you store the V11 Outsize in. There's a simple, one-button release mechanism to swap out batteries in a matter of seconds. Of course, this goes a long way to reassuring prospective owners their $1399.00 purchase will definitely last them years, with a user-friendly battery replacement always an option if charge times start to fade down the track.
I love how Dyson refuses to rest on its design laurels with further little tweaks here and there. The power trigger has been modified to make it more comfortable to use for long periods and that outsized cleaner-head now has a revamped release mechanism so you can take it to bits for cleaning far more easily than before.
This is why using any Dyson product is always such a joy; design, design, design. You could simply say the V11 Outsize is pretty much the same, just bigger. That alone would be a pretty good reason to try one. But it's all those other little things, the tweaks and upgrades that mean I keep coming home to a freshly vacuumed house. I wonder if I'll ever get to have a turn?
Click here for more information and pricing on the V11 Outsize cordless vacuum.