Who Knew?
Author

Publish Date

Wed, 21 Apr 2021, 12:28PM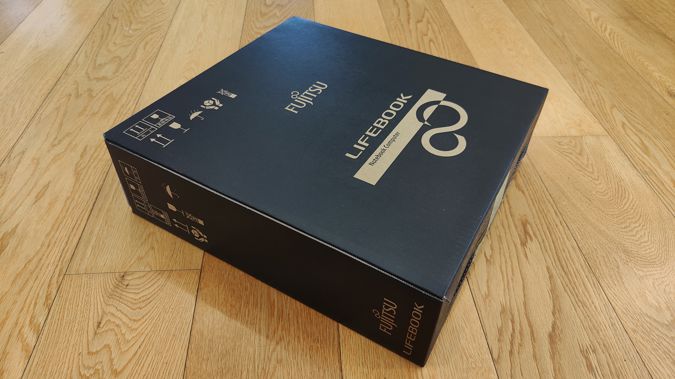 Who Knew?
Author

Publish Date

Wed, 21 Apr 2021, 12:28PM
Be honest. Did you have any idea Fujitsu makes laptops? Nope. Me either. And I review laptops.
So given I didn't know they made any, it was a real shock to discover there's a whole range of Fujitsu laptops... and desktops... and convertibles.
What's more, the newest of these is one the most remarkable devices I've come across...

The Fujitsu Tablet LIFEBOOK U9311X is red. So that's a fantastic reason to buy it straight away. I don't know why all laptops aren't red but hardly any of them are. The LIFEBOOK U9311X is red, so you should get one. It's a particularly cool red too, rich, deep and metallic. It's a very matte, kind of powder-coated finish which feels amazing and resists fingerprints quite well, although I've noticed I have managed to leave a few greasy smudges since I've been using it. Maybe it's the excitement.
The form factor was my next big surprise. While there is a LIFEBOOK U9311, which is a more conventional clamshell design, the U9311X has a 13.3-inch touchscreen which folds right around flat to use as a tablet or you can bend it over backwards to use in tent mode. It weighs in at just a smidge over one kilo - pretty amazing for a device like this. Most of the housing is lightweight magnesium but there's nothing flimsy or floppy about it at all. In fact, the hinge mechanism is very firm and there are even a few nice little touches like small, rubberised bumpers on the palmward corners which also help the device stay in place when in tent mode.
But the thing that really blew me away with the LIFEBOOK U9311X is all the bits and pieces. I've become so used to laptops and tablets with virtually no physical connection options at all, I was frankly taken aback when I pulled this one out of the box. Not only are there two Thunderbolt 4 USB-C ports, there are two USB-A's as well. Not to mention an SD card reader, an HDMI port and even a slot for smart cards! (This is for two-factor login security - not buying groceries online)
But wait! There's more!
It seems like everywhere you look, there's another slot - including a pullout ethernet connecter. Yes, although the LIFEBOOK U9311X isn't actually thick enough to support a full-sized LAN port, you just slide it out and unfold it when you need it. I'm not sure how durable it is but I haven't broken it yet.
Oh, did I mention the palm reader?
That's right. This computer literally reads palms - not to tell your fortune but as a secure login alternative to the Windows Hello camera, which it also has of course. I found the palm option to be a little fiddly and not as consistent as the face-unlock - which probably means it's more secure. Oddly, I had to download the software to set it up from the Fujitsu website too - it wasn't pre-installed. In fact, there was little to no bloatware to be found on this device at all. Just a few useful utilities like Intel's Graphics Command Center which lets you tweak your visual settings to make the most of the integrated Iris Xe graphics abilities and a very basic app from Dirac, the sound experts responsible for tuning the on-board speaker array. Dirac Audio offers a couple of preset EQ's or you can customise your own. The sound from the side facing stereo speakers is generally clear and bright, with a reasonable amount of space, although not particularly bassy or powerful. Fine for a touch of bedroom Netflix though.
Which brings us to the 13.3-inch, full HD, IPS, anti-glare display. Anti-glare is right - and it gets nice and bright too which also helps combat any reflection. In saying that, I found colours on the display's default setting perhaps a little flat, which actually makes things seem a bit more realistic when watching video. Because the screen's surface is not particularly shiny, it feels strangely grippy to touch - even more so when drawing with the popout stylus. Oh, did I forget to mention that too? Yes, there's a stylus included and even a little dedicated Windows Ink button above the function keys so you can get straight into your sticky notes or whatever else you want to draw. As I say though, drawing takes a bit of getting used to as the sensation is feels more like scratching on glass than using a pen and paper.
All of these myriad functions happen instantly, on demand. The LIFEBOOK U9311X I'm using is powered by Intel's very latest 11th generation i7 processor and is jam-packed with 32GB of RAM. When it comes to productivity, there'll be no stopping it - especially given its impressive battery life. Now, I know trying to assess the battery life of any computer is a fool's errand as it varies so wildly depending on what you're using it for but I can assure you, this is much more of an all-day option than just a few hours then plug in. And even when you do need to charge, it's great to have the USB-C option as well and the included charging brick (which is actually relatively compact as power bricks go).
Yes, between its light weight, versatile form factor, plethora of ports and impressive battery life, the LIFEBOOK U9311X if portability personified... and yet, if you're using it to work from home, I found something else in the box; the USB Type-C Port Replicator, a self powered hub offering even more connectivity - VGA, DisplayPort, another HDMI port and yes, still more USB slots - not to mention pass-through power to the LIFEBOOK itself of course.
So many options, so many surprises. I feel like I discover another feature every day I use it.
Click here for more information on the Fujitsu Tablet LIFEBOOK U9311X.