When You're Considering Upgrading That Mic
Author

Publish Date

Wed, 25 Aug 2021, 10:09AM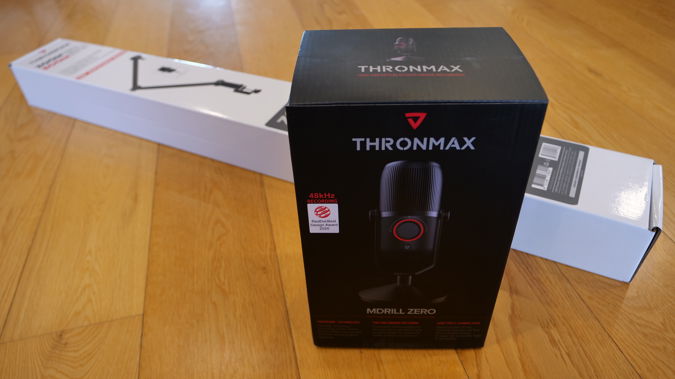 When You're Considering Upgrading That Mic
Author

Publish Date

Wed, 25 Aug 2021, 10:09AM
There's no denying it; Working From Home isn't going away.
But there are frustrations, aren't there? Even if you've got a half-decent picture going for your online meetings, how are you sounding?
Are people constantly asking you to repeat yourself? If it's not a connection issue, it could well be a microphone problem. And that's before you get to the fact most desktop PC's and monitors don't even have a mic built-in.
A dedicated webcam may not even be the answer. If it's clipped to the top of your screen, that's a fair way away from your mouth hole - meaning a lot of background noise can sneak in between you and whatever mic has been built in.
Time to level up...
The first thing I can assure you about the Mdrill Zero from Thronmax is people absolutely love how it looks. Why this matters at all for a microphone, I have no idea. However, almost without exception, when people see my mic for the first time, either in person or when I attend some kind of online meeting, I'm immediately assured, "Wow, that's a cool mic!"
So if first impressions are important to you, especially when streaming or video-calling, it seems like the Mdrill Zero is a good way to go - who cares how it sounds? In fact, team it up with Thronmax's Zoom Boom Arm and you'll look like you're running your own home recording studio.
Which, you basically are.
If you're thinking it can't really be that simple, it really kind of is. That's because there's no special setup involved with the Mdrill Zero, other than plugging it into your computer via USB - and a very luxurious, braided USB cable it is too - nice and long to boot. There's no special app or software to install, simply plug it in and in most cases, your computer will make it your default audio input automatically. If not, it's a simple matter to do so via your sound settings.
At that point, you have a few controls at the ready on the Mdrill Zero itself.
The big dial is how you turn the mic on, setting it to either cardioid or omnidirectional. (Either picking up sound only from the front, or alternatively from all around) Cardioid is the best setting if you're the only one using the mic - which is probably most cases... video calls, live streaming, gaming, recording vocal tracks etc. Omnidirectional is your option for recording or broadcasting several people at once, or maybe a bunch of instruments.
Yes, I'm suggesting you literally can create a recording studio in your computer with this mic - that's how good the quality is. Oh, don't get me wrong - I work at a commercial radio station and I'm pretty sure the microphones we use on air cost a little more than the mere $140 or so the Mdrill Zero will set you back. Make no mistake, I'm not promising miracles. And yet, I can't help but be impressed by the sensitivity and clarity of this mic.
Thronmax claims to use something it calls VERTIGAIN technology, which is supposed to make the most of the fact sound waves travel vertically, ensuring those waves reach the Mdril Zero's three condensers "without being scattered by any microphone mesh." I have no idea how scientifically sound any of that is but the proof is in the sonic pudding.
I've conducted a heap of video calls - from Zoom to Cisco Webex Meetings - and I've come through loud and clear on all of them without exception. I've also recorded some guitar and vocals - for experimental purposes only, I'm not announcing an album or anything - and again, while perhaps not the most mellow or organic sound, it's pretty much all there.
The little dial with the V on it is a nice touch; it controls your playback volume - be that through  speakers or via your headphones - which you can even plug directly into the mic itself. Great news if your computer doesn't have an easily accessible audio-out.
Oddly, the LED ring around the larger dial is always on, once the mic is plugged in - blue for cardioid, green for omni and red for off. I would have preferred off for off but it is what it is.
The desktop stand that comes in the box is a sturdy, solid affair with a plush, padded base to help keep it in place and eliminate unwanted vibrations. Unfortunately, while you can tilt the microphone up to face you, there's no height adjustment which is why the Zoom Boom is such an attractive accessory. Like the mic itself, the Zoom Boom looks a lot more expensive than it is, like something out of a "proper" studio. 
It features dual-suspension springs on each boom arm to keep everything on just the right angle, it rotates through 360-degrees so you can easily swing it out of the way when you're not using it and it comes with plenty of hardware so you can choose to clamp it on or screw it into your desk. The Zoom Boom also has a nifty cable-clamp system to keep the lead in place and tucked away.
Like I say, this may not be the world's greatest sounding microphone (although, for the money, it's decent enough) but it definitely looks a million bucks. And these days, when so often your first impression is being made via webcam, that might actually matter.
Click here for more information on the Thronmax Mdrill Zero.
Click here for more information on the Thronmax Zoom Boom Arm.