WHAT ELSE HUAWEI HAS...
Author

Publish Date

Wed, 27 Nov 2019, 11:57AM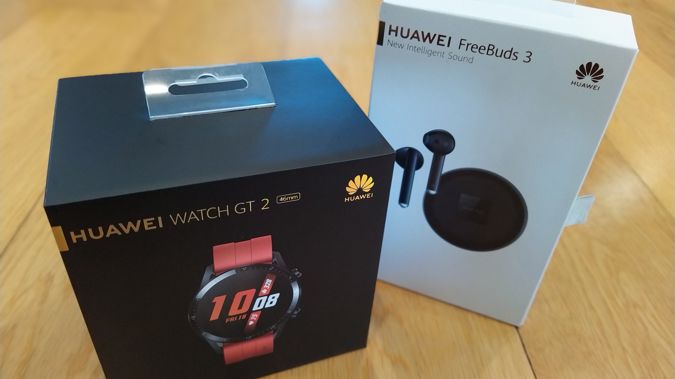 WHAT ELSE HUAWEI HAS...
Author

Publish Date

Wed, 27 Nov 2019, 11:57AM
There's no arguing it's been a tough year for Huawei... or has it?

Obviously it's not ideal for the U.S. government to ban you from doing business with American companies like Google, just to score political points in an international trade dispute.

But in spite of all that, Huawei's profits are still up. It's still selling a lot of handsets. It's still one of the most innovative mobile technology brands in the world. And I don't just mean phones...

We've seen a few watches from Huawei in recent years and they've all been solid performers without really setting my world on fire. So I was keen to find out what the Huawei Watch GT 2 has to offer that the original didn't. I was also intrigued by the FreeBuds 3 - Huawei's entry into the still limited market of noise cancelling wireless earbuds.

I've tried many "true wireless" earbuds now, some sound incredible, some pretty average. Some fit perfectly, others are constantly trying to worm their way out of my ears and onto the floor. Some look super styley, some look way too 1970's sci-fi.

Not many offer active noise cancelling - not yet anyway. It takes a lot of complicated tech to sample all the outside noise and reverse it so you don't hear it. If you can then squeeze that tech into a couple of tiny earbuds, you're doing well.

If anybody was going to get it right, I'd back Huawei to do it. I'm consistently amazed by how fast and powerful its handsets are, so when I learned there was also a Kirin processor driving the intelligent noise cancelling in the FreeBuds 3, I was pretty confident they'd come up with the goods.
Right away, these earbuds scream class - before you even take them out of the case, which is a gleaming, curvy, elegant piece of design all on its own. It charges via USB Type-C or wirelessly - either on any Qi standard charging pad or straight from a phone with reverse charging capabilities. (This is a feature Huawei mysteriously introduced on some of its recent flagships - now you know why)

The Huawei website boasts up to 20 hours of playback time charging from the case, 4 hours on the go from the earbuds themselves. These numbers are laboratory conditions numbers, but it's certainly up there. What has really impressed me is how fast the FreeBuds 3 charge - just an hour in the case will pretty much get them back to 100%. The case itself charges in about the same time. Obviously, charging wirelessly will always take longer but it's great to have the versatility of that option.
The earbuds themselves are also glossy and have a premium feel. It's hard to ignore the similarity in form factor to Apple's Airpods, although in New Zealand, you can only get the FreeBuds 3 in black. There are advantages and disadvantages to this hanging-stem style of bud. The major pro is universal fit - these will sit comfortably and securely in just about any ear large or small. They're well balanced and feel practically weightless. The big negative to an open fit design is just that; no tight seal makes it harder to produce good bass response and any passive noise cancelling is pretty much out the window.

That's where Huawei's "Intelligent Noise Cancelling" comes in. In order to set up the FreeBuds 3, there's a companion app called AI Life. This lets you tweak exactly how much noise cancelling you want to introduce into the mix. This is much more useful than a simple on or off, because if you go too aggressive with it, there's definitely an audible hiss as well - not so noticeable with loud music, much more so if you're just listening to a podcast.

Other than that, the app doesn't offer a great deal of customisation. You can choose which functions double tapping each earbud controls; play/pause, answer calls, activate voice assistant - but no volume control. You'll have to access that from your source device.

Obviously, everything works a bit more seamlessly if you team the FreeBuds 3 with a Huawei phone. In fact, you'll get an on-screen pop-up as soon as you open the case to help you pair them. In saying that, I had no issues connecting to a variety of other devices, although depending on the bluetooth codecs available on any given phone, some definitely played louder than others. The trick here is to toggle the Media Volume Sync in your phone's advanced bluetooth controls.

I've found sound quality to be nice and clear - accurate with an unbelievable amount of bass punch, despite the lack of a tight seal.

Call quality is really good - that's another major advantage to those hanging stems; you've got mics actually pointed towards your mouth hole. But that's not the only way Huawei has made phone calls a priority. There's a built-in bone sensor and a design feature called the Aerodynamic Mic Duct, both of which combine with the A1 Kirin chipset to keep background and wind noise to an absolute minimum. If you spend a lot of time taking and making calls on the move, I'm thinking these might be the perfect earbuds for you.

Meanwhile, I've been wearing the Huawei Watch GT 2 the whole time and I'm loving it.

It's only been a few months since the original Watch GT was launched here and yes, I liked it but it was a little limited - more like a classy-looking fitness tracker than a genuine smart watch.

I've worn my fair share of smart watches over the years and while the Huawei Watch GT 2 may still not be the most full-featured I've tried, it's perhaps the best looking, the lightest and has amazing battery life. It's waterproof and has built-in GPS.

Track your exercise, your sleep, your stress, get notifications, take calls and control your music.

Actually, maybe it is pretty full featured!

It certainly looks fantastic. Usually when I turn up wearing a new smart watch, Domestic Manager actively avoids looking at so she doesn't have to tell me how horrible she thinks it is. Not with the Watch GT 2 though - she loves it. It's lighter and slightly slimmer than the first GT, even the bezel is more curved and streamlined.
I'd like to see a bigger range of faces to choose from and presumably there will be more to come eventually.

Fitness tracking is accurate and versatile, with easy-to-read displays. That now includes indoor and open-water swim tracking with 5ATM water resistance. You can even receive motivational workout updates from the watch speaker itself, something I didn't realise till I was on my first run and the Watch GT 2 loudly announced my pace and heart-rate to some random passersby as I clocked up my first kilometre.

Music can be easily transferred from phone to watch if you want to pair with bluetooth earbuds directly, but what I was most pleased to see on the Watch GT 2 is the inclusion of a media controller. This works well as long as you leave the companion Health app running in the background on your phone. I find this remote control for my music and podcasts indispensable, especially in the car and around the house.
You can now make and take calls on the GT 2 too. While this may sound like a nerdy, wannabe spy kind of feature, don't knock it till you've tried it. Talking to your wrist is actually a lot easier than finding your phone in the bottom of your handbag or trying to prise it out of your pocket.

There's also a slightly curious stress-tracking app, which requires initial calibration by answering a serious of psychometric questions. I'm not sure what this actually measures, but there's a deep breathing app to go with it if you don't like the numbers.

There's no doubt this is an outstanding performer in terms of battery life. Huawei's website claims up to two weeks' use on a single charge. I tend to use most of the more power intensive features, but even then I only have charge it via the included magnetic charging disc about once a week. That alone makes this watch one of the most useful and versatile I've tried. 


Click here for more information on the Huawei FreeBuds 3.

Click here for more information and pricing on the Huawei Watch GT 2.