What a Cute Little Beast
Author

Publish Date

Thu, 9 Jun 2022, 1:43pm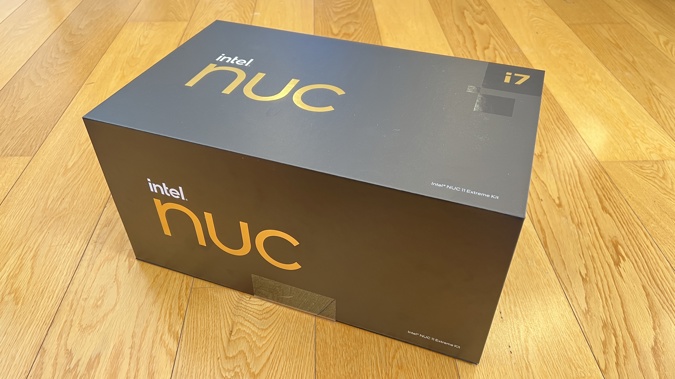 What a Cute Little Beast
Author

Publish Date

Thu, 9 Jun 2022, 1:43pm
Gaming is a technical business. If you're serious about it, you need a lot of gear... a great monitor, (or monitors - or even a projector) a controller, high-performance mouse and keyboard obviously, a headset with a mic... it all adds up.
But of course none of this is any use at all without the box. The engine. The PC with the grunt to drive it all.
However, there's a paradox. Increasingly, gaming is a social affair - not just online but sometimes (gasp!) even playing together in person!
So how mobile is your rig? Obviously gaming laptops are a thing but they don't necessarily provide the same immersive experience you can achieve with all the peripherals I've listed above.
Storage space and upgradability are definitely factors too.
If only you could just stick your PC under your arm and go...

The Intel Beast Canyon NUC 11 Extreme is proof truly mighty things can come in small packages.
When I think of a NUC (Intel's Next Unit of Computing) I think of tiny little black boxes, about the size of a set-top streaming device. For a while this form-factor was a bit of a novelty - perhaps most useful for single-task operations; perhaps to act as a media server or to control content on large displays in reception areas or shop-fronts. Mini-PC's like these soon powered up of course and now many office workers are surprised to see their aging, dusty desktop PC towers swapped out with a small, flat box that can be concealed by a well-placed pot-plant.
The NUC11 i7-11700B is not one of those.
Although it is certainly a compact computer, when I unboxed it I was surprised to see it wasn't quite as little as I thought it would be - about the size and shape of a large loaf of sliced bread. This particular loaf is quite heavy though, packed with all sorts of healthy goodness, starting with the 11th-Gen Intel Core processor - in my case an i7 although i5 and i9 versions are available.
As is my usual style, I'm not going to get too bogged down listing off the exact specifications and specs this Intel chip brings to the table - you can obviously look all that up if you're truly obsessed. What I will do is tell you a little about what I've been doing with this PC and how it's performed in my real, everyday life.
Physically, the first thing of note is the cabinet itself; the top and sides are mostly mesh - this is essential for cooling purposes because if this PC is to perform at its peak, it'll require as much fresh air as possible, especially considering how much gear has been packed into such a confined space.
My Beast Canyon arrived kitted out with an RTX3070Ti graphics card installed (the INNO3D GEFORCE RTX3070Ti X3 OC, to be precise). That means another three fans blowing air through the system in addition to the triple fan setup already built-in to the NUC chassis to begin with. Let's just say you can definitely hear when this thing is working hard.
If you thought that was a lot of fans, wait till you see how many ports you have to choose from. These days most PC and laptop makers seem to have an active aversion to physical connectivity, instead relying on wireless options or an external hub of some kind. As I've pointed out already, gaming is all about peripherals and this is an area where the Beast Canyon NUC 11 Extreme really comes into its own.
There are two Thunderbolt 4 ports for high-speed data transfer and a crazy eight USB 3.1 slots - two in the front and six at the back. There's an HDMI 2.0 for connecting your display and a 2.5GB-capable ethernet port, for those of us lucky enough to have such a high-speed connection coming into the house.
Bluetooth and Wi-Fi are fully integrated as well (the very latest Wi-Fi 6E in fact) and once again, that RTX3070Ti graphics card means even more ports; another HDMI 2.1 and 3 X DisplayPort 1.4a. 
That's not to mention the SD card reader and headphone jack back round the front.
Basically, there's nothing you can't plug into this thing.
One of the first things I did plug in (apart from a monitor, wireless mouse and keyboard) was a large, external SSD. I'm in the process of changing cloud storage providers (nightmare) and that means transferring a lot of photos and movies. And I mean a lot. Because I don't want to risk the recriminations and punishments involved in losing memories of things like marriages, births and super-cool cocktails, I also like to keep a physical backup too. Let's just say the Beast Canyon slices through data-transfer like a hot heat-sink through butter.
I also dabble in a bit of video production and a great deal of audio editing. Not only does it take next to no time to install large programs on this machine, they perform quickly and smoothly, in an effortless way that means you never have to wait for an edit to complete and rendering final mixes takes a fraction of the time it does on lesser-powered devices. Work is almost a pleasure.
Then comes the pleasure.
As chance would have it, right now I happen to be reviewing a gaming projector too. The Beast Canyon NUC 11 Extreme didn't skip a beat as I added this as another display and then it was time to let the games begin. I've admitted many times before, I'm not really much of a gamer but once I joined my fellow rebel pilots to track down and destroy Imperial TIE-Fighters in Star Wars Squadrons, that was an afternoon blasted into hyperspace just like that.
Game-play is silky and responsive and there wasn't a glitch to be found.
My review unit was also fitted with a 1TB Samsung 980 PCIe 3.0 NVMe M2 SSD - in fact, there are four M.2 slots so potentially you could store enough data in this small box to run a country. Even 1TB is plenty for a few local downloads so I installed Marvel's Guardians of the Galaxy and wasted plenty of time on that too - if you haven't tried it, it's worth it just for the 80's soundtrack.
Gaming is what this machine was built for and it simply doesn't miss a beat. To be sure it gets hot and loud but just like with a muscle car, sometimes noise and heat are just the side effects of a damn good time.
To add to the fun is the fully customisable RGB array. Using Intel's NUC Software Studio app, you can easily adjust the lighting in four separate zones, bottom left, bottom right, bottom front and of course, the famous skull logo on the front panel - which is actually replaceable with your own design if you have access to a 3D printer. As with most RGB setups, you have all kinds of patterns and an infinite range of colours to really make this Beast your own. Obviously, most right-thinking people will set everything to red and just leave it like that.
Intel NUC Software Studio is also where you can access an activity monitor and fine-tune your hardware to get the most out of it. In saying that, Windows 11 seems to be including a lot of this functionality within the operating system itself these days so it's probably a matter of personal preference which interface your prefer to access settings like fan speed and power settings.
I've really only scratched the surface of all the things the Beast Canyon NUC 11 Extreme is capable of. At the very least, it's definitely the high-powered gaming machine in a small form factor I wished for in my introduction. I've literally moved it around the house while reviewing it as various family members have complained about me setting up projectors in their bedrooms. (Some people have such warped priorities) While not quite as portable as a laptop, you'd be hard-pushed to find one with the storage and connectivity options this fully-fledged PC offers. It truly is a beast - albeit one trapped in a fairly small cage.
Click here for more information and pricing on the Intel Beast Canyon NUC 11 Extreme.