We've Been Waiting for This One
Author

Publish Date

Tue, 4 May 2021, 6:03PM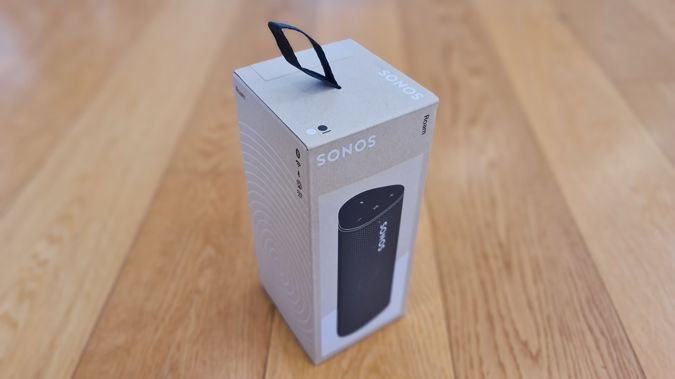 We've Been Waiting for This One
Author

Publish Date

Tue, 4 May 2021, 6:03PM
Sonos is on a roll, riding a wave of popularity among critics and customers alike.
It's a pretty simple recipe; make speakers that sound awesome, are easy to use and above all else, work like they're supposed to.
You'll notice there's a fourth ingredient missing from that mix - the price. Ask any Sonos owner if they think their speaker or speakers were worth the money and I'm pretty sure I know what the answer will be.
Which just goes to show - get those first three things right and suddenly price doesn't seem quite so important.
Last year, Sonos promised a lot with its full-sized soundbar, the Arc. It's fair to say, not only did the Arc deliver on those promises, it became one of the most coveted devices of 2020.
So can Sonos pull off the same trick two years in a row?...

If anything, the hype around the Sonos Roam was even more intense than it was for the Arc. This is due partly to how good the Arc turned out to be and partly to the fact nobody really offers a speaker like this... other than Sonos itself.
It's been an ongoing mystery to me why there are no portable Wi-Fi speakers out there. There are plenty of smart speakers but you have to keep them all plugged in. As for bluetooth speakers, these days you can barely leave the house without tripping over a pile of them. Yet for some reason, nobody seems to have made a commercial case for combining the two.
Maybe there actually isn't a demand. Perhaps I'm blinkered by my uniquely privileged Kiwi way of life - evenings spent out on the deck, barbecuing and laughing around the fire pit. Lunchtime pool parties that linger into the afternoon. Who doesn't want some great-sounding music to go along with that?
Obviously hardwired outdoor speakers are an option... but they're an expensive option - especially if you didn't manage to install them at the time your house was built.
I have decent Wi-Fi coverage in my backyard. Can't I just take a speaker out there to make the most of it?
Well, yes I can. That speaker is called the Move, Sonos' first portable speaker, released in 2019. You know, back in the good old days. Best of all, the Move also has full bluetooth capability so can be paired with phones or other devices when out of Wi-Fi range.
So why all this fuss about the Roam? Haven't we been here before?
Well, for starters, there are portable speakers and then there are speakers that weigh 3kgs. Yep, the Move is a bit of a beast, six times bigger in size than the Roam which only weighs in at 430 grams. In fact, in terms of sheer portability, the Roam kills it. Standing on its end, it's only about the height of a can of beer and is nowhere near as wide. Because of its triangular (Toblerone-like) shape, it'll sit perfectly still on pretty much any surface and it's IP67 rated against dust and water - a significant upgrade on the Move's IP56 certification. That means you can dunk it without killing it. Thanks to its rubberised ends there's an undeniable durability to the Roam - I've had no concerns dropping it in the sand and running it under the tap afterwards. Strap it to your bike - hell, take it paddle-boarding if you like. Best of all, it truly is small enough to pop in your bag without really taking up much space or weighing you down.
Then there's the ultimate beauty of a Sonos - the way it integrates seamlessly into your existing Sonos network - whether you only have one or two others or a speaker in every room. Using the Sonos S2 app you can easily stream your favourite playlist all through the house (and outside) or different audio from different sources in different places. But the Roam has a new trick up its sleeve to make this process even easier; Sound Swap. By holding down the Roam's play button, you can instantly move what's playing from the nearest Sonos speaker to the Roam, or vice-versa if you've just come inside and you want to swap from the Roam to your home theatre. Simple. Brilliant.
Oh, almost forgot to tell you how the Roam sounds. It's a Sonos. It's fantastic. I thought that went without saying. Admittedly, it is limited to degree when it comes to sheer power. Remember, this is just a little guy after all. That being said, for its size it's kind of hard to believe the contrast and space the Roam can generate between frequencies - sounding rich, full and warm all the while. Whether it's the sheer, clean lines of Glen Hansard's "Leave a Light," which is just voice, acoustic guitar and fiddle, or the Edge's rolling, unstoppable bass on U2's, "The Fly," somehow there's room for it all.
Of course, the major bonus of having the Roam's Wi-Fi abilities available to me anywhere on my section is I can access Hi-Res audio from services like Qobuz and Tidal. I'm not limited to a compressed version of my favourite songs compressed even further via bluetooth. Not to mention Sonos Radio - which is available to all Sonos owners and is a pretty nicely curated little streaming service in its own right.
Bluetooth is still an option of course and the Roam will automatically swap over once it's out of range of its home network - you don't have to manually pair up every time.
Sonos boasts a ten-hour battery life for the Roam, which is on par with what the Move provides, the difference here being you're not limited to charging via USB-C. The Roam charges wirelessly too - on any Qi-charger or you can splash out on the Sonos-specific magnetic charging stand.
Speaking of splashing out - and I know I said price shouldn't be much of a consideration with a Sonos speaker - but at $319, it's less than half the price of the Move. Not bad considering the extra functionality its bringing to the table. The outdoor table, that is.
Click here for more information and pricing on the Sonos Roam portable speaker.