We Need to Stop Calling Things Beasts
Author

Publish Date

Tue, 29 Mar 2022, 1:44pm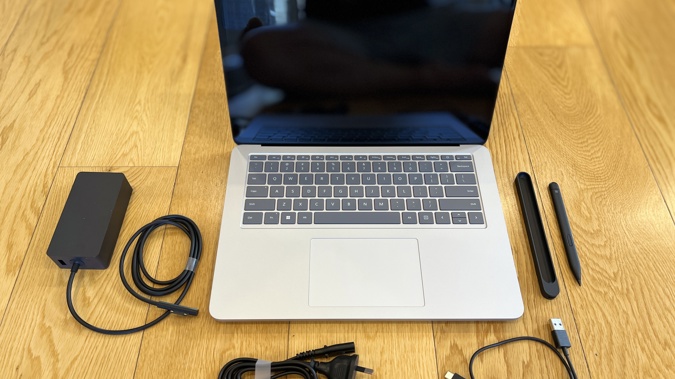 We Need to Stop Calling Things Beasts
Author

Publish Date

Tue, 29 Mar 2022, 1:44pm
I do it all the time; "This is an absolute beast."
Often this is my way of summarising all that is large, powerful and sometimes even overwhelming about a particular device. 
The trouble is, if I use that term too often, when something comes along that's even more beast-worthy than before, it kind of loses its power.
Microsoft has just released its annual Work Trend Index report and as you'd expect, there have been some pretty crazy shifts in the last couple of years. "The Great Reshuffle" is definitely a thing, with 51% of hybrid workers considering a move to a totally remote lifestyle and in turn, 57% of those working remotely looking at a hybrid arrangement. To make any of that work, you need the tools for the job.
Or maybe one tool. A beast of a tool...

To begin with, there's no getting around the out and out bulk of the Microsoft Surface Laptop Studio. It's thick, it's square, it's got a lot of corners and at first, it seems kind of heavy too.
But after carrying it around in my laptop bag, I think that last impression is just that; an impression. 1.8 kilos isn't actually the end of the world and bear in mind, this is effectively the portable version of Microsoft's quirky yet useful Surface Studio - the all-in-one PC famous for its ability to fold almost flat to your desktop to serve as the ideal workspace for tasks like sketching and other graphic arts.
That desktop Studio, now in its second generation, features a whopping 28-inch display. Not to be outshone, the Laptop Studio comes to the party with a generous 14.4-inch PixelSense Flow touch display, which seems bigger than it is because of the tall 3:2 aspect ratio common to other Surface devices. This means you have plenty of room for editing or cross-referencing between different windows and programs. Windows 11 makes this even easier with its Snap Layouts function - automatically resizing windows to take up nice, tidy halves, thirds or quarters of the desktop.
In fact, the Laptop Studio was so obviously designed with Windows 11 in mind, it seems odd to me it isn't installed by default out of the box. Instead, during setup you are given the choice between 10 Pro and 11 Pro. I get that some businesses may insist on keeping things consistently at Windows 10 level for now but it's a frustrating wait while everything installs.
Once you're up and running, it's immediately apparent what a fabulously well constructed piece of tech this is. The screen is bright, clear and responsive at up to 120Hz - although I have found reflection to be quite an issue; best not to set up with a window behind you.
As usual, thanks to that 3:2 aspect ratio, you have plenty of room below the keyboard for a massive touch-pad. This means you can be super accurate with the placement of cursors and edit points and when combined with the low-latency touch display, Microsoft has almost eliminated the need for a mouse altogether.
There's a lot going on under the hood with the Laptop Studio - heaps of RAM, a fast processor, big graphics capabilities - all this creates quite a bit of heat and fan noise. Well, not it's not so much noise as it is a significant breeze blowing out of the ventilation grilles running down each side of the base of the device. Yes, it has this unusual, dual-size base, almost like a larger chassis stacked on top of a slightly smaller one. While this odd bit of design means more edges and corners, it also provides a space underneath to magnetically store the compatible Surface Slim Pen 2 stylus - which will charge wirelessly under there too.
If you've bought this device for its artistic abilities, that Slim Pen 2 is an essential of course and that's where the transformable nature of the Laptop Studio comes into play. The screen's concealed hinge mechanism allows you to fold it down totally flat, on top of the keyboard so you can use it strictly as a tablet... Albeit a rather bulky, heavy, kind of tricky to hold tablet.
The hinge is actually firm enough to position the screen at any number of angles, whatever suits you best for sketching. However, I found it most useful in Stage Mode - magnetised strongly into place covering the keyboard but leaving the track pad free. This is a fantastic option for online meetings or even more importantly; gaming.
Hey - it's all about work-life balance these days, right?
In fact, that Work Trend Index I mentioned earlier suggested more of us are after a better balance than ever, with 71% of New Zealand workers saying it's more important to be judged by the impact of their work, rather than the sheer number of hours they put in.
So that obviously means more time for gaming and yes, this is a Microsoft Surface you can actually play proper games on. I've spent a bit of time kicking flying robot ass in Marvel's Avengers, sneaking onto super-yachts to assassinate arms dealers in Hitman 3 and randomly driving into paddocks and buildings as I miss corners in Forza Horizon. Not only do the games look fantastic on that big, bright screen, I've been really impressed with the immersive sound stage created by the Quad Omnisonic speakers with Dolby Atmos.
My review device is outfitted with a dedicated GPU and RAM to burn, so I found gaming to be a breeze. Although it's a mystery to me why it takes so long to download a game like Marvel's Avengers from the Microsoft Store via the Xbox app. Sort your servers out, Microsoft, these things should take minutes, not hours.
But that's not the Laptop Studio's fault of course. Once you have your software installed it'll run smooth as butter, be it Adobe Premier Pro or just dozens of browser windows that all definitely need to be open at once for some reason.
There's nothing I've thrown at this computer that's caused it to so much as break a sweat - I can't even really fault the 1080p front-facing camera and dual far-field mics, so critical given the massive increase in online meeting time we've all experienced over the last two years. (Microsoft Teams users' weekly meeting time has gone up 252%. How depressing is that?)
The only real stumbling block I've encountered is poor battery life. This is obviously due to the large, power-hungry display and all that processing grunt making it go. Especially when gaming, my full charge lasted only a few hours - I certainly wouldn't be confident I'd make it through a working day without a power supply handy. On the up-side, it charges surprisingly quickly, either via the supplied Surface Connect charger or either of the two USB 4.0/Thunderbolt 4 USB slots.
Yes, just the two USB-C's I'm afraid. No USB-A or SD slot in sight. Oh well. You can't have everything apparently. Not even at this price.
This is turning into one of those reviews where it'll seem like I don't totally love the device just because I've thrown in a few "could do better" comments - but really, it's the opposite. It's because I love the Surface Laptop Studio so much, I feel obliged to point out those few minor blemishes just so you don't think I've been blinded by how good the overall experience is and I now believe Microsoft can do no wrong. 
While the base model Laptop Studio starts at NZ$2,699.00 - that's not the configuration I'm reviewing here. The jump from Intel Core i5 to i7 processor, 16GB to 32GB of RAM and 256GB to 1TB SSD also represents a significant jump in price, up to NZ$4,649.00. That's a lot of cash for any laptop - so it's just as well it includes the dedicated NVIDIA GeForce RTX 3050 Ti graphics card too. Another gig of storage will push you well over five-grand but I suppose if you're a true creator, you might need that kind of space for dealing with large image, video and audio files.
And this is the laptop that can definitely handle large media files. There's all the computing power you could ask for here and coupled with its versatile display configuration, this truly is a beast of a creative's toolbox. Just don't forget that power adapter.
Click here for more information and pricing on the Microsoft Surface Laptop Studio.
Click here for more information on the Microsoft Work Trend Index report.