VERSATILITY IS RING'S THING
Author

Publish Date

Tue, 9 Jul 2019, 7:41AM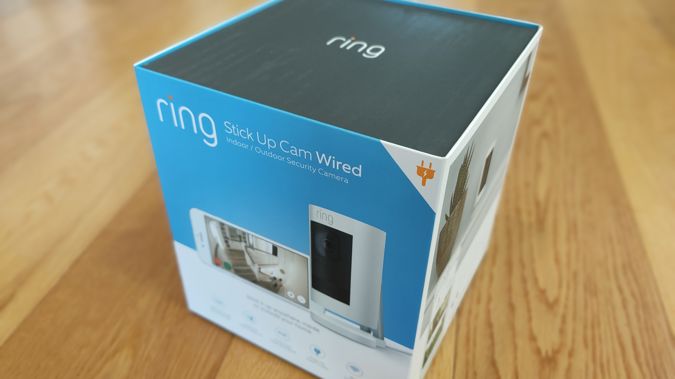 VERSATILITY IS RING'S THING
Author

Publish Date

Tue, 9 Jul 2019, 7:41AM
Parcel theft is on the up and up.
Nobody wants the inconvenience of coming home to one of those annoying the-courier-came-but-you-weren't-here-so-tough-luck cards. But nobody wants to come home to discover their package has been stolen off their porch either.
The obvious answer is a reliable security camera, preferably in plain sight so any would-be pilferers will know they'll be caught on film if they get any ideas.
Sounds complicated though...
Ring is in the business of making home surveillance easy, and the Stick Up Cam Wired is a classic example.
The camera itself is a tiny thing - smaller than a can of beans, even including its extremely adaptable stand, but it arrives in a mysteriously large box. This is because it includes absolutely everything you'll need for installation - and I do mean everything.
Not only does the box contain the camera, power adapter and a generous 2.5 metres of USB power cord, but you also get a PoE (Power over Ethernet) adapter with its own power supply, an incredible 6 metre PoE cord and more than enough screws and fasteners to hold everything in place. You even get your own screwdriver and drill bit.
If this seems a lot for one little camera, it's only because there are so many ways you can use it.
It's sturdily constructed and weatherproof,  but also attractive enough, in either white or black so you can use it indoors or out.
The mounting stand bends in two places and also rotates, so there really is nowhere you can't put it. There's even a little spirit level inside the mounting stand so you can get everything dead straight. Or, boringly, you can just sit the thing on a table or shelf.
Your only limitation, because this is the wired version, is how far the cord will reach. That's why I was impressed with the six metre PoE cable included - other cameras I've tried usually leave that part up to you to source and although not every preferred location will be within six metres of an ethernet port, it's a pretty good start.
Obviously the Stick Up Cam Wired can connect via ethernet, but I didn't realise it would be fully WiFi functional as well - so you can forget ethernet connections altogether and just power it with the included microUSB charger.

It goes without saying this will rely on strong WiFi reception, after all, nothing is as reliable as hard-wired.

What is reliable is the setup process. While setting up any smart device like this is more or less the same process, not every app makes it as straight-forward as the Ring app does. It really does take you though it step by step, giving you the option to name your device and its location.

Once connected, you can customise when you'll be notified of movement in the monitored area and you can also isolate up to three motion zones to monitor. This is really user-friendly because you're not limited to a rectangle shape, you can draw the specific area you want to monitor which might even be an angled view of a door or gate.
The other feature that had me impressed straight away is the size of the view from one small camera. You'll get 150 degrees horizontally and a really surprising 85 degrees of vertical coverage. Again, this just adds to the versatility of the device because you're far less restricted by where you can place it - whether you have it on a high or low shelf, you'll still be able to see the whole room.

Alerts come through with only a second or two's delay, which means you should definitely have opportunity to warn off any would-be package thieves via the two-way communication function. The audio from the camera is extremely sensitive, picking up the slightest sound of a door opening. On the other hand, sound quality heard through the camera tends to be a bit distorted - we're dealing with a pretty small speaker after all. I guess if the purpose of the exercise is to let any bad guys know you're watching, it certainly achieves that. If not, just sound the siren - it's not ear-splittingly loud, but they'll get the message.

On occasion, I did notice the picture would tend to blur when the sound function was being used in both directions - even with a good WiFi connection. One other little bug I discovered; at the time of my review, initially I couldn't communicate from my phone to the camera. After a brief online chat session with a very helpful Ring techie, he discovered I'd enabled a new feature in the Ring app called Event History Timeline. Turns out, this feature isn't quite ready for late model Android devices. Once I disabled it, everything worked perfectly.

The picture quality is excellent. Nighttime shots are bright and clear - although a little grainy. But daytime footage is brilliant, certainly no trouble identifying faces or number plates if required.

There is a catch. If you want to record and save your videos, you'll need to subscribe to Ring's Protect Plan. To be fair, it'll only set you back $4.50 a month, but it's slightly irksome when other brands give you the option of linking your own cloud storage account so you don't have to pay any extra. You'll get this save-and-share functionality free for the first 30 days to try.

Like Ring's other devices, the Stick Up Cam Wired is also Alexa enabled, so you can just ask her to show you the entrance-way and the live stream will appear on your Alexa device.

This is not the cheapest home security camera on the market, but it might be the most versatile. You really can mount it anywhere, inside or out. The easy-to-follow app makes setup super simple and what's more, with the option of an ethernet connection or WiFi, it should fulfill just about any requirement.