Twelve South AirFly Pro - No Upgrade but Still Essential
Author

Publish Date

Tue, 7 Nov 2023, 12:46PM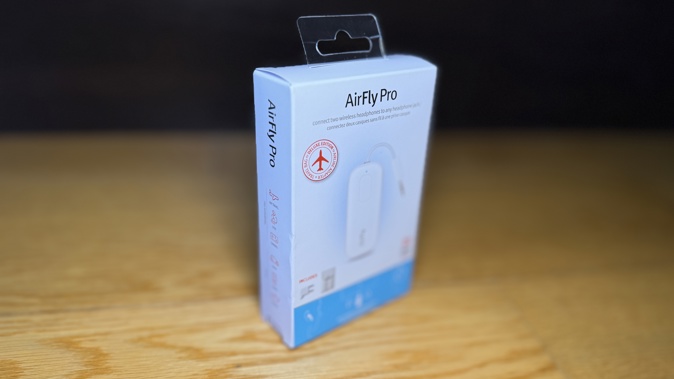 Twelve South AirFly Pro - No Upgrade but Still Essential
Author

Publish Date

Tue, 7 Nov 2023, 12:46PM
Today's review is one of your classic, elegant solutions to an old, enduring problem.
It's most definitely a first-world problem but a problem nonetheless. If you've ever flown long-haul, you will have experienced it; I call it the Great A.V. Inconvenience.
What is it with in-flight entertainment systems? The airline-provided headphones/earbuds are often terrible quality - and that's if they work at all. So you bring your own, high-quality headphones only to discover you need a special adapter to plug them in. Then, even if you have all the requisite hardware, you still have to deal with a tray table, meals and passengers in adjacent seats wanting to push past to get to the loo.
This hardly makes for an enjoyable viewing experience,
That's why the little white dongle from Twelve South was always such an ingenious idea.

The AirFly Pro bluetooth transmitter is a tiny tool that converts any standard audio jack into a wireless connection. It couldn't be easier to set up; it charges via USB-C, then you just hold down the power button to enter pairing mode. (For subsequent connections add the extra step of pressing the pairing button on the side)
Once you've paired your headphones or earbuds with the AirFly Pro you can then plug it into anything with an audio jack; laptops, tablets and yes, obviously the screen on the back of the aeroplane seat in front of you. No re-pairing every time you swap devices; just plug it in and you're good to go.
The big advantage of the AirFly Pro over Twelve South's other AirFly models is it's not just a transmitter but with the flick of a switch, it can work as a bluetooth receiver instead. This is particularly useful for regular travellers who are often using different rental or business vehicles.
Once again, who wants to learn how to set up the bluetooth on a strange car you might only be using for the day? Plug in your pre-paired AirFly Pro and you're instantly good to go. Your playlists, podcasts and GPS voice-directions all coming through the unfamiliar vehicle's stereo, just like that.
See? Simple, yet genius.
But you knew all this already.
It's actually been three-and-a-half years since I initially reviewed the AirFly Pro so I was anticipating some kind of significant upgrade - either to the physical design or perhaps a performance boost under the hood - but as far as I can tell, this is the exact same device I first trialled back in March of 2020.
I don't have a massive problem with that, given I considered it to be a brilliant piece of minimalist design then and I still do now. However, at the core functionality of the AirFly Pro lies bluetooth connectivity and from what I can tell, this hasn't been upgraded either - and yet over that time, Bluetooth has.
These days, pretty much every set of noise-cancelling headphones or true-wireless earbuds I test are Bluetooth 5.3-enabled. This not only makes for a much stronger, more reliable connection over a larger distance but also allows the latest audio codecs to provide practically lag-free (and in some cases lossless) audio.
This is so important when it comes to watching video because any slight audio delay means dialogue and sound effects don't sync exactly with the images. It's potentially even more crucial when gaming, because if you don't react instantly you could wind up dead - well, virtually dead, anyway.
Unfortunately, after testing my new AirFly Pro with a number of devices; laptops, tablets, sound desks, earbuds and headphones I'm pretty certain there's been no update with the Bluetooth protocol since the Bluetooth 5.0 unit I was using back in 2020.
I've tried to find more details on the Twelve South website but the most I've been able to glean is it's "at least Bluetooth 5.0" and latency is "generally 30 milliseconds or so." To be fair to Twelve South, most people should be able to live with that level of delay - especially on a plane. To be fair to Twelve South's customers though... you'd think they might have spruced things up a bit over the last three years.
What is now available is the AirFly Pro Deluxe package. While the AirFly Pro itself remains unchanged, when you go Deluxe you get a rather streamlined international airline adapter (you know, for those weird dual-sockets you only find on aeroplanes for some reason) and a classy suede bag to keep the transmitter, adapter and power cable in.
This is a good idea because the AirFly Pro is very small and I imagine quite easy to lose (although I've managed to hang onto mine so far). Oddly, while well-made, the suede case doesn't seem particularly purpose-built. It has two longish but narrow pockets which don't easily accommodate the airline adapter - if you stuff it too far down one of the pockets you just about need a pair of long-nose pliers to extract it again. This is an uncharacteristic design oversight from Twelve South who usually produce only the very best and most elegant of accessories.
Ultimately, that's a small niggle and the price gap between AirFly Pro and AirFly Pro Deluxe probably justifies the addition of the adapter by itself, let alone the suede case as well.
As we've established, the AirFly Pro remains essentially unchanged so there's no need to rush out and get a new one if you haven't already got one. However, as we've also established, if you haven't already got one, definitely rush out and get one. I consider this accessory just as essential for any regular traveller as their suitcase and passport.
Click here for more information on the Twelve South AirFly Pro.
Take your Radio, Podcasts and Music with you