Tried and True. But Not Tired
Author

Publish Date

Wed, 13 Apr 2022, 5:32pm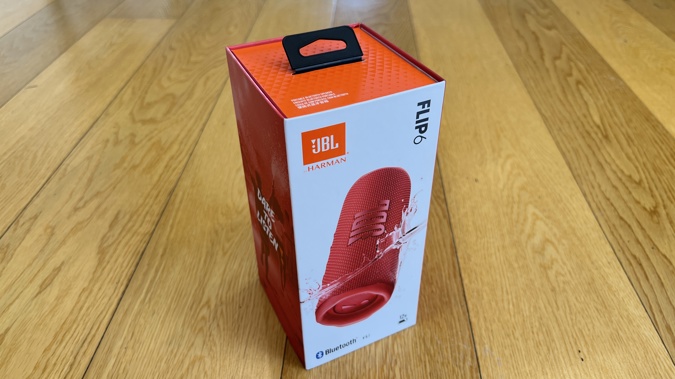 Tried and True. But Not Tired
Author

Publish Date

Wed, 13 Apr 2022, 5:32pm
A bluetooth speaker is a bluetooth speaker is a bluetooth speaker... Right?
Sure, there are big ones and little ones. Portable ones and ones that plug into the wall.
And yes, there have been improvements in bluetooth codecs and such but at the end of the day, has much really changed in the last few years?
Furthermore, with the more recent explosion of smart speakers of all shapes and sizes, do we even still need bluetooth speakers at all?

For starters, as long as JBL keeps putting out its speakers in bright red, we definitely need them. The Flip 6 comes in black and blue too but in my view, that's irrelevant.
The Flip has been quite the success story over the years so it's no surprise to see it return for another generation with a few tweaks to keep fans coming back for more.
It's essentially the same size and shape as its recent predecessors; roughly similar to the profile of a short drink bottle, which means you can easily slot it into most bottle-holders on bikes or gym equipment and even more usefully, on backpacks.
The wrist-strap cord thing is also slightly more streamlined - now no knot, just one continuous loop with a slide-toggle to keep it snug against your wrist or whatever else it's attached to.
It charges via USB-C and JBL claims up to 12 hours playback when fully topped up but these things vary wildly depending on any number of factors including how loud you're running the speaker. All I know is I've been listening to it for a couple of hours every day this week and it's still blasting out strong, so I'm happy with that.
I'm also happy the Flip 6 has a little rubber foot on the bottom to help keep it in place on shelves and table-tops. It also carries the IP67 water and dust resistance rating - its earlier relatives were just waterproof so now you can truly plop it down on your beach towel or take up that dirty mountain bike trail in complete confidence.
Although, you might not win too many friends if you do take it biking as this is the loudest Flip yet.
I've been giving the new albums from both Jack White and the Red Hot Chili Peppers a decent bash over the last week or so.
The Chilis' value-for-money "Unlimited Love" celebrates the return of virtuoso guitarist, John Fusciante in a brilliant re-cap of so many of their different styles of funk-pop-rap-rock whatever it is they do. The Flip 6 seems to be specifically made to reproduce their vocal-VS-guitar-VS-bass stylings, especially when it comes to bringing Flea's still-outstanding bass work to the fore. Either at full volume, or quiet enough to hear myself think while I type this, everything seems to punch out powerfully, cleanly and warmly.
The former White Stripes member's album, "Fear of the Dawn" is more of a mixed bag. If you're familiar with White's frenetic and determined mission to stretch the sonic capabilities of any instrument he has at hand, you'll know there can be a fine line between listening pleasure and aural pain. Although the Flip 6 boasts an extra 10w of power, now with a new tweeter built-in for the high end, leaving the racetrack driver to deal with mids and lows, there are still times on this album when there's just too much noise for such a small unit to handle.
That's perhaps when PartyBoost probably comes in pretty handy - with a simple push of a button, the JBL 6 can be linked with other PartyBoost-enabled speakers to... well... boost the party, I suppose. While many of JBL's last couple of generation devices have the PartyBoost function, this is not to be confused with Connect+ from earlier models or True Wireless Stereo which is for turning the much larger JBL PartyBoxes into a proper P.A. system.
Oh, and just to confuse things further; yes, you can create a stereo pair - but only with two Flip 6's. That's fairly standard though; I can't think of a manufacturer that'll let you pair slightly different speakers for Left and Right channels - it would sound pretty weird.
The final big upgrade for this generation is the new JBL Portable app. This is the first Flip compatible with a companion app - it's not a cornucopia of customisable features but it does give you easy access to PartyBoost options, firmware updates (which download and install surprisingly quickly) and even a 3-band EQ. JBL tends to run things a tad bass-heavy straight out of the packet - perhaps to prove how good they are at pumping genuine boom out of such little boxes - now you can wind that down if it's not to your preference.
But for me the best button on the app is the toggle to turn the Feedback Tones off. These are the (by now) classic JBL sounds that play when you do things like turn the speaker on, go into pairing mode or activate PartyBoost. You don't really need these sounds because there are lights that come on when you do these things too. I love having the ability to turn off unnecessary lights and noises. It's my favourite. Or have I mentioned that before?
One thing's for certain, while the sixth version of the Flip isn't exactly light-years ahead of what's come before, what came before were rugged, dependable, ultra-portable speakers that provided big, beautiful sound at a reasonable price. The Flip 6 is no different. Well... it is different. It's a bit better.
Click here for more information and pricing on the JBL Flip 6.