TIME TO CONNECT YOUR ASSISTANTS
Author

Publish Date

Wed, 20 Nov 2019, 5:51AM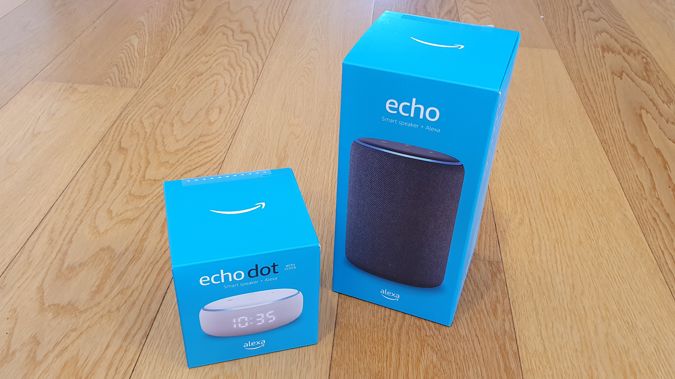 TIME TO CONNECT YOUR ASSISTANTS
Author

Publish Date

Wed, 20 Nov 2019, 5:51AM
If you haven't got a smart speaker yet, what are you doing?

I'm not saying it's a basic human need, like food, clothing and shelter. But it's up there.

It's definitely as much of a must-have appliance as a dishwasher or a microwave. And I can assure you, infinitely more useful than a breadmaker or a foot spa.

Why, only the other day we were sitting around the family dinner table wondering how long goldfish live for. Alexa knew. Come on - what could be more useful than that?...

The Amazon Echo and Amazon Echo Dot are perhaps two of the most boring looking pieces of tech ever produced. Now in their third generations, if anything they have become softer, more curved and frankly, even more nondescript.

I love them.

In the past, I've often mentioned my utter loathing of unnecessary blinking lights and garish LED displays. Particularly when it comes to audio devices, I want them heard and not seen. Amazon seems to be completely on my side in this way of thinking - yes there's that familiar flash of blue around the upper rim to show Alexa is listening to your commands but even the way these latest speakers feel is less obtrusive, with more fabric and less plastic leading to a softer experience all round,.

If you've used or owned an Amazon Alexa speaker before, there's nothing unfamiliar or too surprising here. Both the Dot and the Echo have the usual four control buttons on top; volume up and down, mic on or off and, of course, Alexa herself. Obviously all of these things can be voice controlled too but sometimes it's reassuring to have the tactility of a direct button push to make things stop and go.
While both speakers feature improved sound quality and upscaled microphone response, the most obvious new feature here is the addition of a visible clock on the Echo Dot, transforming it into the creatively renamed, Echo Dot with Clock. Again, subtlety and functionality is foremost - a simple, white digital display glowing from behind the fabric speaker covering. The brightness adjusts automatically according to the surrounding light conditions meaning nothing too glaring if you use this Dot as your bedside clock. If you do, an alarm can be set with a simple voice command, or you can choose to be woken by your favourite playlist, online radio station or maybe just a weather report. Alarms can be switched off with a simple tap to the top - the same way bedside clocks have been disciplined for decades.

Alternatively, I have my Echo Dot with Clock set up in the kitchen, where I can choose the perfect music match for my menu, and also set a timer running with a single sentence. The countdown will then replace the time on the display. I've also found my kitchen dot invaluable when it comes to reminding me to get the washing out of the dryer.

As the name suggests, the Dot is pretty small, so there's a limit to what kind of soundscape it's going to produce on its own. It actually pumps out a surprisingly wide and detailed dynamic range but I'm not going to suggest you use it as your primary source of music appreciation.

Luckily, Amazon speakers can be grouped together to play the same thing simultaneously. While I've used similar linking functions with other bluetooth speakers, nothing has ever allowed me to customise the experience like the Amazon Alexa app does. In fact, the versatility offered by using several Alexa-enabled speakers together is only limited by your personal requirements.

My kitchen, dining and living area is basically one fairly large, open-plan space - really a bit too large for one lone smart speaker to fill on its own. Connect two or three in separate corners of the room though and suddenly you have a much fuller, more ambient listening experience, one that lets you play the music quiet enough to talk over, but plenty loud enough to hear every note.

The Dot is just as important to this equation as the much larger and more bass-capable Echo. Remember, bass is non-directional so as long as I have at least one speaker pumping out those deeper tones somewhere in the room, suddenly the Dot in my kitchen seems far more powerful than it really is. The other big advantage to this configuration is I'm not having to shout across the room to get Alexa to change the volume or skip the track, she's sitting right next to me while I have my hands in the sink.

You're not limited to always playing from the whole group of speakers, but you can designate a group to be the "preferred speaker", where music plays from by default unless you specify otherwise. Using the app, you can tweak each speaker to your preference, including adjusting the EQ as well as the volume. If you have two identical speakers, you can create a virtual stereo, designating left and right.
There are even more options. The Echo and Echo Dot can both play through third party speakers too, either via bluetooth or 3.5mm AUX connections. There's almost no limit to the way you can make this work; multi-room, add a subwoofer - whatever you need, Alexa has the skills to do it.

There was a time this kind of whole-house hi-fi coverage would cost thousands to install and then you'd need a degree in audio design to make it work properly. Now you can do it yourself for just a few hundred bucks and it'll take you mere minutes to set up.

Does it work seamlessly all the time? No, but this seems to be partly due to me using some speakers by themselves and some plugged or bluetoothed into other third-party devices. This obviously creates a potential disparity in connection quality and the power required to pump out the beats. My biggest issue seems to be playing music very quietly. With the way I have my preferred group of speakers set up currently, it's not unusual for one of them to drop out of the mix completely on some tracks, only to break back into the mix some time later. Perhaps a minor software update will remedy this slight blemish on an otherwise pretty foolproof system.
It's important to remember the third generation Echo is an impressive performer all on its own. Not only has the speaker performance been beefed up but the far-field microphones are more sensitive than ever before too. I'm starting to feel like Alexa really understands me as a person. That's a joke, by the way. There's a lot of reference made to its 360° audio capabilities. This is sort of the next step on from stereo and surround sound, supposedly enabling a single speaker to place specific sounds in specific areas of the room. Trouble is, for it to work properly the source audio needs to be recorded using the same technology and obviously not everything is. All I know is, for everyday listening the Echo performs admirably, producing a rich, full sound, with a reasonable amount of bass from what is still a pretty small form factor. I enjoyed going on a bit of a Radiohead retrospective yesterday, as I consider them to be the masters of mixing different sound elements together while still giving those elements their own focus. If I pumped the Echo up really loud, things started to get a little muddy, but certainly for "conversation level" listening, it's an excellent speaker - especially for only $179.

And that's before you get to the millions of other things Alexa can do. We've discussed some of them before and I'm sure there'll be plenty more to come but for now I'm just happy I have a house full of speakers playing the same song at once.


Click here for more information and pricing on the Amazon Echo (3rd generation).

Click here for more information and pricing on the Amazon Echo Dot with Clock.