THIS WILL EVENTUALLY MAKE SENSE
Author

Publish Date

Tue, 13 Oct 2020, 5:33PM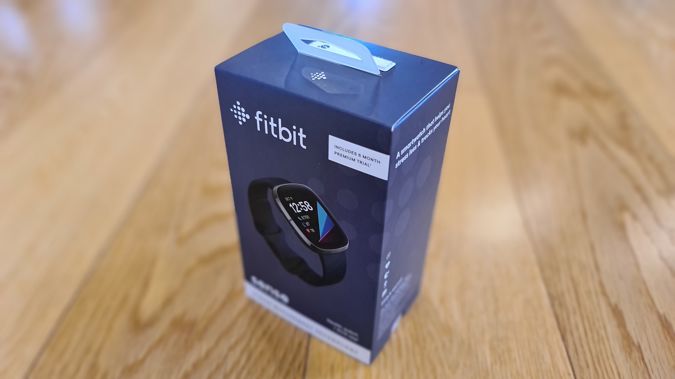 THIS WILL EVENTUALLY MAKE SENSE
Author

Publish Date

Tue, 13 Oct 2020, 5:33PM
When it comes to fitness trackers, I've been a Fitbit fan for years.
Not that that makes me very unique - Fitbit basically invented the smart wearable category and as a result, millions of people around the world have come to rely on Fitbit devices to stay on top of their exercise routines and goals.
The Fitbit app is surely one of the most well regarded. It's evolved into a user-friendly mine of  health and fitness information, constantly updating with every sync from any paired device.
I have one slight hesitation though. Since Fitbit has introduced a smartwatch variant at the top of its range, it's impossible to avoid comparisons to watches from other manufacturers and for a long time it's been fair to say in terms of high-end smartwatch functionality, the Fitbit options have often fallen a bit short.
Great trackers. Average smarts. Is 2020 the turning point?...
There couldn't be a more aptly named device than the Fitbit Sense. Fitbit has thrown in about every sensor possible, yet this is still a very compact, slim device, attractive enough in its Versa-like squircle form factor available in Lunar White/Soft Gold or Carbon/Graphite as pictured above - both options featuring surgical-grade stainless steel bezels. Size-wise, they've probably hit a bit of a sweet spot with this one; not too oversized for a narrow wrist, not too delicate for those of us with more thickset limbs. This negates the need for a choice of two sizes as offered by some other brands - don't worry, both small and large strap options are included in the box.
That "Infinity" band is indeed "velvety soft" as described on the website, easy to put on and take off, lightweight and comfortable in all conditions; heat, moisture and importantly for any Fitbit, comfy enough to wear to bed. The release mechanism has been improved again, making swapping out the strap for something more sporty - or more elegant - a total breeze.
For all the new sensors on board, which we'll come to shortly, there are no actual buttons on the Sense, just a capacitive receiver on the left-hand side. Actually, to be specific, this virtual button (more of a recessed slot) is on the lower half of the left-hand side. This guarantees no accidental presses but I've found I've really had to train myself to almost lift the watch off my wrist with my right thumb to access it consistently - fine for single presses (go back) but to hold down (customiseable shortcut) or double-tap (bring up a screen of four favourite shorcuts) is definitely a bit more fiddly.
Other than that, navigation is all about swiping and tapping the AMOLED display. In my experience the screen hasn't always been ultra-responsive, although not laggy enough to be frustrating and as usual for a Fitbit, it's always super clear and easy to read the full-colour display in all lighting conditions, inside or out.
Fitbit's smartwatch operating system has persistently been its weakness; in the past slow, clunky and not much content. I sat down with Fitbit's Regional Director, Shaun Colligan to work through some of the new features the Sense brings to your wrist and I complimented him on the dramatically improved software experience...
"The core to everything we do is really about those health outcomes... ...Our whole operating system is all about innovating and evolution and it's something we're getting better at all the time."
It's true - generally when setting up a new Fitibit smartwatch you're first faced with installing an update - this used to be via bluetooth but even once you were able to connect directly to your WiFi, it was still excruciatingly slow and would often fail halfway through meaning you'd have to start all over again.
Yes, I had to update the Sense before doing anything else but the process is definitely smoother than ever. In fact, the connection between the device and my phone is now totally reliable and notifications come through consistently and promptly. These should be minimum expectations from a $580 smartwatch of course but it hasn't always been that way.
Installing clock faces and apps has historically been a bit painful too.  Colligan says there are now more choices than ever...
"We have 720-plus apps in our store, there's over 10,000 clock faces... ...but the primary focus of our devices is about delivering those health insights and outcomes for our customers."
You can now install five favourite clock faces at once, meaning you can swap between them instantly. That's good. Some you have to pay for - fine. But don't say you might charge me for a watch face, let me install it without charging me, then tell me I can use it for an hour before I'll have to pay to keep using it. That's just plain annoying.
But let's not get bogged down with which face to choose, let's talk about all the hardware packed into the sense. There's a redesigned multi-path heart-rate sensor, altimeter, 3-axis accelerometer, ambient light sensor and built-in GPS.
That GPS is probably the fastest and most consistent on-board GPS I've used to date - accurately mapping my workouts complete with 1km splits, colour-coded workout zones and different pace zones all clearly displayed in the Fitbit app. This wealth of data is recorded whether you have your phone with you or not.
There's a gyroscope for swim tracking - the Sense is water resistant to 50 metres - and for ASB customers you can use NFC to make contactless payments. I wish my bank would sign up with Fitbit too.
All this stuff is a logical evolution of what I already considered to be the most versatile and accurate sports tracking technology available. But Sense has now transcended mere fitness and is firmly focused on general health and wellbeing.
This is immediately evident through prompts to conduct regular EDA scans and manual logging of your stress levels - a mindfulness exercise that immediately makes me feel more centred and focused on important things we often forget... like breathing. Yes, there are guided breathing exercises too.
Fitbit has always led the pack when it comes to sleep tracking and the Sense goes several steps further. By wearing it overnight you can also track fluctuations in skin temperature and blood oxygen. Over several nights the Sense creates a baseline so you can watch out for any major variations; given the current health crisis, this is a pretty great early warning system when you may be suffering from symptoms you're not even aware of.
Unfortunately, Fitbit has yet to receive approval from local regulatory authorities to activate the Sense's ECG functionality in New Zealand, although this has now gone live in Europe and the U.S. For now, Colligan assures me features like this aren't far away in this part of the world.
I get the feeling this is a very futureproofed device indeed. There's a speaker and mic. In theory, this not only allows you to communicate with Alexa to set timers, start workouts and operate any enabled smart devices but Google Assistant is also scheduled to be added as an option soon.
In practice, when I first set up my Sense, Alexa responded very well and I was able to do things like turn lights on and off just by talking to my wrist. Since then sometimes it works, sometimes I get a "connection lost" window, so it looks like there are a few bugs to work out there before we can go a step further, making and receiving phone calls directly via the Sense itself - another feature apparently on the way.
Colligan talked about a six day battery life and yes, that's probably possible depending on which features you keep turned on and how many workouts you're tracking. I've found battery life in the real world is more like a full two or three days if you want to stretch things out - but a daily topup is probably your best bet as it charges extremely quickly so it's no inconvenience to pop it on the user-friendly magnetic charger while you're doing something that doesn't need tracking - like taking a shower. (I don't think it tracks your showers yet... maybe in a future update?)
Yes, the Sense is definitely built for the future, broadening Fitbit's focus from exercise and fitness to a much wider emphasis on health and wellbeing - certainly a timely progression given the current challenges we all face. It's a pity not all the functionality has been activated for us here in New Zealand yet but given this is the most feature-packed Fitbit I've ever used, there's certainly plenty to be going on with in the meantime.
Click here for more information and pricing on the Fitbit Sense.