THIS TRACKER IS WAY SMARTER THAN IT LOOKS
Author

Publish Date

Thu, 14 May 2020, 4:13PM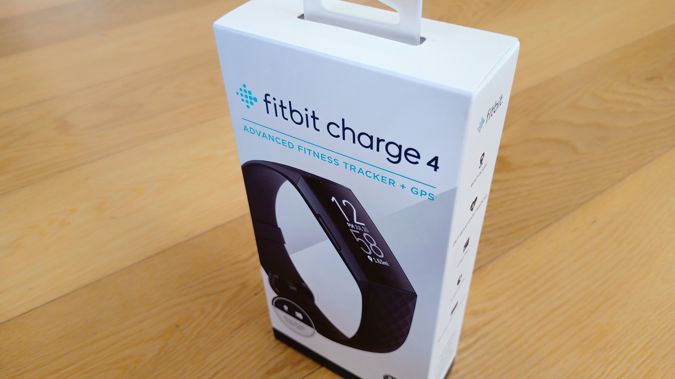 THIS TRACKER IS WAY SMARTER THAN IT LOOKS
Author

Publish Date

Thu, 14 May 2020, 4:13PM
It's been a little while since I last reviewed a Fitbit device. Last time I tried one I was impressed, as always, by how good Fitbit does its main thing; fitness tracking. This is only partly due to the features and functions of the tracker itself and probably more to do with the Fitbit app, which seems to expand its capabilities constantly, while still remaining user-friendly.
At the same time, many recent Fitbits have made overtures towards being genuine smartwatches; there's a whole gallery of Fitbit apps these days and there are now many functions offered that aren't really anything to do with working out.
So where does the latest Fitbit fit in to that scheme of things? Is it just another tracker or have they managed to squeeze a little more out of the new band?...
The Fitbit Charge 4 looks exactly like... well, like a Fitbit.
A cursory glance and you'd be forgiven for making a lot of assumptions; Simple. Functional. No frills. Shall we say... boring?
No. Don't say that. Not before you actually use it.
First, take another look. The diamond patterned Classic strap is available in Black, Rosewood or Storm Blue and looks quite a bit more classy than previous flat or grooved bands. For another $20 you can upgrade to the Special Edition - which basically means you get the Granite Reflective Woven band with the standard black one thrown in. The bands are more straight-forward to swap out than ever, making the Charge 4 easy to dress up or down depending on the occasion.
The tracker itself is extremely light and slim and if you choose Rosewood, both band and body come in that colour. Most striking of all is the screen itself, a surprisingly responsive touch display that - as per usual for most Fitbit devices - is very easy to read in all light conditions. Although it's only a monochrome display, there's enough use of shading, greys and animations to keep everything looking modern and interesting.
Funnily enough, because the screen curves gently away in all directions, it's actually led to a few mis-swipes. Being so narrow (and my fingers being so fat) occasionally when attempting to swipe up or down, I've accidentally swiped left instead. I want to be clear; this is one-hundred percent operator error, there's nothing wrong with the Charge 4 - other than it is really very compact. This also means some of the information on display is pretty tiny, so if you need strong reading glasses to make out small print, better take them running with you.
There is still one actual button on the left edge of the Charge 4... or is there? It's inductive, so it's actually more of a recess than a button and it vibrates when you use it - a bit like the fingerprint sensor on a phone. Because it doesn't physically stick out, it took me a little while to get used to finding it. As it turns out, there's a knack to it; once I stopped thinking of it as a button and just started squeezing the tracker with my thumb and forefinger it worked for me every time - to be honest, much more intuitive than fiddling around for a button like I was trying to do in the first place.
This button-that's-not-a-button is your go-back key. With a long press it also brings up shortcuts for Do-Not-Disturb, Screen-Off and a recently added Sleep mode, which is kind of a combination of the other two. This means no unexpected vibrations or flashing displays in the middle of the night. 
All the activity and sleep tracking options you've come to expect are still there of course, along with a host of little refinements to accompany them in the Fitbit mobile app. Sleep data seems more clear and more comprehensive than ever - unfortunately for me, no less depressing. There's even an SpO2 sensor to measure blood oxygen - perhaps not top of mind for most people but if big variations show up on the app during the night, it might be time to consult a doctor.
You can choose a selection of six exercises to track from a longer list, although I'd prefer to see even more specific exercises and sports there. Obviously you can select running, walking, cycling and swimming (yes, this band is very waterproof) but while golf and tennis make the cut other common activities like aerobics and football don't. I usually settle for something like "Outdoor Workout" or "Interval Workout" instead but given how awesome the Fitbit app is at everything else, I think it's about time they added a few more exercises.

Of course, there are many other workout and coaching options available if you subscribe to Fitbit Premium, which is free for 90 days with your Charge 4 purchase. Frankly, I've never felt the need to have more Fitbit app than what's already provided; it's pretty comprehensive as it is.
But back to the device itself - what a joy the Charge 4 is to use while exercising. As I've already pointed out, the controls are simple and intuitive, the display is clear and you can easily toggle through things like pace, distance and duration with a single press of that number on the screen. The Charge 4 will auto-sense any exercise you do - I was impressed to see it thought half an hour of table-tennis in my garage counted as "Sport." There are two major advances the Charge 4 brings to the table here; the first being GPS. You can now leave your phone behind secure in the knowledge the Charge 4 can map your walks, runs or rides independently - pretty impressive for a device this compact. For some reason GPS only tracks workouts you activate manually; you won't get a little map of your run if you've left it up to auto-tracking.
The second new feature is the introduction of Active Zone Minutes. The Charge 4 vibrates to let you know when you're in the Fat Burning zone or the Cardio zone and these minutes are saved to your workout and then displayed on your map too. All your daily stats, now including Active Zone Minutes are quickly shown with a swipe up from the main screen.

It's the unexpected abilities of the Charge 4 that have really impressed me though. There are a couple of gimmicky ones; firstly, a Spotify controller that can run your music or podcasts if you're logged in and have the app open on your phone. This works well but I'd rather it was a more generic media controller like Fitbit offers on the Versa 2. Fitbit Pay is another app pre-loaded onto the Charge 4; great news if you're an ASB customer but unfortunately it doesn't work with any of the other major New Zealand banks - which is a bit of a shame in this current age of contactless payments. The point is, both those add-on features work. As do push notifications. Hallelujah, praise be! The Fitbit Charge 4 stays connected to my phone, shows notifications from any app I choose and what's more, I can even set up customised quick replies for each of those apps. This is a real breakthrough for Fitbit. I've always found the reliability of phone notifications to be a bit scratchy on previous Fitbit devices but not this time. Whether it's an alert from my security camera or a work email, everything comes through straight away, without fail. I love it.

This means the Charge 4 is actually more of a smartwatch than some of Fitbit's smartwatches! I'm not trying to oversell the notification services but I really have been genuinely impressed by how reliable they are - and how I can read whole emails on such a small display.
The big letdown for me is battery life. Fitbit claims you'll get up to seven days use on a single charge but I'm not sure how. Perhaps, if you're prepared to turn everything off, don't keep it "always connected" with your phone, don't use any alarms and don't use GPS you might squeeze out a week's worth but what's the point of having a device that can do all the things the Charge 4 can do if you don't actually use it to do any of those things? Using it the way I have been, tracking one or two workouts a day and receiving all my messages and other notifications, I can just about eek out three full days before the battery warning takes over from whichever watch-face I've chosen. (There's a vastly improved selection of these too) 
This doesn't particularly phase me as there are plenty of smartwatches out there that barely last one day on a full charge, let alone two. What's more, the Charge 4 goes from 0-100% in under 90 minutes. Some things don't change though - there's yet another weird charging dongle, specifically for this device. Par for the course for any Fitbit it seems. This style of clip-in charger is easy enough to use, just don't lose it because nothing else will work.

Okay, so other fitness bands often have a much longer battery life but this is the only one I've come across that comes this close to being a bona fide smartwatch so I can definitely forgive the heavy drain, due mostly to the independent GPS.

The Charge 4 looks stylish, without being garish. It's comfortable but durable. It does all the cool Fitbit tracking you've come to expect and it's smart. Really smart. Starting from $269.95 I think it's pretty good value.