THIS CONVERTIBLE IS ALL CLASS
Author

Section

Publish Date

Wednesday, 27 February 2019, 11:21a.m.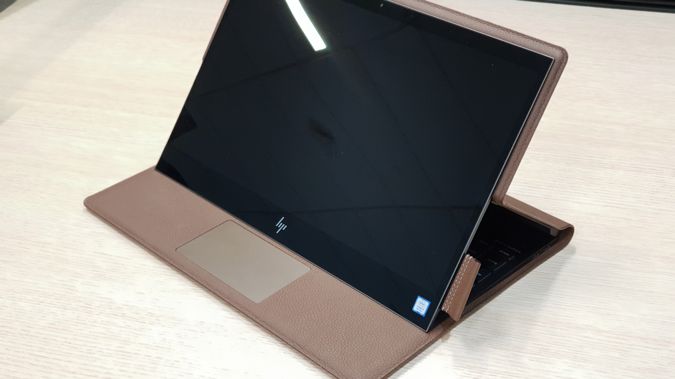 Why is leather synonymous with luxury?

Who knows? It just is. Cars. Furniture. Luggage. Clothes. Leather often means top-of-the-line.

So it's strange tech products and leather don't often meet. Until now...

Straight out of the blocks, (and the box for that matter) the HP Spectre Folio 13 makes a statement. If you're looking to show everyone at the meeting you're only interested in high-end, pulling the Spectre Folio out of your briefcase will achieve that instantly.

Nothing looks, smells or feels like leather and the Spectre Folio has leather everywhere. I want to make this quite clear, this is not just a laptop in a leather case - the body is all leather, both outside and when you open the Spectre Folio up. I'm sure if HP could have found a way to make the screen out of leather, they would have.

There's a lot of leather.

Now that I say that... I wonder what a vegan would make of this device?

The point is, like a beautiful handbag or a quality watch strap, you can't deny the instant impression the Spectre Folio makes, in either Cognac Brown or Bordeaux Burgundy.

But of course, leather isn't just about good looks - there are some genuine, practical advantages. For starters, leather can take a knock or two. It's relatively hard to buff or scratch - but if you do, like a well worn wallet, it actually ends up looking better. Also, because leather is thick and soft, it probably has a certain natural shock-absorbing quality to help protect the screen and other precious internals.

Perhaps most significantly, leather is a hell of a lot better at sopping up the disgusting hand oils that usually leave shiny, slippery patches under your palms on most laptops. With the Spectre Folio, not only are the areas your hands rest upon more comfortable, they're far less likely to feel moist and gross.

Of course, this device is not just a laptop. Strong magnets lock the Spectre Folio securely into each of its three profiles; laptop, tent-presentation mode ("Media Presentation Position" - ideal for watching video content) and tablet mode. It feels solid as a rock in each configuration - perhaps even more so than any other transformable device I've used - even Microsoft's own Surface devices which seem somehow flimsy by comparison.

Yet the Spectre Folio is still surprisingly light - under 1.5kg, definitely easy enough to carry around in a pack, briefcase or handbag. The battery life is also right up there with the best tablets and laptops. There are all sorts of claims on the HP website about how long the battery might last in certain circumstances, but in real-life use, you should probably get at least ten hours which makes it a genuinely portable computing option, certainly capable of lasting through a day of work or study.

The 13.3" FullHD touch screen is wonderfully clear, although I've found it to be slightly too reflective in bright conditions. Great for watching movies and TV though - just that much bigger than the 8-10" displays commonly found on other tablets. I personally prefer its 16:9 aspect too, again far more natural for wide-screen media.

Sound-wise, the Bang & Olufsen tuned speakers do a pretty good job - certainly very clear and precise. However, there's a lot of top and not much bass or power, so if you are watching some kind of sound-effect heavy blockbuster, you're probably better off pairing up (or plugging in) some decent headphones to do the fantastic picture quality justice. The speaker array is situated at the top of the keyboard, so I was worried it might become muffled in "Media Presentation Mode," when the keyboard is covered up - but in fact the opposite was true; instead the sound was reflected forward by the tent-like configuration and the quality was actually improved.

The keyboard is itself a highlight - due to the larger, wider screen, there's a lot more space for the keys than there is on your standard tablet keyboard case. That doesn't just mean a bigger keyboard, it also allows for more space between the keys, vastly reducing the chance of mistyping. Obviously the keys themselves remain pretty flat, but I still found there was enough travel there to create a satisfying click with each press.

Whether you're using the Spectre Folio as a laptop or a tablet, don't expect much from the camera - I was surprised to discover just one front facing camera and nothing on the back at all. While it's not unusual for built-in cameras on devices like these to be awful, I would have liked a bit more contrast and clarity for my Skype calls. There's also a slight delay when recording video which is a tad disconcerting, although the videos themselves end up being smooth and clear.

Perhaps the only underwhelming aspect of the Spectre Folio is the actual nuts and bolts performance. Oh, it's not bad by any means - an 8th generation Intel Core processor combined with 8GB of RAM is certainly plenty of grunt for the vast majority of business and personal users. It connects quickly and easily with other devices like screens and speakers. Streaming, browsing and presenting all happens smoothly and reliably. Where things start to go a little sideways is around graphics resources. I tried a few rounds of Apex Legends, a first-person shooter my 15 year-old is currently obsessed with. While it downloaded and installed quickly and efficiently, the high demands placed on the integrated graphics chip led to an inconsistent result. Sometimes the game would load, sometimes not - sometime it loaded but all I saw was a blank screen. I tried to reduce the graphics quality in the game settings and it crashed completely. I'm thinking the Spectre Folio might not be first choice for serious gamers.

Something I really love about the Spectre Folio is the stylus, or "Tilt Pen." It pairs almost instantly, charges with the same charger the Folio does (or any USB Type-C charger for that matter) and does a beautiful job sketching, writing and highlighting. But what I like most about the Tilt Pen is... it comes in the box. These days there are too many devices designed to be used with a host of accessories, but you have to pay extra for those accessories. There's a leather (of course it's leather) holder for the stylus on the right-hand side of the device, so it makes perfect sense for HP to throw it in.

Another useful accessory to be found in the box is a standard USB-to-USB Type-C adapter. This is a must have because while the Spectre Folio sports a generous 3 USB ports, they're all Type-C, which can be a bit limiting when connecting some peripherals. Unusually, other than a headphone jack, that's all there is in terms of physical connectivity - no card reader, no external display port. I don't see this as a major when things like that can be plugged in or connected wirelessly. I'd rather sacrifice a few unnecessary slots and ports in favour of this device's unbelievably slim profile.

Of course, when you're paying around three grand or more for a computer, you'd probably expect a few extras like the stylus and USB adapter thrown in, but it isn't always the case with other products from other manufacturers. Compared to what else is out there, I think the Spectre Folio represents pretty fair value for money. It's a solid performer with noteworthy battery life. Its three easily transformable profiles are all useful and solid and most importantly, there's the leather. Who could forget about the leather? How often does tech get as tactile as this?