Things Look Bright for Intel
Author

Publish Date

Thu, 29 Apr 2021, 12:21PM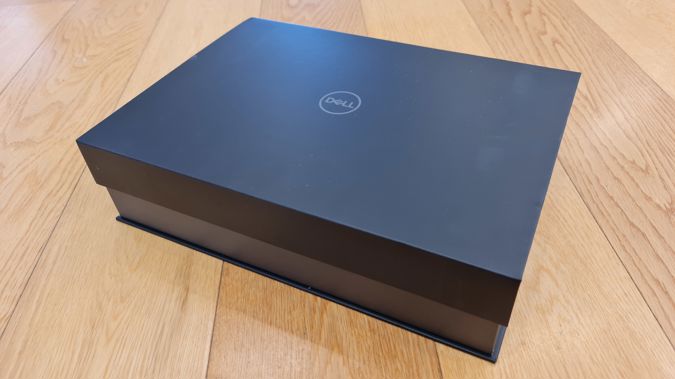 Things Look Bright for Intel
Author

Publish Date

Thu, 29 Apr 2021, 12:21PM
Chipageddon. It's happening. Everything from phones to gaming consoles... even cars are being delayed. But one thing I'm starting to see plenty of is Intel's latest generation of CPU's.
There's been a lot of smack-talk directed at Intel over the last couple of years with competing products gaining a lot of ground where Intel used to be the gold-standard.
But I'm writing this review on Dell's new XPS 13 2-in-1 and a lot of the reasons I love it are directly due to the 11th-gen Intel i7 core running it. Not all... but a lot...

First things first; the XPS 13 (9310) 2-in-1 is extremely pretty to look at. This is no surprise - every XPS device I've had a bash on has always been a sterling example of fine design and precision engineering and this is no exception at all - despite its transformable form factor. In fact, other than a slightly bulkier hinge mechanism, you'd be hard-pressed to tell the difference between this device and its clamshell-style stablemate without looking at them side-by-side.
If I had  a criticism of last year's clamshell model it was a bit fiddly for my clumsy meat-fingers to actually open the lid - that's the kind of fine-detailed engineering we're talking about here - yet this year, on this device, the lid is much more easily pried apart, without losing any stability around the hinges, be it in laptop, tent or tablet mode. 
I have to admit, I'm a bit confused by anyone who wants to turn their laptop into a tablet. Yes, there's a stylus accessory you can use with the XPS 13 2-in-1 (although not included in the box) but no matter how tidily things fold together - and here they do indeed fold very flat - it still feels super weird wandering around holding something this heavy with an unused keyboard underneath.
On the other hand, tent mode makes complete sense to me. Because the stereo speaker array on the XPS 13 2-in-1 is underneath, it actually sounds better to watch your Netflix this way than with the device on your lap. If you're using it as an online TV in your bedroom or the kitchen, tent mode is a no-brainer.
I've got to mention the brightness of the display. Honestly, I've never seen anything like it. When I'm working at home, I prefer to sit on a couch in my living room. Unfortunately, my favourite couch has a window behind it which means I'm usually forced to sit on the other one so I can actually see what I'm typing. Simply not a problem with the XPS 9310.
It's a 13.4-inch touch screen - odd size - with a 16:10 aspect ratio - odd shape. You can choose between FHD+ or UHD+ WLED displays, either way you won't be disappointed although obviously the UHD+ option offers a higher pixel density. The bezels are impressively narrow - especially considering this is a 2-in-1 and also considering there's a Windows Hello infra-red camera tucked ever-so-discreetly into the skinny top frame.
Yes, this is great looking computer. And thanks to its 11th Generation Intel i7-1165G7 (Tiger Lake) processor, it has all the performance required to back up those good looks too.
Sure, we expect a boost in power year-on-year from Intel - and unfortunately that often goes pretty unnoticed due to the inevitable (and usually pretty relative) increase in demands from various apps, games and accessories. The difference here is the introduction of Intel's Iris Xe graphics card. While this is still integrated into the i7 CPU, the jump in graphics abilities on the XPS 13 2-n-1 is night and day. No, this is not a gaming PC - you still need a suped-up, dedicated card to run the really high-end titles and yet... I was able to install and play games like Dirt 5, the Falconeer and Gears 5 with no issue at all. In fact, between the i7 chip, the Iris Xe graphics functionality, the 16GB of LPDDR4x memory and the very quick 512GB of PCIe NVMe SSD storage, I've found games and other apps fire up lightning fast and performance is smooth, consistent and reliable.
There seems to be some consternation floating around over how the keyboard feels on the XPS 13 2-in-1. I don't get it. I'd rather have a nice, skinny device than a little bit of extra travel on my keys. I don't particularly love the way the Delete, Backspace and blank power/fingerprint reader keys are all squished together in the top right corner but it's something you get used to eventually and after a while don't even think about. The touchpad is accurate and responsive and the textured carbon-fibre palm rests are comfy and... and... and I really don't understand what the complaining is about.
My complaint is pretty standard for a device like this; why so few ports? Just two Thunderbolt 4 USB-C ports, a headphone/mic jack and a microSD slot. That's it. Come on - would it be so hard to include at least one full-sized USB? Or maybe we're just all supposed to have access to external USB-C hubs to plug our bits and pieces into these days. At least there's an SD slot - many similar devices don't even have one of those anymore - and at least you can use either of those Thunderbolt ports for charging.
The XPS 13 2-in-1 charges very quickly, by the way and I've found battery life exceeded my expectations - especially given how bright the display is. Lately I've come across one or two laptops that offer genuine all-day performance but not many. This machine is probably the best one yet. I open it. I use it. I pause. I do other stuff. I come back to it. I get everything done without having to worry about charging. That's how it should be... but it never really has been up until now.
That 11th-gen Intel chip helps reduce power consumption of course and there's some kind of new-fangled, dual-fan, vapour chamber cooling system that not only works well, it's very quiet too.
Look, most people agree Dell's XPS laptops have been great for ages. What makes this year's crop a cut above is what you can't see; the new gear from Intel. More processing power and much, much improved graphics capabilities ensure this smart looking 2-in-1 is worth every penny.