There's Nothing This One Can't Do
Author

Publish Date

Tue, 9 Nov 2021, 7:49AM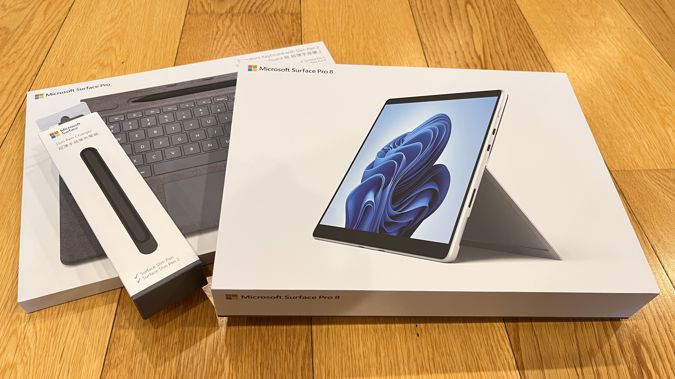 There's Nothing This One Can't Do
Author

Publish Date

Tue, 9 Nov 2021, 7:49AM
I've reviewed plenty of Microsoft Surface devices over the years and if you've read any of those reviews you'll know after my initial disappointment with the original generations, Microsoft quickly won me back with regular upgrades to processing power, battery life and the general user interface. Before long, the performance matched the innovative form factor - a form factor others have attempted to emulate but have never really nailed in the polished way Microsoft has for years now.
Is it a laptop or is it a tablet? The line has become more and more blurred as time goes on - made even more murky by the introduction of actual Surface Laptops to the product range along the way.
So where does the latest top-of-the-line transformable fit in?

Some things never change and although the Microsoft Surface Pro 8 is new, it shares the same major issue as all its predecessors; it's just too expensive. I'm getting this out of the way early because the rest of the review is going to be a bit of a love-fest. Spoilers. 
I've never understood why Microsoft insists on selling the tablet and the keyboard separately, when it's abundantly clear the whole point of the device is to be used in tandem with its famous, magnetised cover. And with the Surface Pro 8, this has never been clearer. Unlike other tablets, everything about the device is set up to be used in landscape; the two Thunderbolt 4 USB-C slots and the Surface Connect port are both on the right-hand side - or the bottom if you were to use the device in portrait mode, which would make them far less convenient. Both forward and rear-facing cameras and the mics are on the long (top) edge, just like on a laptop - not like on a tablet - and the stereo speakers are now also front facing and towards the top of the device.
None of this is surprising - remember; the Surface is a Surface because of its sturdy, built-in kickstand which runs longways - but that's not to say the display doesn't rotate from one aspect to the other with ease. Far from it - you'd be hard-pushed to find a device that flips from landscape to portrait and back as instantly as the Surface Pro 8. It's just obviously supposed to be paired with its rather excellent keyboard.
So why isn't it included in the purchase price?
Technically, the Surface Pro 8 starts at NZ$1849.00 - but that's just for the tablet. The configuration I've been sent; Intel Core i7 processor, 16GB of RAM and 256GB SSD as well as the Surface Pro Signature Keyboard with Slim Pen 2, will set you back, in total, a hefty $3,248.95. This includes $479.95 for the keyboard and pen alone. 
You can buy a pretty serious laptop for that kind of money, so the Surface Pro 8 better stack up.
Luckily, it most certainly does.
I never thought I'd see the day I'd be playing Doom on a Microsoft Surface but with a device this powerful with a display this good, why not? The 13" Pixel Sense Flow display is glorious - especially when you toggle the refresh rate up to 120Hz. It's bright, it's clear and man, it's detailed. Yes, you read right; Intel's Iris X graphics can actually handle some reasonably full-on gaming. I have to confess, I may have spent a little too long perfecting my TIE-fighter piloting skills in Star Wars: Squadrons than perhaps I should have... but all in the name of scientific research, right?
While we're talking multimedia entertainment, this is a great device for streaming video on - the full 13" display is plenty for bedside or benchtop viewing and the stereo speakers are genuinely decent. I don't understand how such a well-rounded, powerful, full-ranged sound can come out of something so small but it puts the speaker array on many other laptops to shame.
As does the camera quality. For too long we've put up with sub-par webcams on tablets and laptops while they've been improving exponentially on smartphones. Well I have no complaints about the camera setup on the Surface Pro 8 - in fact, it might be the best camera combination I've used on a large screen device. The 5MP selfie cam looks brilliant and crystal clear in almost all light conditions and can shoot video up to 1080p full HD. The dual far-field mics ensure high level audio to match the outstanding video quality - a vital combination for the world of video meetings we now inhabit. The forward-facing camera supports Windows Hello for a fast, secure login too.
But let's not forget the rear shooter - a full-featured 10MP sensor capable of 4K video, panorama shots and even document and whiteboard scanning. Talk about going from famine to feast.
Whether or not you're into using a stylus, the Slim Pen 2 is your optional extra here, fitting conveniently into the bespoke cavity built into the very expensive keyboard cover I mentioned at the top. Again though, it's hard to gripe about the price too much when both accessories are pretty first rate.
Surface keyboards have always been a cut above most other similar accessories and this new one is sturdier than ever, boasting nicely spaced out keys with a surprising amount of travel given how thin the whole thing is. The touchpad is small but responsive, with good, clicky buttons underneath.
As for the Slim Pen 2? I'll be honest, other than signing forms, I really don't have much use for digital pens like these. In saying that, I enjoy the feel of it in my hand - not just because of the enhanced haptic feedback but its wide, flat shape is just easier to hold. Microsoft claims it's been honed and upgraded so it now feels just like you're writing on paper. It doesn't. But here's a picture I drew of my puppy, Jerry.

Better battery life is another big claim Microsoft has been making with this device. As I've often said before; in real life, battery life is pretty much impossible to measure objectively. Does this Surface Pro last longer on a full charge than the previous ones? Definitely. Is it way better than all the other devices on the market today? Probably not. What I can tell you is the "All-day battery" statement feels pretty accurate - you can probably get through a day's work, school or uni without having to take a charger with you. Conveniently, you don't have to use the Surface Connect charger that comes in the box, you can charge via either USB-C port which certainly makes things more versatile.
Oh... and then of course... Windows 11. Obviously it comes with Windows 11 Home pre-installed. Even more obviously, it works seamlessly on this uber-powerful, purpose-built device.
This really is a high-end performer, especially configured with the extra RAM and i7 processor I've been using it with. Like the Slim Pen 2, the Surface Pro 8 is capable of all sorts of cool stuff I can't even begin to imagine - it's literally about twice the computer I'd ever need. Which is probably why I'm so grumpy about the price. It's quite simply out of my league.
Click here for more information and pricing on the Microsoft Surface Pro 8.