THERE'S A NEW STICK IN TOWN
Author

Publish Date

Sat, 5 Sep 2020, 4:27PM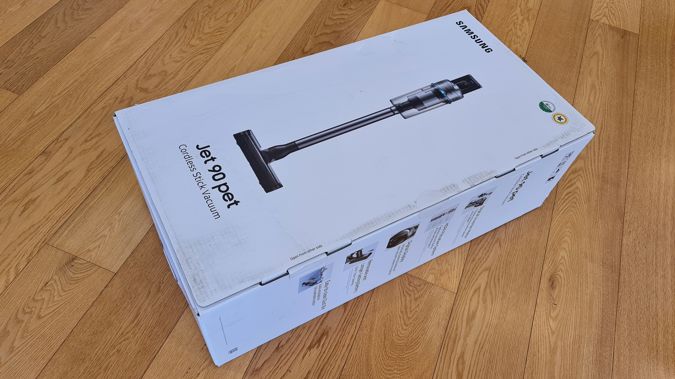 THERE'S A NEW STICK IN TOWN
Author

Publish Date

Sat, 5 Sep 2020, 4:27PM
I think we're all agreed stick vacuums are the way to go these days aren't we?
Okay, there might be one or two hold-outs who complain the rechargeable batteries don't last forever but that's just a fact; batteries don't last forever.
For the ultimate convenience and portability of a vacuum you can hold in one hand, not a cord in sight, I'm prepared to shell out for a new battery every five years or so.
If you're anything like me, once you've used a decent stick vacuum there's no going back to anything else. Even the hassle of having to plug in and unplug a central vacuum system seems like something from another age now.
But if you're still not convinced, there's a new kid on the block with a few surprise accessories that might sway your opinion...
It's pretty fun opening the box the Samsung Jet 90 pet comes in. There's a lot of gear in there - not only the vacuum itself, complete with telescopic pipe and Turbo Action brush but you also get a mini motorised tool, a combination tool, an extension crevice tool and a flexible tool too. If that sounds like a lot of bits, I haven't even got to the Z-Station charging stand yet.
This is the first bit of genuine innovation. Samsung has included an easily assembled, free-standing charging station that holds not only the Jet 90 pet itself but your two favourite tools and an extra battery. The spare battery isn't included but at least Samsung has recognised "up to one hour" might not be quite enough for some people's vacuuming tasks so you can simply unclip one battery and replace it with a fully charged one when you need to.
Of course, this also means if your battery stops holding quite so much charge a few years down the track, it's no drama to replace it completely.
The tools, fittings and accessories all seem very robust and durable, although when fully assembled, the Jet 90 pet still seems light and well balanced - easy to hold. One feature I find very user-friendly is the power button; it's not a trigger, it's just a button, easily accessed by your thumb when holding the vacuum. This means you're not constantly having to squeeze a trigger the whole time you're vacuuming - it's either on or off. There are also up and down buttons to control LOW, MID or HIGH suction. I've found medium gets the job done in most places around the house.
There's also a "WET" option but this seems to be reserved for use with the optional Spinning Sweeper Tool, designed for cleaning hard floors with dual spinning wet pads. I don't have one of these but it looks pretty groovy.
Whichever mode you're in is clearly displayed on a digital screen just above the controls. Any blockage lights up a red icon and there's also a three-LED battery level display on each side of the device which is clear enough but in an ideal world I'd prefer a more accurate "minutes left" readout.
Thanks to Samsung's Jet Cyclone system, there's certainly plenty of suction power - up to 200W which seems to be more than enough to coax most debris out of the rug. The Turbo Action brush does a great job on both carpet and hard floors although it is prone to getting quite clogged up with long hair. As I have three people afflicted with long hair living in my house, this is a common issue. Luckily, the rotating drum detaches with a single click making it relatively easy to de-tangle. Samsung also offers a Soft Action Brush specifically for hard floors but again, this is an optional extra I wasn't supplied with and I can't say I've really missed it.
There's a five-layer HEPA filtration system which is what you want to hear these days when extreme cleanliness is top of mind for all of us.
Using the Jet 90 pet is a real pleasure; as I've mentioned, it feels light and well balanced and the head swivels a full 180-degrees, so it's pretty easy to access most areas. I've found Samsung's "up to one hour" battery claim to be a bit optimistic, presumably that's if you're running on the LOW setting the whole time. Even so, I've been able to vacuum my large, two-storey home in one burst without having to change over to the spare battery. Great to have the option of popping the other one in if you want to carry on doing the cars though.
Unfortunately, there's no on-board tool facility, so you have to go back to the Z-Station to grab any extras you need which is a slight inconvenience. On the plus side, the telescopic pipe doesn't connect to the base of dust bin so the bin can be removed for emptying without having to disconnect the pipe. The bin isn't huge - just 0.8l - so just as well it's easy to take off and click back in.
Which brings me to my personal pain point with bagless vacuums of any kind; emptying them. Sure, it's great not having to buy replacement dust-bags all the time and the bin and filter is completely washable - even the multi-cyclone system can be detached and submerged - but it always seems to be just my luck a gust of wind comes along the moment I'm emptying the bin into the rubbish. This invariably results in a faceful of dust. Funny for you, annoying for me.
Samsung has a solution. The Clean Station is perhaps the most over-the-top accessory for any device I've ever encountered. It's basically a whole other vacuum cleaner in a box. It comes with a specialised dust bin to replace the one on the Jet 90 pet. Strangely, at just 0.6l, this one is even smaller but it fits into the top of the Clean Station where it is automatically opened and the contents are instantaneously sucked out, completely dust free. Awesome. Although, there is a catch...
The Clean Station is not bagless, so you're sacrificing the convenience of not having to replace bags for the pleasure (and tech coolness) of dust-free emptying.
To be honest, this seems like a bit of an extravagance for most users, although I can definitely see the merits for apartment-dwellers and allergy or asthma sufferers. Priced at just over two-hundred bucks, it's probably not a bank-breaker if you're already prepared to spend over $900 on the Jet 90 pet itself.
You certainly can't deny the innovation here and at the end of the day, the result is an efficiently vacuumed home, done with comfort and convenience. 
Click here for more information on the Samsung Jet 90 pet.
Click here for more information on the Samsung Clean Station.