THE WORLD'S GREATEST TELLY. AGAIN
Author

Publish Date

Tue, 30 Jun 2020, 6:25PM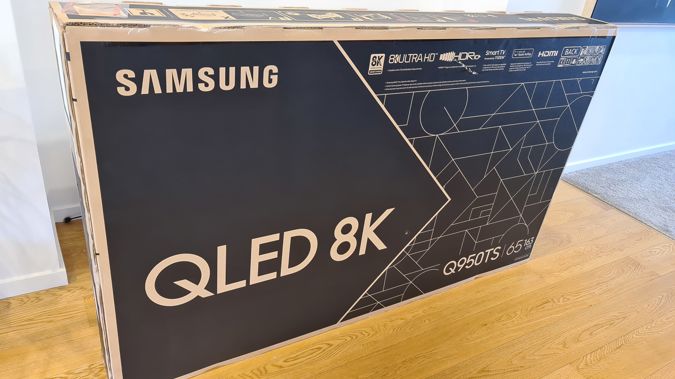 THE WORLD'S GREATEST TELLY. AGAIN
Author

Publish Date

Tue, 30 Jun 2020, 6:25PM
There's a reason Samsung's selling a lot of TV's at the moment; they make really good TV's.
Every year, Samsung literally goes back to the drawing board to come up with new and exciting technical innovations to keep ahead of the pack when it comes to televisual genius. The 2020 range of panels includes some of the most out-of-the-box concepts to date; the now famous Frame comes in more sizes. There's a model called the Serif which is actually designed to perch on an easel or similar stand in the middle of the room - that's how good it looks. There's another one called the Sero, which automatically rotates from landscape to portrait depending on what kind of content you're displaying. There's even a range of weatherproof screens and soundbars for your outdoor living spaces, be that on the deck or by the pool.
So many crazy new TV's all at once. I may never recover.
So let's just pick one...
The Samsung Q950TS is the closest attempt yet to that floating-pane-of-glass TV you see in all the best science-fiction movies.
It's a thing of beauty. A work of art. This is before you even turn it on. I tried to take decent pictures of it, but none of them do it justice. Click the link at the bottom of the review for the really good images.
Meanwhile, I'll do my best to explain what an amazing feat of modern engineering the Q950TS really is.
To begin with, it's flat. Like, really flat. Not only is it a mere 15mm thick - that's everywhere by the way - but it comes with a mounting system to fasten it flush against the wall, with no gap whatsoever. Combine this with its basically bezel-less display and this really does start to feel like some magic portal into all your favourite alternate universes.
That sensation is only heightened once you fire it up. Last year Samasung introduced us to the wonders of 8K panels and now that technology has been refined even further. The Q950TS comes in 75 and 85-inch versions, along with the 65-inch model I've been using. It's great to have a big screen but unless you've got a lot of pixels packed into it, you need to be sitting a long way back for the picture to appear smooth and detailed. Luckily, the Q950TS fires up around thirty-three million pixels every frame, so there's no issue installing a large panel in a normal-sized room. This is also backed up with improved viewing angles too - no matter where in the room I view the action from, colour, brightness and contrast all seem satisfyingly consistent.
As I discovered with my first foray into 8K viewing last year, the blackness and depth to the images is as close to 3D as you can get. Samsung's upscaling technology has also improved which is important, as apart from a handful of YouTube videos, there's still not a lot of native 8K content available out there. It's only a matter of time though and if you want to future-proof your viewing experience for higher definitions to come, this is a great way to do it. Not only does 4K and even 1080p content still look next level on the Q950TS but apparently there's constant machine learning going on to improve the upscaling algorithms all the time. That's what I call a smart TV.
My only remaining complaint with this near-perfect panel is how reflective it is. For the last few years this is an issue that Samsung has tackled pretty well but the real problem is how the Q950TS is mounted on its stand. The stand itself is great; minimalistic, subtle and there are no visible wires whatsoever thanks to Samsung's brilliant One Clear Connection cable being safely tucked away inside it. Unusually though, the stand positions the screen at a slight, upwards angle. During daylight viewing, this is absolutely brilliant, as there's no reflection from windows at all.
At night it's quite a different story, as it seems to reflect many of the ceiling-mounted light sources in the room. The whole situation is a bit weird because, as I've already pointed out, the included wall-mounting system holds the panel flat against the wall, with no angle at all. I'm a bit confused.
There are a million other picture features I could get carried away with - in fact, Samsung claims a billion shades of colour. There are all sorts of clever technical tricks you can delve into on the website if you want but I'll just assure you the picture is truly wonderful... clear, detailed and lustrous in all lighting conditions. Sure you can fiddle about with contrast, brightness and temperature settings if you really want to and there's also a dedicated gaming mode if you're using a console with this panel but to be honest, most of the time I left the picture setting on "Adaptive" and let the Q950TS do the thinking for me. And because Samsung's QLED Quantum Dots are inorganic, in New Zealand they confidently offer a ten year no-screen-burn warranty - great peace of mind when you're shelling out many thousands for a new telly.
Sound settings are where a lot of this year's technical development has really come to the fore. Somehow they've managed to pack six speakers behind these incredible Infinity screens, including woofers. Samsung has also developed a feature called OTS+ (Object Tracking Sound+). As the name suggests, thanks to the combination of up-firing and side-firing speakers, if the on-screen content has been mixed accordingly, anything making a noise will sound like where it is on screen. This works well - up to a point. I've found if you're standing/sitting up close to the screen, the effect is very convincing indeed. The further away you get, the less obvious it is because, at the end of the day, all the sound is still emanating from one central location.
There is a way to make the most of this ingenious new tech though; add the Q70T soundbar and subwoofer. "Wait!" you may cry, "What's the point of having this clever OTS+ feature on the telly if you're just going to play everything out of a soundbar?" Ah-ha! You've fallen into my trap; there's yet another new setting called Q-Symphony that lets you use a combination of soundbar and TV speakers. Add the wireless sub into the equation and you really do start to achieve a truly multi-directional, room-filling soundscape.
The Q70T soundbar itself is a very low-profile, compact device that pairs effortlessly with both the TV and subwoofer. Everything sounds great; movies, music, exploding starships... well, almost everything. Add the Active Voice Amplifier to the Q950T's seemingly endless list of new features. This intelligently boosts dialogue so it can be heard over background sounds like kitchen appliances, fans or other room noise. It's a good theory but it may need a few tweaks in future software updates as I've experienced several instances when the speech level from the same character on screen has varied noticeably during a single conversation. My suspicion is the panel-only audio setup works best in a wall-mounted scenario, where all the sound from the concealed speakers is bounced straight into the room as it has nowhere else to go. Conversely, when the TV is on its stand, away from the wall, there's a lot more reflection happening and the general effect can be quite boomy. The upshot is; if you're not wall-mounting the Q950TS, seriously consider adding the soundbar.
As skinny as the Q950TS is, I feel like the One Connect Box - the separate control station for the TV is bigger and heavier than before. This is of no major consequence, as it can be installed in a nearby cupboard or shelf, out of the way. There's quite a range of connection options, including four HDMI inputs, an optical audio out, RF-in and three USB ports. The Tizen OS will be familiar to anyone who's used a Samsung TV before, with all settings, sources and apps easily accessible from the home menu across the bottom of the screen.
The remote is also familiar and I had no issue using it to control all the devices plugged into the Q950TS, as well as the TV itself. Integration with set-top boxes like Vodafone TV seems to work better than ever and a press of the mic button lets you operate things via voice control. I'm still somewhat perplexed with the three dedicated app buttons at the bottom. I'd prefer it if these were programmable shortcuts and while I get the convenience of a Netflix button, I'd question how many New Zealand users require a button that takes you straight to Prime Video - not yet anyway. As for the third button which opens the web browser - if you're using your TV to browse the internet, something's gone seriously wrong with your lifestyle.
In saying that, mirroring your phone onto the Q950TS has never been easier - gently tapping your handset against the top of the TV will fire up NFC communication between the two devices. Once your phone's on telly, you can split-screen what you're watching with what you're doing on your phone - Netflixing and TikToking simultaneously if that's your thing.
Finally, as if the super-slim, edge-to-edge display of the Q950TS wasn't subtle enough, Ambient Mode has also been given a 2020 reboot. Not only can you match the screen to the wall behind it, effectively turning it invisible, display a gallery of family portraits, or showcase the world's greatest works of art, there are now more options than ever to keep using your Q950TS when you're not watching it. There are Mood and Relaxation backgrounds, teamed with matching soundscapes or even a music wall, that plays pretty patterns in response to your favourite playlist.
There's little doubt the Q950TS is probably the best TV money can buy right now - and you'll need plenty of coin to snap one up. But the best often comes at a premium and you can't argue with the facts; this TV is basically all screen - virtually no bezels and just 15mm thick. The audio experience is innovative and convincing, especially with the addition of the Q70T soundbar and sub. As for the picture... well, you really need to see it to understand the depth and clarity you get with 8K - even upscaled from more traditional content.
I can't imagine what they'll come up with next year...
Click here for more information on the Samsung Q950TS QLED 8K television.