The Webcam That Thinks of Everything
Author

Publish Date

Wed, 7 Apr 2021, 1:12PM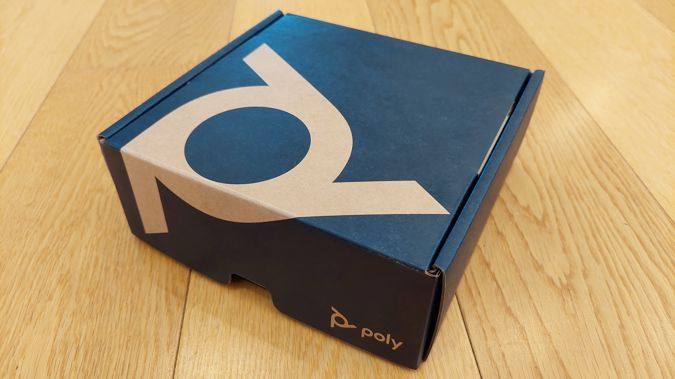 The Webcam That Thinks of Everything
Author

Publish Date

Wed, 7 Apr 2021, 1:12PM
You know I love you. You know I'd never say anything to hurt your feelings. You know I only ever want to be completely honest with you.
Man, you look terrible.
Pale. Washed out. Weird colour.
And there's something seriously wrong with your voice too.
Croaky. No... not croaky. Muffled. I'm really struggling to hear you.
Is everything okay?
Just get on with the meeting?
Well, I would... but... you look and sound so bad... it's kind of distracting.
Not to worry. I've got something that can make it all better. Trust me. You won't feel a thing. In fact, you won't even lose a USB port...

Our brave new Working From Home world is too important to be let down by shoddy sound and video quality. Now video conferencing specialist Poly has solved pretty much all your online AV issues in a very convenient little package. The Studio P5 is one of those commendable pieces of tech design that is so clever, you probably won't even notice how good it is because it just works.
To start with, it's an attractive, mottled off-white colour that's neutral enough to blend in with most WFH setups - not that that matters very much given the camera is the one thing you never see on a video chat. The adjustable monitor clamp is firm and generously rubberised so will definitely stay in place but it isn't springloaded and the device is very light so you won't risk any damage to the top edge of your display. The camera is can be easily rotated through 360 degrees if you want to show off something other than your beautiful face. There's plenty of cable, so you should have no issue connecting to a desktop tower stored under a desk.
You also have the option of removing the clamp completely and screwing the Studio P5 onto a tripod. This is simple a matter of pulling the clamp out of the base - easily reattached as it's held on magnetically. See? Elegant, simple, user-friendly design.
It's extremely difficult to fault the picture quality offered by the Studio P5. It's a 1080p full HD camera with an 80 degree field of view. Auto focus and low-light compensation means you'll appear bright and clear in almost any environment. You can make further manual tweaks by using the Poly Lens desktop app - here you can adjust the zoom, brightness, colour, backlighting - a whole list. Poly Lens is a stripped-back yet comprehensive app that controls any Poly device you might be using and it's how you install any firmware updates as they become available.
For larger-scale business rollouts of Poly devices, there's a cloud version of Poly Lens for your I.T. team to manage your employees' devices remotely.
Given we seem to be subjected to a host of accidental video gaffs on a daily basis, it's nice to have the small but obvious shark-fin LED at the top of the camera to let you know when it's operating and when it isn't. 
For even more peace-of-mind privacy-wise, there's an integrated manual privacy shutter you control with a twist of the front housing of the camera. This is a very space-aged looking, three-part shutter that happens to be bright red and covers the entire lens completely, leaving you in no doubt nobody can see you secretly snacking during that important (but boring) online staff meeting.
They might hear you chewing though, because the mic quality is excellent - very directional and nice and clear although you will still get plenty of room noise in the mix compared with the mic on a decent headset. There's nothing stopping you using a headset in conjunction with the Studio P5 of course - in fact Poly sells a selection of kits that package the Studio P5 with a choice of one of its excellent audio options, from corded headsets to wireless speakerphones.
If you do prefer a wireless sound accessory, or maybe, due to the tendency for modern laptops to sport less and less physical ports, you may be worried about using an external camera because it'll take up one of your precious USB slots. Here we have perhaps the most genius design feature of all. Poly calls it the rear garage door; the bottom half of the rear casing slides off to reveal the Studio P5's own USB 2.0 port. This is there primarily so you can insert a dongle to pair one of the aforementioned Poly wireless audio devices but you don't have to use it for that - it's literally just another USB port. You can slip a dongle for your mouse or external keyboard in there or even a thumb drive - just be aware; it is pretty tidily tucked away so once you plug something into it, it can be a bit fiddly to get out again. This isn't a bad thing though, because it means most dongles are small enough you can replace the cover once they're plugged in and you won't even know they're there.
It's that clever bit of fine detail that sums up what a brilliant piece of hardware this is. You don't have to live your online life in the shadows anymore. Let your virtual voice be heard at last. What's more, you don't have to sacrifice a USB port to do it. This is a genuinely useful accessory that's so much more than just a first-rate webcam.
Click here for more information on the Poly Studio P5 professional webcam.