THE WATCH TO WATCH
Author

Publish Date

Fri, 18 Sep 2020, 12:46PM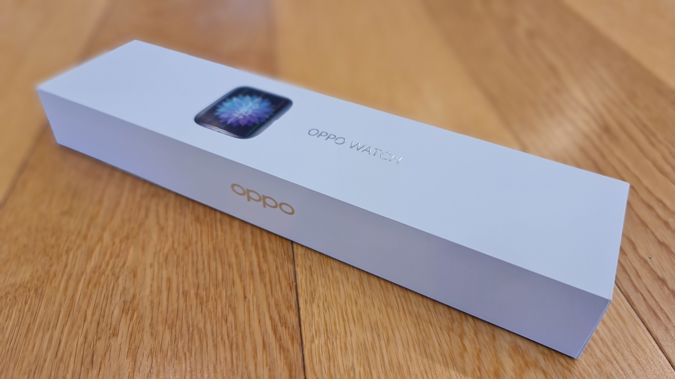 THE WATCH TO WATCH
Author

Publish Date

Fri, 18 Sep 2020, 12:46PM
When it comes to wearables generally and smartwatches specifically, we seem to have some pretty established, trusted brands by now.
If you want to break into that market, you're going to have to turn up with the goods or you probably won't make much of a splash.
We've seen OPPO make big inroads in terms of gaining a decent share of the smartphone market, largely due to innovative photography tech and fast charging capabilities.
Can they pull off the same trick with a watch?...
Well, if looks are anything to go by, yes they can.
Hard to avoid the obvious comparisons to another top selling, square-shaped watch, with the only significant cosmetic difference being two physical buttons on the side instead of a crown controller. We're actually dealing with two OPPO watches; a 46mm model and a 41mm version. There are more differences here than just screen size, so they're worth listing. Not only is the 41mm display smaller, it's simply not as nice. The 46mm AMOLED flexible dual-curved display is a joy to look at and to use - it slips down around the sides, top and bottom like liquid. The smaller one is still AMOLED but it's flat - in fact, almost recessed into the edges. This not only doesn't feel as good but gives the impression the bezels on an already small screen are wider than they really are. In short - if the 46mm isn't too big for your wrist, get that one.
The other differences between the two models aren't quite so dramatic - the bottom case on the large one is ceramic as well as polycarbonate - I can't say I could feel the difference. Both come in black, with a Glossy Gold version of the 46mm and a Pink Gold choice for the 41mm. There's a slight difference in water resistance; 5ATM versus 3ATM so you can still swim lengths with either. Battery size is a bit more significant, 430mAh against 300mAh - but to be honest, I had no issue getting either watch to last through the day which is all I really need. The magnetic charging cradle does the job fast but to be perfectly honest, it's a bit large, quite ugly and the cable isn't very long.
Everything else is the same; same processor, same sensors, same software - so the user experience is basically identical.
And on the whole, that experience is pretty great. I haven't used a WearOS device for years so I'd forgotten how user-friendly a wrist-worn extension of the Android ecosystem can be. If you haven't tried it, basically most things on your phone can be accessed by one degree or another via the Watch. Receive notifications from any app - the rich notifications from my security cameras look incredible, an instant snapshot of whoever's at the door.
For things like texts and emails, you can reply directly from the Watch - typing is a bit fiddly on the tiny keyboard so I use Google Assistant instead - it's fantastic. There are media controls which can be set to launch automatically whenever you play anything on your phone. Even better, you can install apps like Podcast Republic directly onto the Watch so you can start it from there. 
The top button is the shortcut to your apps, as well as your go-back button. The lower button (with the green highlight on it) is programmable; fire off a workout, bring up your heart-rate, launch your media controls, whatever. Of course, you can swipe your way around the Watch too - down for shortcuts, right for Google Assistant, up for notifications and left for Tiles, which are basically widgets for things like weather, exercise and agenda.
Everything is fast and smooth and because this is basically an Android watch, there's an endless amount of content you can load onto it.
Weirdly, tracking is where it all starts to fall over a bit - but I don't think the Watch is actually to blame. Both models are jam-packed with sensors; barometer, geomagnetic, optical heart rate and gyroscope - there's even built-in GPS. Despite all this, tracking workouts and even sleep is rudimentary at best - not because the watch can't do it but the apps just don't cut it. And yes, I said apps plural as you seem to need a collection of them to run the OPPO watch. Because it's a WearOS device, you'll need the WearOS app to set it up. But then OPPO has its own companion app called HeyTap Health - which is where you go to see the results of your workouts and customise your watch faces. Although you can also customise watch faces back in the WearOS app. Or just download new ones directly from the Play Store on the watch itself. Oh, and all the Google fitness apps are pre-installed on the Watch as well - so you've basically got at least two of everything before you even start.
Yes, software-wise, things get messy pretty fast.
Back to tracking though... This is definitely a device comfortable enough to wear to bed; it's curved, light and the fluororubber strap is soft. Unfortunately sleep tracking only shows deep, light and awake, no REM. What's more, the Watch often thinks I'm asleep when I'm reading or watching TV. There are no comparisons given between recommended sleep cycle durations and what you're doing so basically, don't worry about it and charge it overnight instead.
GPS seems to lock on fast and it's as accurate as any other device I've tried. Heart-rate monitoring is also consistent. Trouble is, the Google Fit app is just plain terrible to look at - so don't use it. The Watch's native fitness app does show most of the info you'll want; duration, distance, pace, heart-rate etc but it displays it in a very narrow, green font. This is hard to see in bright conditions, especially if you're wearing polarised sunglasses. Of course, one of the big advantages of this being a WearOS device is there are plenty of other third-party fitness apps you can go with instead, Strava, Endomondo, Map My Fitness... although I've had mixed results trying to use Endomondo - the app measured my route, pace and distance but refused to display a heart rate until after I'd finished my workout. I assume bugs like this are software glitches that will be ironed out over time - the pitfalls of launching an entirely new device. 
What is quite cute is the selection of five-minute workouts, complete with video-guidance. These range from full body workouts through to bedtime stretches and like everything else on the Watch, they look absolutely fantastic.
In fact, most things do. The Watch itself is certainly attractive - even in boring old black. And there are already third-party alternative straps available online. These can be easily swapped out with a push of the quick-release mechanism. Okay, so the tracking and fitness app situation is a bit all-over-the-place but don't let that put you off because with a bit of playing around, you'll find something to do the job for you - after all, this is WearOS so chances are your favourite app will work on this device just fine.
Personally, at $599 I think the 46mm OPPO Watch is a bit expensive given the first-generation teething issues I've outlined but there are some pretty generous gift-with-purchase offers floating around at the time of writing and it really is very nice to use. Most importantly, this is a smartwatch that's compatible with any half-decent Android phone, which ironically, makes it pretty much the opposite of that other watch it looks so much like.
Click here more more information and pricing on the OPPO Watch.