The Tag Game Everyone's Playing
Author

Publish Date

Tue, 7 Sep 2021, 8:17AM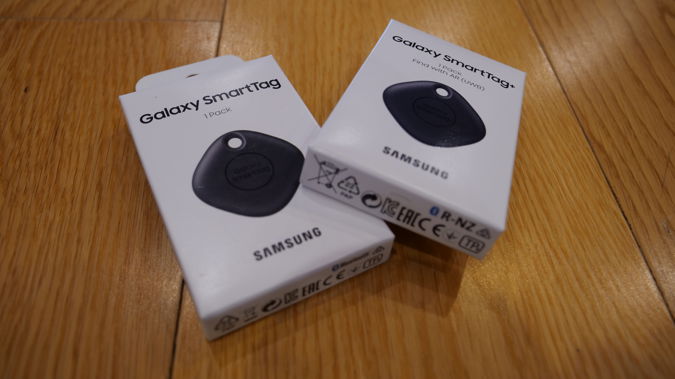 The Tag Game Everyone's Playing
Author

Publish Date

Tue, 7 Sep 2021, 8:17AM
Amazing how whole product categories can just invent themselves overnight.
Well okay, with Bluetooth tracking devices, that's not quite true. For years we've been watching secret agents attach "homing devices" onto things in movies and TV shows. In the same way smartwatches have given us all the capabilities any self-respecting international-person-of-mystery can access from their wrist, we can now keep an eye on our most prized possessions in real time.
Or… at least find our car keys if we've forgotten where we put them.
But it seems which tags you should choose might depend on which ecosystem you use…
At the end of the day, all these things are basically the same. The Samsung Galaxy SmartTag and SmartTag+ are pretty much just what you think they are; little plastic squares you can attach to whatever you want, so you can locate those items via your smartphone should they ever become lost.
However, the first and most important thing you need to know about them is they are only compatible with Samsung Galaxy devices. If you're using something else, Galaxy SmartTags are not for you.
This is a bit surprising for me, because until recently, most Samsung accessories have been pretty brand-agnostic. Earbuds, watches - you could pair them with most late model Android and iOS devices, albeit with varying degrees of functionality.
The SmartTags break with that trend, as do the recent Galaxy Watch4 and Galaxy Watch4 Classic. Although, while the new watches will still pair with any Android phone, the Tags go that step further and keep things Samsung-only.
The only downside to this, assuming you are a Samsung-ite, is the way these trackers work is through other users pinging their locations when you're not close enough for your phone to connect to them. That means your crowd of blissfully unaware co-trackers is restricted to other Samsung users who're also using SmartTags. Lucky for you, Samsung sells heaps of phones - especially in New Zealand.
Of course, most of the time if you've misplaced your keys, wallet, handbag or security card, it's not on the move somewhere - you've just put it down and forgotten where. This is when tags like these really come into their own - as the last known location is always easily found via the Find section of Samsung's increasingly ubiquitous SmartThings app.
In fact, the new Plus version of the Galaxy SmartTag offers more ways than ever to help you visualise exactly where it is - and I do mean exactly. This is thanks to its added Ultra Wide Band capabilities. Both tags will show you where they are on a map. Then, when you're in Bluetooth range (usually in the same house is close enough) both tags display a proximity dial on the Find screen, indicating a stronger or weaker signal as you get closer. At this point, you can activate the ringer you've set for your SmartTag which should definitely be enough to help you find it - even in a drawer or under a cushion. However, if it's shut in the wrong car in the garage for example, you still may not hear it, even though you're standing right there. That's where UWB and AR join forces to give you on-screen directions to the super-precise location of the device… in theory.
The AR directions come in the form of arrows and a swarm of dots that coalesce around the SmartTag+ once it's in your line of site. Except, as you can see in this picture, while my car keys (attached to SmartTag+) are clearly sitting on the side table, the AR seems to think they're on or under the mat. I've tested it out quite a bit in various locations and my theory is the tags are quite susceptible to interference from other devices at close range. In this case, there's a wireless headset with a rechargeable battery in the box under the table. I'm wondering if that's what was throwing the little green dots off.
The point is; by that stage I was certainly close enough to see the keys anyway, not to mention the fact I could have set off the ringer and definitely heard it.
Did I mention you need a UWB-capable phone to make that AR trick work? Yes, that's right. To utilise this example of Samsung's latest tech, not only will you need a Samsung handset, you'll need a really flash Samsung handset. (The new Galaxy Z Fold3 does it but the cheaper Z Flip3 doesn't)
At $49 for the standard SmartTag and $69 for the Plus model, I can't quite see the benefit of paying another twenty bucks for some green dots and arrows. Especially when some of the best features of Galaxy SmartTags are available on both models.
For example, one of the things that really sets Samsung's product apart is the ability to program the button on tag itself - again, this happens through the SmartThings app. You can set an action for a short press and a long press - a short press could be set to help you find your phone (the opposite of finding your keys with your handset) while a long press might turn on your smart lights. That's pretty cool and you can do it with both models.
You can also customise the ringtones for different tags - from a choice of ten - but perhaps the best feature of all? The hole in the corner. This means you can attach your tag to key rings and chains without having to fork out for an extra accessory.
Ultimately, this is one of the easiest purchasing decisions you'll ever make. Once you've decided tags like these will be useful in your life the choice is clear-cut; if you don't have a Samsung phone, Galaxy SmartTags are not for you. But if you do, they're the only tag you should be considering.
Click here for more information and pricing on the Samsung Galaxy SmartTag.
Click here for more information and pricing on the Samsung Galaxy SmartTag+.