THE SPEAKER YOU CAN REALLY SEE
Author

Publish Date

Fri, 21 Feb 2020, 5:43AM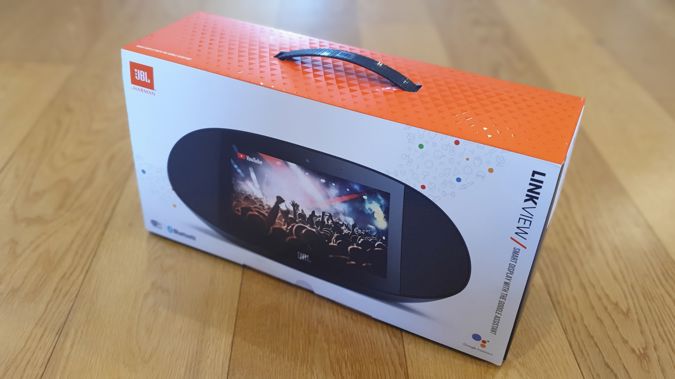 THE SPEAKER YOU CAN REALLY SEE
Author

Publish Date

Fri, 21 Feb 2020, 5:43AM
What a golden age we're living in.

Technology has progressed so far, we are now being sold a lot of stuff we don't need and certainly never asked for.

In fact, some things have ended up being so advanced and unnecessary, nobody bought them and they went away again. Remember 3D TV's? Nope, me either.

So how smart does your smart speaker really need to be?

The JBL Link View is pretty much exactly what it looks like; a touch screen stuck on a big bluetooth speaker.

In fact, you could argue the aesthetics aren't particularly elegant - the screen itself is framed by big black bezels and the flat, oval shape of the device all seems a bit retro. But maybe that's what they were going for.

At 332mm wide, the Link View is quite a big beastie, about the size of a loaf of bread - definitely not one of those speakers that looks like an ornament or vase. No sir, this is speaker that demands to be the centre of attention on whatever shelf or table it's sitting on, loud and proud.
And yes, it's definitely loud. If there's one thing you can rely on from any JBL speaker it's a big boom - often producing more sonic punch than you'd expect from its size. The Link View is no exception and as I've just pointed out, it's not that small. This means you can legitimately fill a large room with your party playlist with a couple of notches still left on the volume dial.

Not that there's an actual dial of course, it's not that retro. In fact, the only physical controls are volume plus and minus buttons and two little privacy sliders to deactivate the camera and the mic. You'll want to leave those sliders unslid to get the most out of Google Assistant obviously. If you and your contacts have Google Duo activated, you can make crystal clear video calls, just like being in a science fiction movie.

Setup is easy enough, although you have to do it through the Google Home app on your mobile device, not using the touch screen on the Link View itself.

Once that's done, anything else you want to control is via voice command and my feeling is Google Assistant might just be edging ahead in the virtual helpfulness stakes right at the moment. I've experienced very few misunderstandings and it's helpful to see my vocal requests instantly transcribed on screen. Call up a recipe vid on YouTube, play it, pause it, repeat it - all with the knowledge there's no risk in having the Link View sitting on your kitchen bench as it's IPX4 splash resistant. I've never been entirely sure if that also means pasta sauce resistant but I assume so. Perhaps avoid actually dropping it in a pot of boiling water though.

Another ideal use for the Link View - and really it's all in the name - is keeping an eye on any Google-enabled security cameras you have installed... or any other Google smart devices for that matter. The screen is really very good - eight inches is a genuinely useful size, colour and clarity are excellent and the adaptive brightness works well.

As good as Google Assistant is, she doesn't seem to play particularly well with Mr. Spotify. Whether this is a deliberate ploy from Google to push you towards using YouTube or GooglePlay Music to stream your favourite hits instead, I couldn't possibly say. Yes, you can designate Spotify to be your default music app, but no matter how many times I ask the JBL Link View to shuffle "Dire Straits Radio," I get only Dire Straits songs, instead of songs by bands like Dire Straits. That may sound like a niggly little detail, but other smart speakers seem to be able to handle instructions like that with no issues at all.

On the plus side, the Link View is also a fully functioning Chromecast device - anything you're used to casting to your telly you can now also send to this 8" HD display. This is ideal if you need to sneakily keep an eye on the rugby while everybody else in the room is watching MasterChef. In fact, I was blown away by the quality of online TV being cast through this device.

Big screen, big sound and a host of useful functions means the Link View is certainly an attractive option if you're looking for one central speaker to handle all your smart requirements.