The Speaker That Goes Up To Eleven
Author

Publish Date

Tue, 14 Dec 2021, 5:50am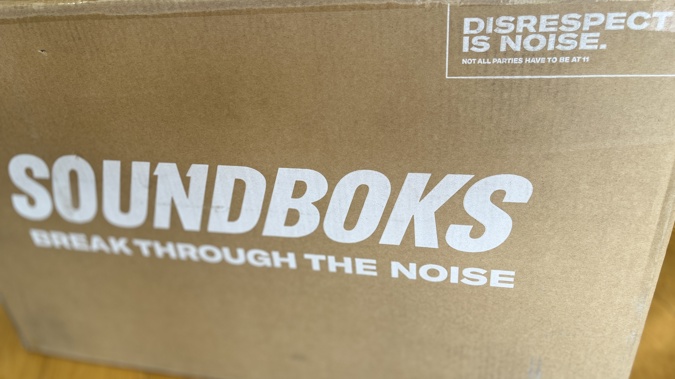 The Speaker That Goes Up To Eleven
Author

Publish Date

Tue, 14 Dec 2021, 5:50am
The rise and rise of the bluetooth speaker hasn't all been good news.
Many of us have made serious compromises just for the convenience of a wireless, portable sound solution.
Often the speakers available, while relatively cheap, are small, under-powered and don't have the battery life required for prolonged use outdoors, away from mains supply.
Most frustratingly of all, somewhere along the way we accepted inferior sound quality, just so we could take our speaker to the beach or the park.
Well at last, there are some better options out there, proving portable doesn't have to be horrible.

SOUNDBOKS claims to be the world's first bluetooth performance speaker. If, like me, you're not entirely sure what a "performance bluetooth speaker" is... there's a bit of a story behind it.
I'm sure we've all found ourselves in that classic situation; you're at the Rokslide music festival in Denmark (kind of like a Danish Glastonbury) and you want to keep the party going all night long. For the whole week. In the rain. Ah, good times.
So if you happen to be three particular high school friends you simply set about creating your own speaker, purpose-built for the job. It'll have to be portable. It'll have to have a big battery. It'll have to be weather-proof. And it'll have to be loud. Very, very, very loud.
Given SOUNDBOKS speakers are now owned by over 50,000 people in 40 countries around the world, I'm thinking those three high school mates got the formula about right.
The SOUNDBOKS looks exactly like a speaker - in the most boring way possible. If you were playing Pictionary and had to draw the word, "Speaker" for your team, you'd probably try to come up with something like this; a black, rectangular box with handles on the side and a big grille on the front. At a glance you'd be forgiven for assuming it's just another guitar amp or an anonymous piece of concert P.A. equipment.
Remember, this is about performance - it's not a beauty contest.
On closer inspection you'll discover a few extra touches that help make this an incredibly durable piece of kit - especially given its size, measuring over 60cm tall and weighing in at a hefty 15 kilos. First, each corner is protected with a large, solid ball of silicone - ensuring maximum protection for both the corners of the SOUNDBOKS and whatever you've set it down on - upright, sideways, it won't matter.
The top is flat, featureless and ideal for resting a beer on. Or two.
And the front grille is dent-proof. Kick it if you want. It won't mind. But your foot might.
The electronic bits are claimed to be "splash-proof." I think this must be some kind of Danish understatement as their Kiwi ambassador, world champion freeskier, Nico Porteous takes his SOUNDBOKS up the slopes so he has some decent sounds to train to. Those are snowy slopes, by the way. He just won a silver medal in the half-pipe competition at Copper Mountain, Colorado. It was minus 22 degrees.
SOUNDBOKS even sells a specially designed backpack accessory should you want to carry a large, bulky, 15kg speaker up a mountain yourself. Are these people mentally unstable? Perhaps. But in a good way.
The "loud" part of the equation is an unmitigated success. The SOUNDBOKS will crank up to 126 decibels. If you're not sure just how loud that is, jet engines at a hundred feet away are 140dB. Live concerts are usually around the mid 120's (well, the good ones anyway) while chainsaws only put out a mere 110dB. According to Yale University, pain starts at approximately 125 decibels so... user discretion is advised?
Needless to say, if you're looking to wake the neighbours, this is the speaker to do it with. Embarrassingly, I have to admit I was actually to scared to listen to my SOUNDBOKS at full volume. But then, I wasn't up a mountain in Colorado or in the middle of a paddock in Denmark. I was just outside, building a path along the side of my house. As I enjoyed the rich, sheer grunt of classic rock tracks from Led Zep, the Who and T-Rex blasting all over the garden (and the neighbourhood) I realised what a brilliant addition the SOUNDBOKS would be to any construction site or factory floor.
But here's the thing, having all that power in reserve is a bit like that suped-up, highly-tuned engine in a sports car - even when you're just driving around town everything works better. Acceleration is smoother and more responsive and should you need to pass that campervan up the hill, it simply won't be an issue. That's exactly how I felt listening to the SOUNDBOKS at home; knowing it was capable of blasting every frequency at the level of a jet engine, it certainly absolutely purrs along at two or three on the volume dial. (Yes, there's an actual dial and yes, it really does go up to eleven)
There's nothing complicated about operating the SOUNDBOKS, it pairs pretty much like any other bluetooth speaker. There's also a fantastic companion app that allows you to fiddle around with EQ's and mix any other AUX sources, mics and instruments you might want to plug in.
But the swappable battery might just be the real star of the show here. You can charge it while operating the SOUNDBOKS on mains power and it will run the speaker for up to 40 hours. Literally an entire weekend. Hang on, the Rokslide Festval lasts all week though. No worries - just buy a backup battery and have it on hand to swap out if you need to. Crazy.
The SOUNDBOKS team has thought of everything - including the TeamUp function which lets you connect up to five SOUNDBOKS speakers together. Hell, at that point, you've basically got your own music festival.
At NZ$1899.00, this might be the most expensive bluetooth speaker I've ever reviewed but it also might be the toughest, the longest lasting and it's undoubtedly the loudest. If you want to be outstanding in your field, (yes, that is a dad joke) SOUNDBOKS is the speaker for you.
Click here for more information and pricing on the SOUNDBOKS Performance Bluetooth Speaker.