The Same Old Huawei Problem
Author

Publish Date

Fri, 8 Apr 2022, 2:33pm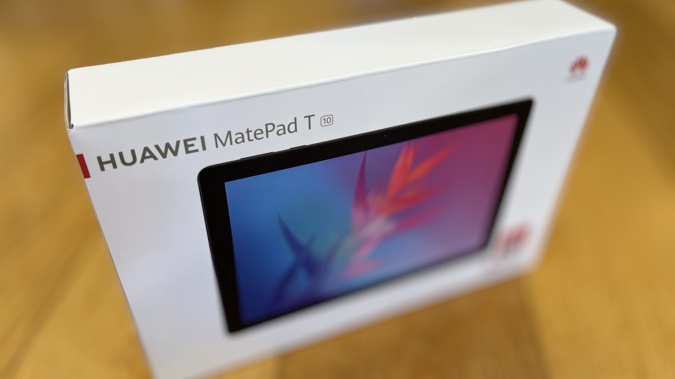 The Same Old Huawei Problem
Author

Publish Date

Fri, 8 Apr 2022, 2:33pm
There are all sorts of reasons to buy a tablet. For some people it's an essential work tool - perhaps even the primary method for controlling an important piece of machinery or inputting data. For most students, tablets replaced exercise books and even text books many years ago - no longer are they forced to slump heavy schoolbags around like us ancient geezers back in the old days.
There are those who just need a bigger display than what their phone offers - perhaps for a bit of poolside reading, bedtime TV or in the kitchen for video recipes.
Then there's the kids. Chuck 'em a screen. Keep 'em quiet. Perhaps not exactly model parenting but desperate times, right?
And there'll be a million other reasons why a tablet is just the thing. So which category (if any) can Huawei fill for you?...

The Huawei MatePad T10 is quite a styley-looking tablet as tablets go. It has a dual-textured rear panel in Deepsea Blue, which makes a nice respite from the usual black, grey or silver. However, despite its matte finish, the back panel does tend to pickup a lot of fingerprints which seem surprisingly stubborn to wipe away. This is unfortunate, because as I'm about to recommend, the MatePad T10 is perhaps best-suited to be used by younger kids and they're not usually known for grabbing onto things with super clean hands.
The 9.7-inch display is in that "Goldilocks" area of not too big / not too small - and combined with the long, skinny 16:10 aspect ratio, the device is probably a lot easier for small hands to keep a grip on than some of the other larger, squarer options out there.
In fact, there's a lot to suggest this might be just the device to keep littleys entertained - and educated. There's a dedicated Kids Corner that can only be set up by a parent who knows the password for the device. This is where there are a few pre-installed apps for drawing and recording video or audio-only messages. There are masses of other kids apps available but again, only the supervising caregiver can choose and download them.
That responsible adult can also set limits on screen-time and the whole thing is set up to help kids learn to use devices like this sensibly and safely - reminding them about eye-care, posture and taking breaks. This is all very well designed and executed and seems to work pretty flawlessly.
Unfortunately, back outside Kids Corner, the T10 struggles to be as useful for adults.
The biggest issue is exactly the same challenge anyone who owns a recent Huawei handset faces; the absence of Google Mobile Services - as most of us know by now, this means you're either severely limited as to which of your favourite apps you can actually access on the device, or you'll have to start finding alternatives. Admittedly, there are indeed plenty of other options but I couldn't even get Spotify to run. Sorry, but I'm not creating all my playlists from scratch - not just for this review, anyway. 
It's truly frustrating because some things work with no issue whatsoever; anything from Microsoft seems fine - I set up my Office 365 work email on Outlook easy as. But the moment Google is part of the equation, it all falls over. For example, my preferred on-screen keyboard is Microsoft Swiftkey. But as soon as I tried to login to my Google account to sync my saved preferences, it just sent me straight back to the previous screen.
Perhaps most annoyingly of all the T10 will let you install things that don't work. I downloaded Asphalt 9, Modern Combat 5 and Apex Legends Mobile to try out the gaming capabilities of the Kirin 710A chip. Modern Combat worked okay, although at pretty low resolution. Asphalt fired up and let me waste time setting up my car, only to crash every time I started a race. Apex Legends wouldn't even load. Needless to say, unless you want to play Panda Policeman, this is not a device for gamers. There's only 2GB of RAM to keep things running here and games weren't the only things that crashed as I used them.
Technically, the T10 is still an Android tablet - Android 10 running EMUI 10.1.0 on top and as far as a user interface goes, it's fine. The home and lock screens rotate smoothly, there's a system-wide dark mode and a good range of customisation settings. In fact, there are some cool features like App Multiplier; this shows dual windows of compatible apps when you hold the tablet sideways to help you access two sections of the app simultaneously.
There are also useful shortcuts from the pulldown menu for Eye Comfort - which takes out much of the blue light - and eBook Mode, basically converting the T10 into a battery-saving e-reader. I loaded my current Brad Thor novel in epub format had had no issues reading it via the Huawei Books app.
The cameras are okay - but only okay. A 5MP rear-facing sensor and and 2MP selfie-cam which feels rather outdated compared to what other devices have been offering lately. In saying that, video quality is not too bad and at least apps like Snapchat, TikTok and Messenger all seem to work fine. I was actually quite impressed with the mic quality too so if the kids are video messaging their grandparents, they should be able to hear them perfectly.
Battery life is quite good and the tablet charges quickly via a strangely offset USB-C port on the bottom(portrait) or right(landscape) edge. There's a popout microSD tray which is just as well as the T10 only has 32GB of internal storage. Sorry but that's unforgivable in this day and age; I had pretty much filled that space up with apps by the time I'd finished setting up the device. Given most tablets will be used for viewing pictures and video - if not editing them - 128GB should really be the absolute minimum. There should be a law.
I actually did watch some Book of Boba Fett on the T10 via video file on a USB drive - it looked good and sounded even better; the stereo speakers aren't bad at all, although because they're situated in the middle of each side when you're holding the tablet in landscape, it's easy to accidentally muffle them with your hands. (Even more of an issue when you're gaming, if you can get your game to work)
Again, lack of app availability is a major issue - streaming apps like Netflix and Disney+ simply aren't an option. Some video and music services will work via their web players instead as will YouTube for those cooking videos but man, it's all a bit of a struggle.
This is why it's hard to recommend the MatePad T10 for anything other than an educational play tool for kids - that stuff works really well and the parental controls are very nicely thought out and work effectively. Maybe that's worth NZ$299.00 to you, I don't know.
For most other operations, unless you have already invested heavily in the Huawei ecosystem, like me you'll probably end up hitting your head against a virtual brick wall.