THE PUCK WITH PUNCH
Author

Publish Date

Thu, 25 Jun 2020, 3:47PM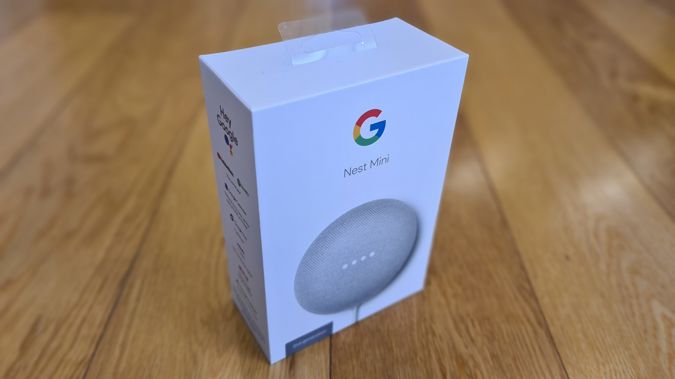 THE PUCK WITH PUNCH
Author

Publish Date

Thu, 25 Jun 2020, 3:47PM
The competition to be the smartest smart speaker has really heated up over the last year or so.
It's now more than just a question of streaming your favourite song just by asking for it - although that's always cool.
Smart speakers are now the access point for all your other smart devices too; lights, security cameras, appliances - perhaps most importantly, other speakers.
The days of having to wire your whole home for a multi-room sound system are long gone, not when you can just plonk a WiFi connected speaker in every corner.
So which speaker to choose? Is there a difference? Does it even matter?...
The Google Nest Mini might not look like much, but I think that's kind of the idea.
Whether you've chosen Chalk or Charcoal, this latest little disc of audio delight is basically all speaker and the subtle colours and the absence of any screen or garish lights means it will blend in with any decor. What's more, if you're at all environmentally conscious, you'll  be pleased to hear the Nest Mini's external enclosure is made from 70% post-consumer recycled plastic, while the fabric covering itself is all recycled bottles. Fun fact; a single half-litre plastic bottle provides enough material for more than two Nest Minis. See? You're basically saving the world by listening to this speaker.
One of its only physical features is a simple wall mounting on the base if you really want to get it out of the way - bearing in mind it still needs a power cable attached. This is my main lingering frustration with most smart speakers at the moment; they're not rechargeable, therefore not portable. Rumour has it we will see more carry-about smart speakers on the market by the end of the year, so watch this space.
Meantime, the Nest Mini is the next best thing because it really couldn't be more simple to set up. Plugging it in is the most complicated part - but only because the plug itself is rather oversized; it's slightly too big to fit next another plug in most standard New Zealand double outlets - either vertical or horizontal versions. However, once you have powered it up, you only need about a minute for the four white LED status lights to calm down and then it's just a matter of adding the device with the Google Home app - the same app you use to set up a Chromecast dongle or any other Google-enabled gadget. If you've already used Google assistant before - and if you own an Android phone, you probably have - your voice recognition data will be instantly transferred to the Nest Mini as well.
This seems to be where Google is just nudging ahead at the moment; figuring out what you mean. If you've used a smart speaker you'll be familiar with how satisfying it is to have your favourite music playing in seconds just by asking for it. You'll also be familiar with the acute frustration induced by having to repeat your requests, at increasing volume, before realising no matter how angry you get, you're never going to get Norah Jones' new album to play because you can't remember the name of it. Although the Nest Mini is no mind reader, I've found it to be reasonably good at following orders, if not actually that intuitive. Not only does it give me accurate weather forecasts and play my favourite playlists and live radio stations, the far-field mic setup seems to work extremely well and my instructions are very rarely missed, even when the speaker's playing pretty loud.
In fact, even as I've been using it while writing this review, I've been prompted to improve Google Assistant's voice recognition by reading a few phrases displayed on my phone. This seems to prove Google is indeed evolving the software over time. You can't say they're not trying.
You can still perform some operations manually, if you really want to. The Nest Mini can detect when your hand is getting close and will light up a few LED's accordingly to show you where to tap to pause, play or adjust the volume.
In terms of controlling other Google-enabled devices around the home, it's been easy to switch lights on and off and do more complicated things like play specific Netflix shows on my TV - even if the telly's off when I give my instruction. If these things don't work first time, it's usually because I haven't quite worded things the correct way but Google Assistant is pretty good at prompting you in the right direction.
At the end of the day, no matter how smart it is, the Nest Mini is still a speaker, albeit a tiny one. Despite that, I've been really impressed with the sound it pumps out. Somehow, even though it's so small, there's a relatively spacious dynamic range and even the bass response is okay. I wouldn't exactly describe the sound as "room-filling" - there's simply not quite enough speaker for that but it comes pretty damn close. You won't be thumping out an all-night dance party with this thing but it does a great job of providing a warm, ambient musical atmosphere - especially with more acoustic tracks.
And it's the easiest thing in the world to group a few Nest Minis together to have that same background music playing throughout your home - or you can move your stream from one speaker to another just by saying so. Google Duo means using multiple Nest Mini's as room-to-room intercoms is an option too, very handy around dinnertime.
If you're looking for a low priced, subtle-looking, multi-room audio solution, at just $89RRP a speaker (or even less on special) the Google Nest Mini might well be the answer.
Click here for more information and pricing on the Google Nest Mini.