THE ONLY THING HOLDING THIS WATCH BACK
Author

Publish Date

Fri, 6 Nov 2020, 5:27AM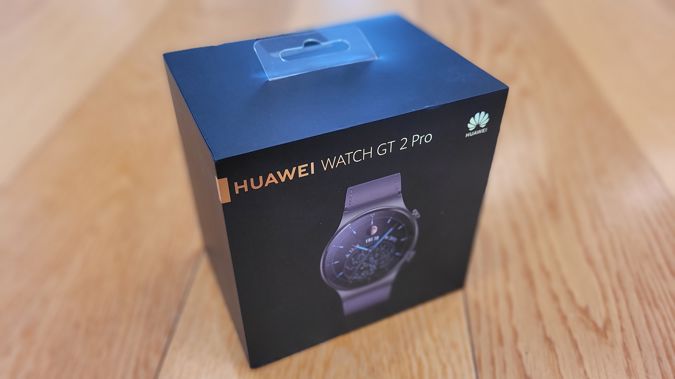 THE ONLY THING HOLDING THIS WATCH BACK
Author

Publish Date

Fri, 6 Nov 2020, 5:27AM
Man has Huawei been pumping out the watches lately.
I have to say, I'm not a massive fan of releasing frequent new models of a device with only incremental updates each time.
Although, I have been a fan of what Huawei has had on offer for my wrist
So what's new? And is what's new new enough?...

It was love at first sight the second I opened the box. It's obviously just my opinion but the Huawei Watch GT2 Pro might just be the best looking smartwatch I've ever seen.
It's a lot to do with the colour. It comes in black, (doesn't everything?) but luckily I was sent the Nebula Grey version. This means a grey-brown leather strap, a titanium case and sapphire glass. Everything about this watch whispers premium build. The back casing has also been upgraded to a more skin-friendly ceramic.
I keep coming back to the colour. Over the years I've been told in no uncertain terms you can't wear grey and brown together. Repeatedly. Yet with the Watch GT2 Pro, somehow Huawei has created a hue that seems to be the perfect blend of the two. This means it matches pretty much anything; earthy tones through to bright, bold primaries. The stitching, the brushed metal finish, the matching buckle... this is a classy, classy accessory. Even the buttons have been enhanced, now raised, enlarged and with tactile, knurled edges.
The sapphire glass stretches right out to the very edges of the device and it seems to be extremely hard-wearing. I have an uncanny ability to scratch my watch faces within minutes of first trying them on - too many extravagant hand gestures I guess - but not this time. I've been wearing the Watch GT2 Pro for a couple of weeks now and the screen is still pristine.
The 1.39-inch AMOLED display looks sensational in all light conditions, even outside in the sun, even with sunglasses on. I find the layout of the fitness tracking app particularly well set out and easy to read at a glance.
While there aren't thousands of watch faces to choose from as you might find on other platforms, the dozens on offer here are still more than enough for me - and new choices are being added every day.
This is all part of Huawei's own unique operating system - an interface I've come to really appreciate for it's elegant simplicity. Navigating around the watch is quick and silky smooth, useful shortcuts like alarms, settings and do-not-disturb are easily accessible as are widgets like weather, sleep and heart-rate data.
Sensors for blood oxygen and stress levels seem to do their jobs more efficiently than those I've used on other devices and sleep tracking is accurate, with plenty of insights and advice provided courtesy of the Huawei Health app.
Although you can receive notifications from any app on your phone, because the Watch GT2 Pro runs on its own software, you can't install any third-party apps onto the watch itself. This means you won't be using Strava, Map My Run or Endomondo to record your workout.
DON'T LET THIS PUT YOU OFF!
If I've learned one thing from Huawei's recent line of smartwatches, it's how great the fitness tracking is.
There really is an incredible number of activities you can monitor - the usual running, walking, cycling and gym workouts of course along with just about anything else, from squash to kite-flying (I'm not making that up). Huawei has now added golf and skiing too. I don't golf or ski but from what I've read, the golf option does a pretty good job of measuring your swing at the driving range so that sounds genuinely useful.
As I mentioned earlier, whatever you're tracking couldn't be displayed more clearly or more usefully - both on the watch and later in the app. The built-in GPS is as fast and as accurate as any I've used and it means you don't have to take your phone with you to track your workout. The route appears as a shareable map the moment you sync the watch back with your phone.
Oddly, the pace-per-kilometre generally displays as being a bit faster than it actually is. This is a slightly frustrating as each 1km split tends to show a slower pace than I thought I was doing. Hard to say why this happens when everything else seems so instantaneous and spot on.
If you choose the Nebula Grey version of the Watch GT2 Pro, you'll probably want a spare sports band to replace that beautiful leather strap when you work out. This is easily done with any quick-release 22mm band. Given the watch carries a 5ATM water resistance rating, you'll have no issue tracking swims or triathlons but you don't want to ruin the leather in the process.
Right, now for my problem. The one issue that prevents this device from being the best smartwatch I've ever worn; you can't reply. Sure, it's fantastic to get notifications from your SMS, email and social media apps but I've always argued, if you can't reply, then your smartwatch isn't actually all that smart. To be honest, even the notifications themselves, although prompt and reliable, are far too brief. Emails appear with the name of the sender and subject only - no body of text at all. Rich notifications from my security cameras appear with a preview snapshot on some smartwatches, not on the Watch GT2 Pro.
I don't know exactly why this is - especially when you can make and receive phone calls via the Watch GT2 Pro with no issues at all. I assume it comes back to the unique operating system but proprietary programming doesn't prevent other watches replying to messages. I also assume it's the reason the music controller doesn't work consistently either. I can use it to pause, skip and adjust the volume on media that's already playing on my handset but the watch can't seem to start anything, which is a bit frustrating if you're wanting to listen to something while your phone is secured firmly in a sports armband or tucked into your handbag. Yes, you can load songs straight onto the watch and pair it directly to your earbuds but that's not the setup I prefer.
That lack of two-way communication is my only reservation with the Watch GT2 Pro. Everything else about it is simply stellar - especially the battery life. It'll last you a week on a single charge without any issues at all - much longer if you're not regularly tracking workouts or have some other features disabled. Best of all, there's a new charging puck; completely wireless and magnetic so it no longer requires you to place the watch a certain way round to charge. Far more convenient.
As a fashion accessory, the Watch GT2 Pro is perfect. As a sports and health tracker, it's up there with the best of them. If only I could answer my emails and messages, then this would easily be the smartwatch of the year.
Click here for more information and pricing on the Huawei Watch GT2 Pro.