THE NEW WAY TO STORE
Author

Section

Publish Date

Monday, 3 December 2018, 12:15PM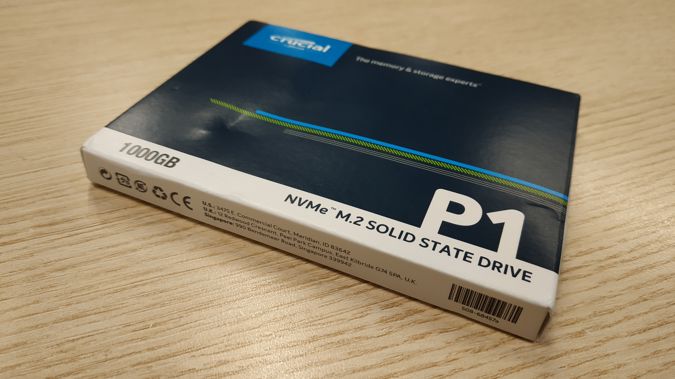 Okay, this is one for complete nerds, but bear with me.

In case you weren't up with the play, modern laptops don't use hard drives anymore. In fact, most of them don't even use the traditional hard drive form factor, even as a solid state drive. No point in a box when you can just slot in a tiny circuit board, right?
If you thought your laptop was fast already, you won't believe how changing to the Crucial P1 can still improve things.

The primary consideration here is storage space. While your shiny new laptop may well utilise the benefits of an NVMe PCIe SSD chip (many times faster than a conventional hard drive) it seems to have taken a long time for drives any bigger than 250GB to become more commonplace.
These days 250GB is just not enough space, especially if you're editing pictures, audio or video. Oh, I know everything's supposed to be up in the cloud by now, but if, like me, you're working on the same project in different locations, it's still hard to beat having all your raw files stored safely on your hard drive - or now, your Solid State Drive.
Enter the Crucial P1 - Available in 500GB, 1TB and a massive 2TB version coming soon. With desktop-level storage like that, you'll eliminate the need for external drives and sticks - cumbersome accessories that mitigate the portability of your laptop in the first place.
So how hard is it to upgrade? Cloning one drive to another and swapping them out sounds rather technical. Well, it is and it isn't.
The good news is, the Crucial website has a whole library of easy-to-follow instructional videos on exactly what to do, including a free download of Acronis cloning software which is very easy to set up and use.
The bad news is, most laptops only have one slot for ROM storage, so it's not like you can just plug in your new Crucial P1 module next to your existing memory chip and copy everything across.
Using an adapter cable, I had to plug in another hard drive, clone everything to that, create a bootable USB with the cloning software on it, then install the Crucial P1 and clone the hard drive back onto it.
I just wrote that myself and I'm struggling to follow the process.
It was made even more complicated by the fact the Acronis software only works if one of the drives involved is a Crucial drive. Because I wasn't cloning from a Crucial drive and the hard drive I was cloning to wasn't a Crucial one either, I had to find another program to do my cloning for me. Luckily there are quite a few around and most seem to do a pretty good job. I feel like Crucial should include some kind of access code in its packaging so you can use their software all the way through the process.
Once I swapped out the existing NVMe module for the Crucial P1, then I could use Acronis to clone everything back.
If you don't know what the hell I'm talking about, you might want to ask your tech-savvy nephew/daughter/next door neighbour to take care of this for you.
Back to the good news; physically replacing your existing NVMe module with the P1 is really easy - much less complicated than swapping out a whole hard drive like the old days.
On most motherboards the module is easily accessible and usually only held in place by a single screw.
So is it worth it?
Of course it is. My boot time improved straight away and most programs seem to fire up a bit quicker too. Best of all, I get the benefit of all that extra storage space.
Remember, extra space isn't just for storage, it also makes it easier for your computer to save things because it doesn't have to look so hard for the right-sized spaces. This becomes quite evident when saving large audio or video projects.
Of course, any gamers out there will know you usually have to spend a lot of money for a laptop with the speed and space to support most modern games. Now, by simply upgrading to the Crucial P1, as long as your laptop has reasonable graphics capabilities, it's quite feasible you've just turned it into a half-decent gaming rig.

Most importantly, it's a space issue. Right click your C: drive. Click on Properties. If that "Capacity" circle is nearly full, it's time to upgrade.