THE MOST SURPRISING WATCH OF THE YEAR
Author

Publish Date

Fri, 11 Sep 2020, 12:03PM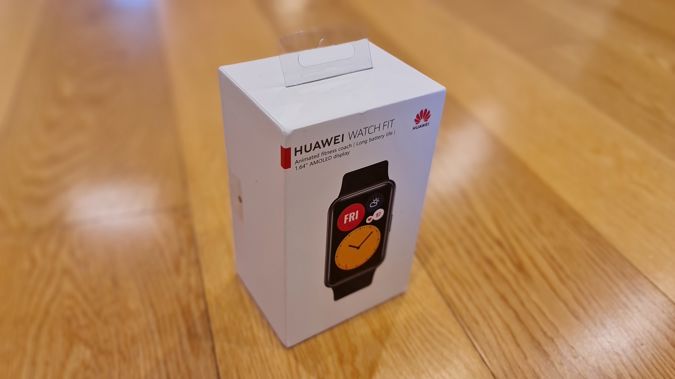 THE MOST SURPRISING WATCH OF THE YEAR
Author

Publish Date

Fri, 11 Sep 2020, 12:03PM
Wearables are here to stay and by now there are more designs, more models, in more price brackets than ever.
As a result, choosing the right one for you can be a bit overwhelming.
Because the selection is so comprehensive, rather than trying to match yourself to a watch or tracker, it might be more helpful to qualify exactly what your personal needs are and find the watch that matches you instead.
And your budget, of course.
Especially when there are devices out there you never saw coming...
I didn't even know the Huawei Watch Fit existed until it was sent to me to review.
So when I fired it up and discovered what it can do, it was kind of a love-at-first-sight situation.
To set up the Watch Fit, you'll need to download Huawei's Health app, which you can do on any Android phone. Then it's simply a matter of looking for the device under "watches" - not "smart bands." This is an important distinction because although the Watch Fit has a long, narrow screen, I was about to find out this is more than just a step counter, it's a genuine smart watch.
But it's a watch in a super slim package - not only is the screen narrow but the whole body is very slim and everything seems super light. There's a gentle curve to both casing and display so it really feels like it's wrapped ergonomically around your wrist. The band is a fairly standard silicone-feel affair - quite boring but also comfortable enough to wear while sleeping. While it looks like there are two tabs underneath you can press to change out the strap, I tried pushing them and nothing happened, so maybe you can't.
I feel like it's an attractive enough device as it is, especially well suited to more narrow wrists. If the big, bulky round and square watches out there have been putting you off, definitely try this one on.
I was amazed to discover most of the same functions on offer here as you'll find on the very capable Huawei Watch GT 2, especially given how much smaller it is. To start with, there's a similar selection of watch-faces available - dozens in fact with more being added all the time, many displaying your health and fitness stats along with time and date, some customiseable with things like your own photos as a background.
The 1.64inch AMOLED display is full colour and very clear in all light conditions, although I've found when the brightness is set to auto, if you're wearing long sleeves sometimes the Watch Fit fails to register the change in light when you raise your wrist and stays dim which makes it hard to read if you're out and about.
This isn't called the Watch Fit just because it fits well, there's a full gamut of fitness tracking, coaching and other health options to choose from - and I do mean full. Dozens and dozens of activities can be tracked, from body combat to belly dancing to dragon boating. I'm not making it up. There are even twelve guided workouts, including running, stretching and strength options. Obviously more common activities like walking and running can be tracked too - in fact, these will be auto-tracked after 10 minutes if you haven't set them off manually.
Unbelievably, again, the Watch Fit has GPS built in, so any runs, walks, cycles etc will be mapped out for you, even if you leave your phone at home.
I've found the GPS tracking to be fast, accurate and reliable, although auto-tracking isn't quite as good because tracking only begins after the first ten minutes and although the workout auto-starts, you have to stop it manually.
Post workout, there are stats galore on offer. Many of them can be displayed on the Watch Fit itself but for a deeper dive, referring back to the Health app on your phone tells the whole story; pace, cadence, length of stride - not to mention heart-rate and VO2Max levels.
I've always liked the way Huawei Health recommends a post-workout recovery time too - something too many of us forget about in our endless quests for better bods. In fact, mindfulness and wellbeing are priorities for the Watch Fit too. You can measure blood oxygen and stress levels and there are guided breathing exercises if you don't like what you see.
Sleep tracking is pretty in-depth too and as I've already mentioned, this watch is definitely comfortable enough to wear to bed. Most wearables track sleep these days but unless they have good battery life, you'll probably put them on the charger overnight instead. No such issue here; the Watch Fit claims a long battery life and it certainly delivers. I can squeeze five days out of it with no worries at all - and that's with continuous tracking enabled, tracking a daily workout and notifications all enabled. The two-pin magnetic charging dongle is pretty clumsy, especially as it only fits on one way but charging is extremely fast, so I can put up with it.
And yes, I just said, "Notifications." This really is a very smart watch - I receive notifications from any app on my phone - from Messenger to my security cameras. They're simple text notifications and I can't reply from the watch but at least they come through quickly and reliably.
For me, a key feature on any smart wearable is the inclusion of a media controller. I've become very dependent on being able to start and stop my music and podcasts from my wrist, the Watch Fit delivers here too.
About the only thing conspicuous by its absence is the ability to make and take calls but if you're not a secret agent, you possibly won't miss talking into your watch.
I honestly didn't expect such a long story from such a small package but man, this is one wearable that's full of surprises. Did I mention it's waterproof? I forgot to tell you it's waterproof! Track your swims and your showers. Brilliant.