THE MESH MONSTER
Author

Publish Date

Wed, 6 Nov 2019, 5:48am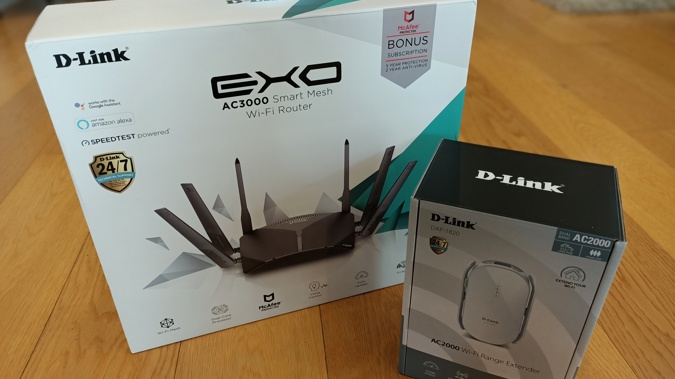 THE MESH MONSTER
Author

Publish Date

Wed, 6 Nov 2019, 5:48am
Admit it, your home WiFi network is still a challenge, isn't it?

You thought you had everything working okay, but then you got that new smart TV. And the WiFi security cameras. And now all the kids have phones. And tablets. And friends.

All you wanted to do was watch the rugby. Maybe some cricket.

So how to keep everyone online, live and streaming everywhere, all over the house at once?...

There are two main components to your WiFi solution; 1) get yourself a beast of a router that can prioritise and handle any device connected to it and 2) set up some kind of mesh network so you can move around your home without losing connectivity anywhere.

The new EXO range of routers from D-Link has you covered. Pun intended.

Not only are these powerful routers offering strong coverage in their own right, once paired with the DAP-1820 Extender, you'll have that whole-house coverage you've been hoping for - in minutes.
The DIR-3060 is the top of the EXO line, offering the grunt of an 880MHz dual-core processor to keep everything humming along beautifully, no matter what you throw at it. Depending on the connection speed to your house obviously, the DIR-3060 is capable of some seriously fast download numbers. Its MU-MIMO and Tri-Band technology means that sheer speed is shared between the devices that need it most, simultaneously. If you've ever struggled to stream video onto your telly while somebody's gaming hard-out in another room, this is how you solve that. There's a very respectable four ethenet ports available for hard-wired connections too. Remember - I have 22 devices connected right at this moment... and I'm the only one home!

Despite its brute force capabilities, the DIR-3060 is actually not massive compared to some other similar devices, although the six external antennae are somewhat intimidating. These aerials are thicker than those I've encountered on previous D-Link routers, but they're still able to be rotated and folded in most directions, so I haven't found them to be too cumbersome.

Setting up D-Link devices like these really is a breeze these days thanks to the D-Link WiFi app; it walks you through the process step by step and it's very difficult to go wrong. This is where you set up your network name and password. There are other tweaks you can make too, my personal favourite being the option to turn the LEDs off. This is fantastic if your router needs to be set up in a room you'd prefer to stay dark.

The new EXO routers also include built-in protection from McAfee. This doesn't just keep the bad guys away from your router, but also protects all the other devices connected to it. This may or may not be such an issue for phones and computers on which you can install their own cyber-defences. But you don't really have that option for things like smart speakers, security cameras and TVs. The D-Link D-Fend option lets you identify each device and even set up profiles for individual users. This is totally customisable, allowing you to filter exactly what content each user can access; social media, shopping, adult etc - it's actually amazing how many options you can choose to let the kids see or not. You can of course turn their internet off completely at specified times.

So we've got power and we've got security. Add the DAP-1820 mesh extender and you've got all the coverage you need too.
This is the easiest-to-set-up extender I've ever used. I plugged it in, switched it on, pushed its WPS button and the same on the router and after a 60 second wait I was done. Mesh network established. There's a 3-LED signal strength indicator so you can tell if you're being a bit ambitious with the distance between the router and the extender, but honestly, I've found the range to be excellent and download speeds through the extender to be on par with what I was getting when connected directly to the router - which is of course how a mesh network should work. Once everything's where you want it, you can use the same D-Link WiFi app to turn the LEDs off on the DAP-1820 too. Of course, if you're fortunate enough to live in a genuine mansion, you can just add another one to extend your coverage out even further.

The DAP-1820 includes its own ethernet port, so you can connect a desktop PC or other hard-wired device to it if you need to. It also connects to any other ordinary router. However, unless it's an EXO, it won't create a mesh network, merely a conventional second network you can give a new name to or just go with the default "EXT" add-on.

At $499.99 for the DIR-3060 router and $279.99 for the DAP-1820 mesh extender, these are far from budget options. But they offer far more than budget-level performance, not to mention the protection and peace of mind offered by the McAfee security suite and parental controls.


Click here for more information and pricing on the D-Link DIR-3060 EXO AC3000 Smart Mesh WiFi Router.

Click here for more information and pricing on the D-Link DAP-1820 EXO AC2000 Smart Mesh WiFi Range Extender.