THE MEMORY GAME
Author

Publish Date

Sun, 13 Sep 2020, 2:15PM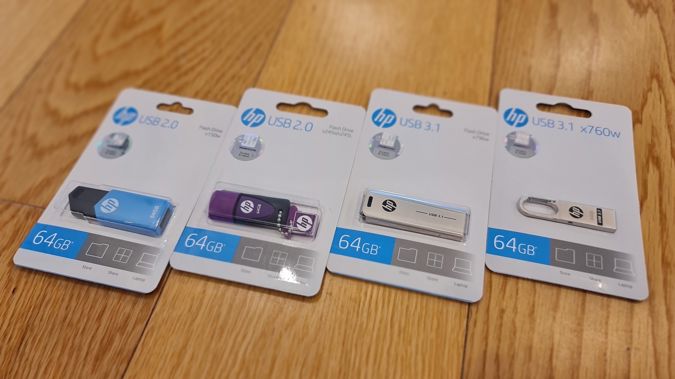 THE MEMORY GAME
Author

Publish Date

Sun, 13 Sep 2020, 2:15PM
You syncing everything to the cloud yet?
Didn't think so.
In terms of data storage and file transfer we're definitely at one of those theory-meets-reality points, aren't we?
Sure, ideally our phones, tablets and computers would be nothing more than a way to interface with the cloud, a mere portal. But life doesn't quite work that way. Mobile data is expensive and sending and receiving large files is often a laborious process involving a confusing number of shared logins and links.
If only there was a more hands-on approach to all this... some kind of physical thing you could quickly write your files to and then simply give it to the person who needs it.
Maybe a little stick you can just plug in?...
Ah, the humble USB thumb drive. Wait...
glennzb, are you really about to review a memory stick?
Don't be silly.
I'm about to review four memory sticks.
Admittedly, there's nothing particularly ground-breaking about HP's new range of flash memory products other than it exists. This is a new product-line for HP and there are quite a few options to suit everybody's different requirements.
To start with, let's have a look at the v150w. This is a fairly standard design, featuring a sliding sleeve in lieu of a cap or lid. There's a key loop at the end so you can attach it to something bigger to avoid losing it. While this only transfers at USB 2.0 speeds, it does come in a selection of sizes, from 16GB to 128GB. I like the way it stays firmly extended when inserting it into a USB slot - I've used other similar designs that have a habit of pushing themselves back into their sleeves when they meet any resistance, which can certainly be a bit frustrating. Of course, as a result, it's a bit stiff to retract when you do want to - although if you have attached it to a nice big keyring you can just give that a decent yank instead.
Next we have the rather sporty v245w. This is a completely rubberised USB 2.0 device that comes in bright purple or orange. It's available in 16GB, 32GB and 64GB variants and despite its fairly full-on, water and shock-resistant outer coating, it's actually still pretty tiny - it'll take up virtually no space at all in your pocket, purse or wallet. I'm not usually a fan of sticks with removeable caps; invariably I lose little lids within moments of removing them, which would be a bit of a bummer in this case as without the cap, you won't have much water or shock resistance. Luckily, that T-shaped HP tag isn't just for show, it's a convenient holder for the cap when your not using it. Clever.
The x760w winds things up a bit. It's USB 3.1, so transfer speeds will be significantly faster - assuming you're plugging it into a USB 3.0 port of course. This one is the smallest of the bunch - in physical size I mean, although in terms of storage capacity, it starts at 32GB and goes right up to an impressive 256GB. That's big enough to do a complete backup of many laptops. Unfortunately, because it is so tiny, I'm bound to lose it before I even finish writing this review. Thankfully, the spring-loaded clip on the end means it can attach to just about anything, even belt loops. Ah, well... I haven't lost it yet.
If you're serious about performing big back-ups on a small stick, then the x796w is probably the best option. Admittedly this is the most boring looking choice, but it comes in 32GB, 64GB, 128GB, 512GB and even an unbelievable 1TB version. Its all-metal casing suggests durability and solidity. The push-pull mechanism is reassuringly clicky and once again, I've experienced no issues keeping the USB extended when plugging it in. Obviously, with that much storage space on offer, this is also a USB 3.1 device but even at that speed, it'll take you a while if you're transferring a whole terabyte.
That's the advantage of small form-factor USB storage like this though; it's the ultimate in mobility. You can perform backups on the go, without bulky external drives or pricey mobile data and cloud storage plans. These new offerings from HP look great, work reliably and all attach easily to keyrings and the like.
Next time you need to get a large file (or selection of files) from your device to someone else's, if they're in the same office, maybe just pass them a stick. Pretty old-school but it might still be the most efficient thing to do.
Just tell them to slide it into that little rectangle hole on their computer. They'll probably figure it out from there.
Click here for more information and pricing on HP's new flash memory products.