THE MASSIVE COMPUTER YOU CAN FOLD UP AND TAKE WITH YOU
Author

Publish Date

Thu, 22 Oct 2020, 11:38AM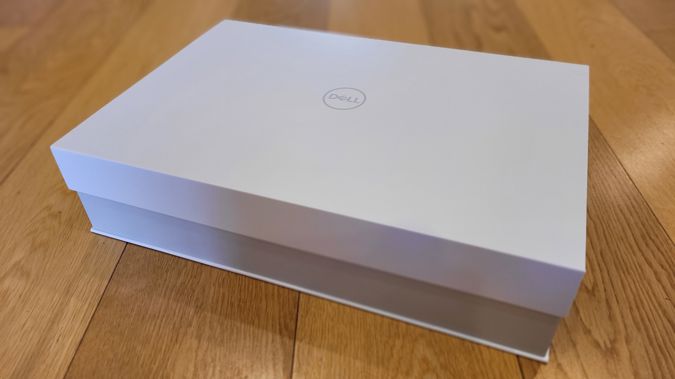 THE MASSIVE COMPUTER YOU CAN FOLD UP AND TAKE WITH YOU
Author

Publish Date

Thu, 22 Oct 2020, 11:38AM
Look, I get it, that headline was ridiculous. What I was trying to do was relay my first impression of the Dell XPS 15 9500. It felt huge, enormous. Not in a bad way. More like a, "Whoa! I bet there's nothing I can't do with a laptop like this!" kind of way.
The picture won't do it justice...
See? You can't really tell how awesomely large it is there. You need something for scale, like an elephant, or an Empire State building, or a rugby field or something.
I want to make it clear; the XPS 15 is not ugly or clumsy. In fact, I'd go so far as to say it's not even bulky. But it's really big. Although it's slim even when closed, it weighs in at over two kilograms so you probably won't won't to be carrying it around all day.
In saying that, it's beautiful - especially in Frost White as pictured here. This is the first complete redesign on the XPS 15 in five years and it actually means that despite the 15.6-inch display, the device is more like the size of most other 14-inch laptops. This is thanks to the Infinity-Edge nature of the screen - the bezels are truly tiny, just a few millimetres thick. Everything about this machine exudes a premium build quality - aluminium lid and chassis, soft-touch carbon fibre palmrest. The hinge mechanism is rock solid and the keyboard is nicely spaced out with impressive travel and response for laptop keys.
Dell has added a fingerprint sensor under the blank power-on key, top-right. This works quickly for Windows Hello logins - but so does the camera for face unlock which I find even more convenient.
Some have criticised the camera quality on the XPS 15 but I think these people were just desperate to find something negative to write about. Sure, I've come across the odd laptop with a better camera than this one but not many. You may not end up with the clearest image at your next video meeting but at least the lens is positively miniscule - virtually invisible on that tiny top bezel. One genuine downside is there's no physical privacy shutter as found on some other machines. Personally, this doesn't bother me at all but I know some people fear being spied on by Big Tech. To those people I have some simple advice; type, "turn off camera" into the search box. It's not difficult, folks.
The display is now taller; 16:10 as opposed to the 16:9 of the previous model. These more square aspect ratios seem to be taking over and it's not surprising - a taller screen is reflected on the other half of the device with more palm space and room for a larger trackpad - and to be sure, the trackpad on this laptop is by far the biggest I've ever used. This means more accuracy and control - which is ideal with all the extra screen real estate you now have to play with thanks to that 16:10 aspect.
The huge screen is simply breathtaking the first time you open the XPS 15 up. I immediately felt like I was sitting at a desktop, not a portable PC. My review device is configured with the UHD+ 3840x2400 touch display and it's outstanding. It'd better be - it costs another $600 to upgrade from the FHD+ 1920x1200 non-touch option. The viewing experience is unrivalled - combine the sheer size of the screen with the quad speaker array and you have the best portable Netflix viewer money can buy.
The sound is genuinely top-class, thanks in no small part to Dell moving two of the speakers to the left and right of the keyboard. This vastly beefed-up, upward firing array creates a convincing 3D soundscape with plenty of volume and bass response.
But really, what the new XPS 15 is all about is the 10th-Gen Intel i7 processor running the whole show. My configuration teams the i7 with 16GB of DDR4 RAM, a 512GB M.2 PCIe NVMe solid state drive and a dedicated NVIDIA GeForce 1650 graphics card. That's a lot of letters and numbers and abbreviations but what it all boils down to is the new XPS 15 simply sails through any task (or multi-tasks) I throw at it. Think hot knife through butter. There's been a lot of hype lately about Intel's competitors challenging its position as the benchmark chip-maker to beat but if the sublime performance of the XPS 15 is anything to go by, Intel has nothing to worry about just yet.
Browsing, streaming, gaming, launching apps, downloading, uploading, editing - this is a creative's dream portable workstation. There are 2 USB-C Thunderbolt ports and a USB-C 3.1 port - and you can plug the 130W charger into any of them - very convenient being able to connect from either side. What's less convenient is the battery life - it's always going to be an issue running a display this big and this good. Sure, you can turn things off and limit various processes to squeeze a few extra hours out of it but nobody's shutting down their WiFi to save a bit of battery. It's far from the worst I've used but it's not going to last you through a long-haul flight either. Luckily, there aren't really a lot of long-haul flights happening right now so that probably doesn't matter. The power supply (also all white) isn't particularly compact but it does come with a nice long lead. Again, very convenient.
If you're worried about a lack of USB-A connectivity, don't - Dell includes a very nice adapter in the box with a full-sized HDMI port on it too. There's still a full sized SD card slot - great news for you video editors out there - and an audio jack as well.
In short, there is absolutely nothing I have wanted to do with this computer I haven't been able to. We're talking top-of-the-line build quality, faultless 10th-Gen Intel performance and above all else, a massive, stunningly beautiful screen - oh, and let's not forget the biggest trackpad I've ever seen. If I could dream a laptop up, it wouldn't be too different to this one.
In the configuration I'm using, the XPS 15 will set you back $4698.99 - that ain't chicken feed but it might be the most powerful, all-round best looking and best performing laptop on the market.
Click here for more information and pricing on the Dell XPS 15 9500.