THE LATEST BEST WATCH
Author

Publish Date

Tue, 25 Aug 2020, 11:07AM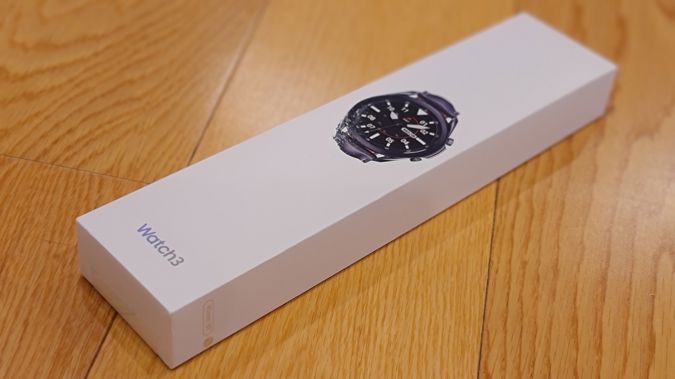 THE LATEST BEST WATCH
Author

Publish Date

Tue, 25 Aug 2020, 11:07AM
Samsung has been making smartwatches for a very long time now.
Unfortunately for them, they got very good at it quite early on and it must be quite a challenge to improve a device that already looks great and works well.
Fortunately for me, I've been able to try most of them and I'm definitely a fan.
So it seems only logical I should put the latest version through its paces...
At first I was kind of reluctant to put the Samsung Galaxy Watch3 through too many paces because it looks so damn fantastic. Admittedly, not a massive departure from the overall design of the original Galaxy Watch but there are tweaks and refinements to be found everywhere. The casing - in either Mystic Black or Mystic Silver - is more rounded, the connections to the strap are finer, the buttons are now round and the bezel (yes, the rotating bezel is back!) is thinner yet more "clicky" than before. The Watch3 also comes in Mystic Bronze with a pink strap - but only in the smaller, 41mm version. As I've been using the 45mm model, I won't be commenting on the differences between the two - there are a few but mostly pretty minor ones.
Perhaps the most striking enhancement is the Galaxy Watch3 now comes with a genuine leather band with contrasting stitching. There are pros and cons here - the strap looks so good... yet it's obviously not most people's first choice when working out. There's no alternative included in the box although any standard 22mm band will fit. I accidentally wore the Galaxy Watch3 in the garden the other day without swapping out the strap with a more durable one. Luckily, when I came inside after a couple of hours' tree-planting, the marks on it were dirt, not scuffs and they wiped off. Underneath was a different story - there was quite a sweat stain soaked into the leather. It eventually dried out but I certainly wouldn't choose this strap for exercise.
Which is a shame, as there are many new Samsung Health features to get excited about. This is Samsung's fitness app, an app that's become very comprehensive indeed. Unlike the fitness ecosystems with other phone/watch combos, Samsung Health can be installed on any smart phone and the Galaxy Watch3 can be paired with any phone too - yes, Android or iPhone. This means you can track all your progress in great detail.
I've been using Endomondo, a third-party app to monitor my workouts for years, primarily due to the sheer number of different kinds of exercise it will track. Now I'm having a second look at Samsung Health. Not only will it track everything from running and swimming to arm curls and yoga but there's so much information stored from every workout. The GPS tracking looks to be bang on and is displayed on a shareable map. All the usual stats are there - splits, pace, elevation etc. and a new one that'll appeal to the more serious runners; cadence.
I found heart rate monitoring to be good - but you have to be wearing the Watch3 a notch tighter while working out to get a really consistent reading. You can now also measure your blood oxygen levels too - this is a great way to keep an eye on any developing health concerns, especially if you suffer from asthma or other cardiovascular conditions.
Blood pressure, VO2 max and ECG readings are also on the way once Samsung has approval from the relevant health authorities. This is a very capable fitness device indeed.
There's even an option to download guided workouts in the Samsung Health app, cast them to a compatible smart TV and you'll see the info from your Galaxy Watch3 displayed live on screen. Nifty. Especially when access to a gym is a bit hit or miss depending on lockdowns these days.
Of course, the true beauty of this watch is not just its beauty, or its fitness functionality but how genuinely smart a smartwatch it is. As I said at the top, Samsung has been doing this a long time. The rotating bezel has been universally praised as one of the most user-friendly methods of navigating from the main display to incoming notifications and a host of useful widgets. The Galaxy Watch3 runs Spotify, makes and receives calls, shows your calendar... you can even run Powerpoint presentations. It runs faster and smoother than before and the screen is brighter and clearer than ever - especially outdoors where I've always struggled a bit with the original Galaxy Watch.
In terms of battery life, there doesn't seem to be any dramatic improvement here, although my typical usage means I take my watch off every night so as long as it makes it through a full day I'm happy. The Galaxy Watch3 will last at least  a day and half with all the sensors and connections running at full tilt. A small, magnetic, wireless charging puck is included in the box and it also charges reasonably quickly using the reverse charging option on devices like the new Samsung Galaxy Note 20's.
Of course, if you're into sleep tracking - something else the Galaxy Watch3 does a fine job of - you'll have to find another time to charge it up. The best charging news possible, as far as I'm concerned anyway, is you can now turn off that annoying charging display that's been lighting up my bedside table for the last year or so. Finally.
There's some bad news though. Samsung's native Email app seems to have completely disappeared. That's not to say you won't still be able to receive and reply to Email notifications, like you can from any app on your phone. However, it's no longer available as a standalone app on the Watch3 itself. This means you can't read the full text from long messages or review all the emails in your inbox. What's even more worrying is Microsoft Outlook is available as a dedicated Watch3 app. Okay - maybe it's not worrying if you prefer Outlook over Samsung Email but I don't. It's a sure sign the growing relationship between Samsung and Microsoft is leading to the end of Samsung Email altogether. Very annoying for me because until Outlook offers a split-screen view in its mobile app, I'm using something else.
Is one missing app any reason not to buy the Galaxy Watch3? Of course not, don't be ridiculous. Especially when, as I've pointed out, I can still reply and interact with my preferred email app far more comprehensively than I'd be able to on most other smartwatches. In fact, that's pretty much true for every aspect of the device. No other watch connects to more phones, has more functionality and looks this good.
Click here for more information and pricing on the Samsung Galaxy Watch3.