The Hub of the Matter
Author

Publish Date

Wed, 19 Jan 2022, 1:12pm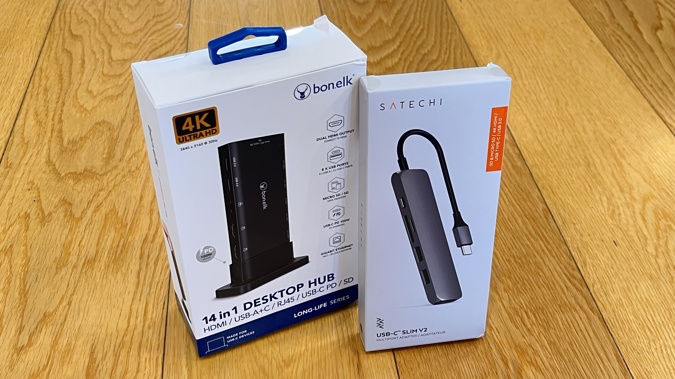 The Hub of the Matter
Author

Publish Date

Wed, 19 Jan 2022, 1:12pm
Geez these tech companies get carried away, don't they?
While screens get bigger, flatter and foldier, everything else gets smaller and thinner. In fact, laptops in particular are now so skinny they've had to invent new kinds of pop-up ports to accommodate peripherals like USB and ethernet cables... well, that's if those ports have been included at all.
These days it's not at all unusual for a laptop to ship with only a couple of USB-C slots and not much else. This can be a bit frustrating, especially if you need to use one of those ports for charging.
Apple is one of the worst offenders. Following its prevailing minimalist design ethic, many Apple devices ship with hardly any ports or inputs - even the iMac I'm writing this review with has just four USB-C slots, quite inaccessibly located out of sight at the back of the screen.
So how best to undo this obsession tech-makers seem to have with stopping us plugging our things into our things?
USB hubs have come a long way in a short time. When I first bought one it was a very simple little box that allowed me to plug four USB devices into a single port - just like a power multi-board. The two devices I'm highlighting here are quite a bit more clever than that.
If it's a laptop or tablet you're trying to expand, it's hard to go past the Slim Aluminium Type-C Multi-Port Adapter V2 from Satechi.

The key word in that very long-winded name is "Slim" - not only is this device just 10mm thick, it weighs a mere 51 grams. This means it takes up virtually no space in your laptop bag or sleeve and you definitely won't feel it once it's in there.
Plug the Satechi Slim in and you instantly expand a single Type-C slot to two USB-A's, a 4K HDMI, both micro and standard SD card readers and perhaps most importantly, a USB-C with Power Delivery. This last port should be your first priority as it means you can charge your device while expanding the same port.
It must be pointed out the two USB-A's are not charging ports too - although it's probably just as well given I've found the whole device heats up quite a bit when being used for pass-through charging. Luckily, thanks to its stylish, brushed aluminium casing, this heat soon dissipates once unplugged.
As usual for a Satechi device, the build quality is absolutely first rate and at just over NZ$100.00, this is a perfect way to plug in when you're on the go.
However, one port the Slim Adapter V2 doesn't offer is ethernet connectivity. Unfortunately, as I recently discovered, sometimes you still have to plug into an actual hard-line - especially when you change your password over the Christmas break and then can't access any of your network folders via VPN. Sigh.
Anyway - while Satechi does offer alternative devices for this I've been particularly impressed with the Long-Life USB-C to 14in1 Multiport Desktop Hub from Bonelk. 
Of course, the most impressive thing about it is the 14; 14 separate ports, inputs and card readers on a device about the size of your average smartphone. 
I won't list them all - it might tip my word count over the quota - but there's pretty much everything you could ask for; not one but two 4K HDMI ports, not one but two microSD readers, that all-important gigabit ethernet socket and obviously, USB-C power delivery - once again meaning you're not so much losing a charging port as gaining 14 other more useful inputs.
There are USB-A's all over this thing, including three SuperSpeed USB-A 3.0's. I've used the Bonelk 14in1 for transferring heaps of large video files and I can confirm this happens nice and quick.
It's not a heavy device by any stretch of the imagination so is completely portable, however there's a handy non-slip desktop stand included in the box to store the Bonelk 14in1 on its end so it will take up as little space as possible. 
The USB-C connection cable is a lovely, thick, braided thing, indicating the high level of build quality and leading me to believe this is in fact a "Long-Life" product just as its title claims.
So good news; for well under $200, you can bring back connectivity to your previously portless devices. It's just a matter of deciding how many slots you really need.
Click here for more information on the Satechi Slim Aluminium Type-C Multi-Port Adapter V2. 
Click here for more information on the Bonelk Long-Life USB-C to 14in1 Multiport Desktop Hub.