THE GAMER'S DREAM PHONE
Author

Publish Date

Fri, 24 Jan 2020, 9:44AM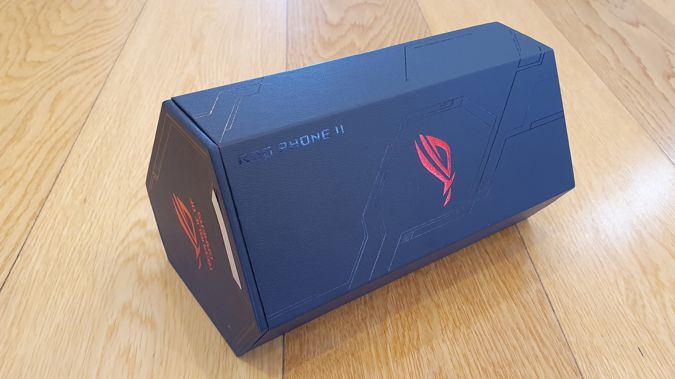 THE GAMER'S DREAM PHONE
Author

Publish Date

Fri, 24 Jan 2020, 9:44AM
Confession time.
I'm no gamer.
There was a brief moment of Playstation ownership that involved me actually turning it on and using it for more than an hour at a time.
But life got in the way and I've been assured with great certainty there a more important things than video games. Repeatedly.
However. If you haven't been told that yet. Or you have and you've simply chosen to respectfully ignore those assurances, have I got the phone for you...
The ASUS ROG Phone II may be the most beautiful thing I've ever seen. Or the ugliest. It kind of depends on who you talk to. There's definitely nothing dainty about this phone. The design is spacey. Chunky. And frankly, it's bloody heavy. But best of all, it comes with a whole lot of other stuff you can attach to it, making it even more beautiful. Or way uglier.
There are sharp angles, unnecessary stripes and phrases like, "REPUBLIC OF GAMERS" all over the place. Perhaps the most striking feature of all is the GameCool II heat dissipating system that combines heat spreaders, cooling pads and something called a 3D Vapor-Chamber - you can actually see one of the copper heat spreaders exposed in the image above. It's this kind of inside-out industrial aesthetic serious gamers love.
There's even a massive, in-your-face Republic of Gamers logo on the back that lights up and changes colour. More on that later.
In a world where most phones look pretty much the same, this one pretty much doesn't.
Even the case that comes in the box is kind of crazy; more of a geometric protective frame than a complete cover, leaving plenty of gaps for all the ports and flashy bits.
The ROG Phone II isn't small either. Not only is the 19:5:9 AMOLED display is a generous 6.59 inches, but there's a pair of front facing speakers, complete with bronze highlights of course. ASUS has made uninhibited screen space a priority here - there's no notch or punch hole for the selfie cam - not when that space might be required for an on-screen button or to display your high score.
In short, it probably won't actually fit in your pocket. Unless you have huge pockets. Actually, just start buying pants with huge pockets. Problem solved.
Another reason the ROG Phone II is so hefty is its behemoth battery. I didn't even know they made 6000mAh phone batteries but that's what we're dealing with. I've been using this device as my everyday phone for a couple of weeks now and not once have I seen the battery percentage dip below 70 percent. Trouble is, doesn't a big battery take a long time to charge? Not particularly as there's a 30W fast charger included in the box. Sadly, no wireless charging here but there are some interesting options.
The ROG Phone II has a second charging port on the left-hand side. That's the bottom when you're using the handset in landscape of course. Which means you can keep charging while you play without that pesky cable getting in the way. Now if only you could do something about your headphone lead too...
Buckle in, this is going to get complicated fast.
That thing to the right of this image is the AeroActive Cooler II and it's an actual fan for your phone. As we've already pointed out, the ROG Phone II already has some insane cooling technology built in, but apparently there are gamers out there who push their devices so hard they start steaming in their hands after only a few hours of non-stop play. Enter the AeroActive Cooler II. For less addicted gaming enthusiasts (like me) it's probably overkill, as I've never felt the phone warm up at all - not even when cradled above my car's dashboard in direct sunlight. But the AreoActive Cooler II isn't just a fan - it also has its own charging port and headphone jack at the base so yes, you can move your earbud lead out of the way after all. There are even a couple of stick-on pads included in the box to convert the AeroActive Cooler II into a convenient display stand so you don't have to hold the phone at all while watching video or gaming with a bluetooth controller.
If you're not regularly using the AeroActive Cooler II, it's probably a good idea to use the included rubber bung to keep the side port covered up, as it's about twice as wide as a standard USB-C slot. This insert isn't the best design as it's very difficult to remove and small enough to be easily lost when you do. Just as well a couple of spares are also in the box.
Back to the phone itself. The ROG Phone II is powered by the all-conquering Snapdragon 855 Plus processor and its graphics abilities are pretty much off the charts for a mobile device. Every game I installed immediately defaulted to the highest possible display settings and all functioned beautifully. There's an over-the-top 12GB of RAM keeping all processes running at a hundred percent. If this isn't the fastest, most powerful phone I've used I don't know what is.
It's like a high performance sports car, everything that can be specced up has been. You get a whopping 512GB of internal storage and that storage is the fastest available. Even the WiFi works better because there are four, count them four antennae built in.
Perhaps the only area that doesn't out-perform pretty much any other phone on the market is the camera array - but that's not to say the ROG Phone II doesn't take great pics. The main camera takes wide-angle shots along with excellent images from the 48MP primary lens. All that massive processing power is put to great use right through the camera app, from reducing distortion at the edges of wide angle shots, to speeding up night-shooting, to running all the photo features smoother and quicker than ever. Sadly, the selfies still come out looking like me but what can you do?
So an amazing phone indeed. But how good is it as a dedicated gaming device?
This is where we need to start talking software and we also need to remember ASUS doesn't really make phones at all. It makes notebooks. Motherboards. Monitors. Gaming accessories. So given a smart-phone newbie has completely nailed the phone part, you'd expect the gaming part to be pretty standout. And it is.
You can choose the traditional look of the ZenUI or the new, way cooler ROG UI, which offers both dark and light themes. Whichever you choose, there's basically no bloatware to contend with. The only weird thing about it is my usual landscape mode complaint; why don't the lock and home screens rotate? Especially when sometimes they do?
For example, plug the ROG Phone II into a dedicated accessory like the Kunai Gamepad holder and everything swings into landscape straight away.
Unfortunately, the Kunai Gamepad isn't widely available here in New Zealand but if, like me. you can get your hands on one, you're going to need a box. A big box. There's a lot of bits to deal with. It can be used as a standalone controller, connecting to any gaming device or PC via bluetooth or USB dongle. But it's far more fun to insert the ROG Phone II into the holder and slide the control paddles into place. At that point everything lights up like a Christmas tree and you've converted your phone into a legitimate handheld gaming device. It even comes with a USB-C to mini-jack converter for your earphones but as I've already pointed out, you won't need that if you're already using the AeroActive Cooler II attachment.
Like I say, there's a lot of bits.
Whether or not you're using an external controller, the ROG Phone II automatically stores your games in the Armoury Crate, where you can easily view your games library and access all the settings you need to tweak, creating specific profiles for each game. The Solar Game Engine pops up with each game launch, so you can decide to block notifications and dedicate more memory to the exercise.
Then, while playing or not, Game Genie presents you with a dizzying array of customisation options, from key mapping to adjusting the air triggers... Oh that's right; I haven't even mentioned the air triggers on the right (or top) side of the phone. Believe me, there are more buttons, options, tweaks and dedicated gaming features than you could ever hope to need, no matter how addicted a gamer you may be.
But then, that's what nerds like me love; too many toys. Who cares if we never actually get round to using them?
Perhaps the most remarkable thing about the ROG Phone II is the price; one of the fastest, most powerful phones I've ever used, including the AeroActive Cooler II is just $1699 - cheaper than many other high-end flagships that offer far less dedicated gaming functionality and more often than not, a fraction of the battery life.
Still an expensive phone, sure. But what price gaming supremacy?
Click here for more information and pricing on the ASUS ROG Phone II.