THE FEELGOOD HEADPHONES
Author

Publish Date

Tue, 21 May 2019, 7:17AM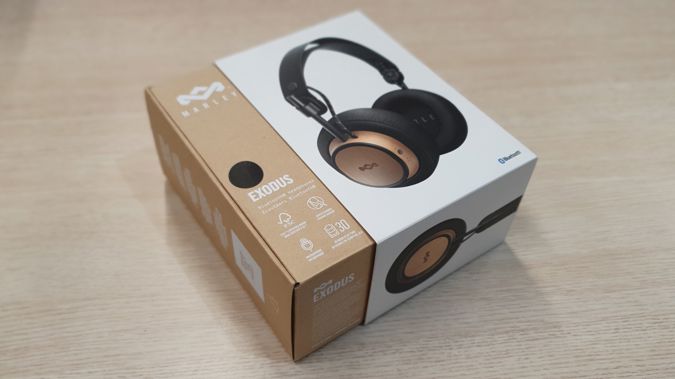 THE FEELGOOD HEADPHONES
Author

Publish Date

Tue, 21 May 2019, 7:17AM
When you review gadgets, they fall into two categories; some things are fun to review for a while, you use them, write about them, then maybe never think about them again.

The other kind of thing, the rarer kind, is the kind you use and want to keep using forever.

I think I've just found my forever headphones.

In fact, the Exodus headset from House of Marley is actually helping save the planet.

I'm a cynical guy and as such, I've pretty much resigned myself to the fact human beings are the single biggest threat to their own existence and by this stage there's probably not much we can do about it. In saying that, I suppose we should probably at least try.

This is the first product I've reviewed from House of Marley, so I had to do a little bit of homework. But before I got that far, I already knew this was something different, just from the packaging.
Tied up in a hessian sack (not sealed in cellophane), nestled in cardboard (not moulded into an impenetrable blister pack) and wrapped in paper (not polystyrene) the Exodus headphones were already sending a message... and I hadn't even seen them yet.

The moment I did lay eyes on them I was convinced these were the hippest things in town.

Stainless steel, recycled aluminium and plastic, natural leather and most obvious of all, wood. This is not the usual combination of tech components I'm used to. The wooden earcups alone would have been enough to create a unique cool-factor here, but combined with a very retro, almost 80's-style shape these are the kind of headphones for people who want to stand out, not follow the rest of the crowd.

I had to know more.

Turns out the House of Marley philosophy is not just about creating superior sounding audio devices, but it's massively focused on sustainability too. This is evident in almost every aspect of the Exodus, from the packaging right through to the REWIND fabric the carrybag (or "Stash Bag") is sewn from. Even the silicone and plastic components are crafted from recycled materials. What's more, by supporting One Tree Planted, House of Marley is responsible for planting 168,000 trees - and counting.

But I don't care about any of that.

Oh sure, it's nice to know you might actually be helping the environment rather than harming it, just so you can listen to your favourite podcast on the bus - but what's the point if you can't hear it properly?

Well let me tell you, not only are these the most guilt-free cans I've ever worn, they may well be the best designed.

To start with, for over-ear headphones they're surprisingly compact - the earcups rotate flat and also fold up towards the headband with a satisfying clump. This makes them convenient travel companions once bundled into the Stash Bag, which is small enough to bung in most briefcases or handbags.

The headband is a combination of stainless steel for durability and leather for comfort - come on, nothing breathes and wears like leather. The cushions are some kind of premium memory foam and I'm pretty sure they're the softest, most comfortable things I've ever worn. What's more, because they're so soft, they achieve a fantastic seal blocking out a lot of outside sounds and keeping most of what you're listening to in.

This is important, because there's no Automatic Noise Cancelling here - although it's a feature that may be on the way in future models.

As far as on-board controls, there are next to none - which I love. A single power/pairing button on the left cup, a single play/pause/volume rocker on the right (which can also be used to skip tracks and answer calls). The configuration couldn't be simpler or more stripped back - which is great because you wouldn't want to ruin the natural effect of that sustainably grown bamboo with a bunch of unnecessary buttons and blinking lights.

The headset is charged via an attractive, braided USB Type-C cable - great news as the majority of phones are now charged the same way. It also allows the Exodus to be charged surprisingly quickly given its incredible 30-hour battery life - more than enough to last even the longest of long haul flights. Not that you have to listen via bluetooth of course - there's a nice, long aux cable you can plug in, also braided to help prevent tangles.

Only one box left to tick - how do these puppies actually sound? I'll be completely honest by saying great, but not perfect. The first thing I want from my headphones is sheer volume, after all, sometimes you just need to rock out, right? The 50mm drivers in the Exodus provide all the power I need. Secondly, it's all about that bass. Whether it's something to do with that wooden casing, or it just comes back to those big speakers, the bass booms along - in fact, "boom" might be the operative word because, and I'm starting to nit-pick here, some tracks do have a tendency to sound slightly roomy, with the mid to high tones more muddy than punchy. If your device has the option to EQ what you're listening to, you can probably correct a lot of this to suit your preference. Interestingly, I noticed quite a bit of that upper-register blurriness disappeared when listening via the cable instead of bluetooth. Personally, I'd prefer things to be set up that way than have too much top which always lends itself to sibilance and distortion issues.

There's definitely nothing like that going on here, generally the sound is warm and snuggly - especially on tracks featuring acoustic bass and guitar.

Call quality was pretty great too - I experienced no issues from either caller or call-ee.

In short, the Exodus is probably the best looking headset I've worn. It's definitely the most comfortable. It has crazy, crazy battery life and if it's not among the highest echelons of audio accuracy, it's only a step or two down.

What's more, you feel like you're saving the planet every time you wear them. 


Click here for more information on the House of Marley Exodus over-ear headphones.

Available from Noel Leeming, PB Tech, JB Hi-Fi and MightyApe.