The Easiest Video You Never Made
Publish Date

Wed, 12 May 2021, 12:05PM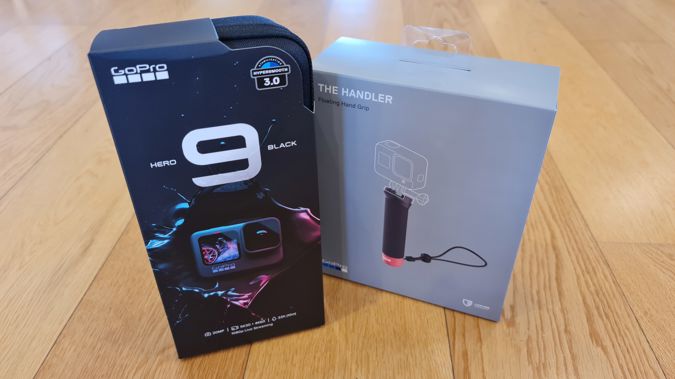 The Easiest Video You Never Made
Publish Date

Wed, 12 May 2021, 12:05PM
Right, here we go again; this is me wading full-on, straight into an area I have no expertise or experience in whatsoever... filming and photographing action.
In fact, I don't really know that much about filming and photography.
To be perfectly honest, I'm not even that well acquainted with action.
But I do love tech. I love good design. And I love an app that works...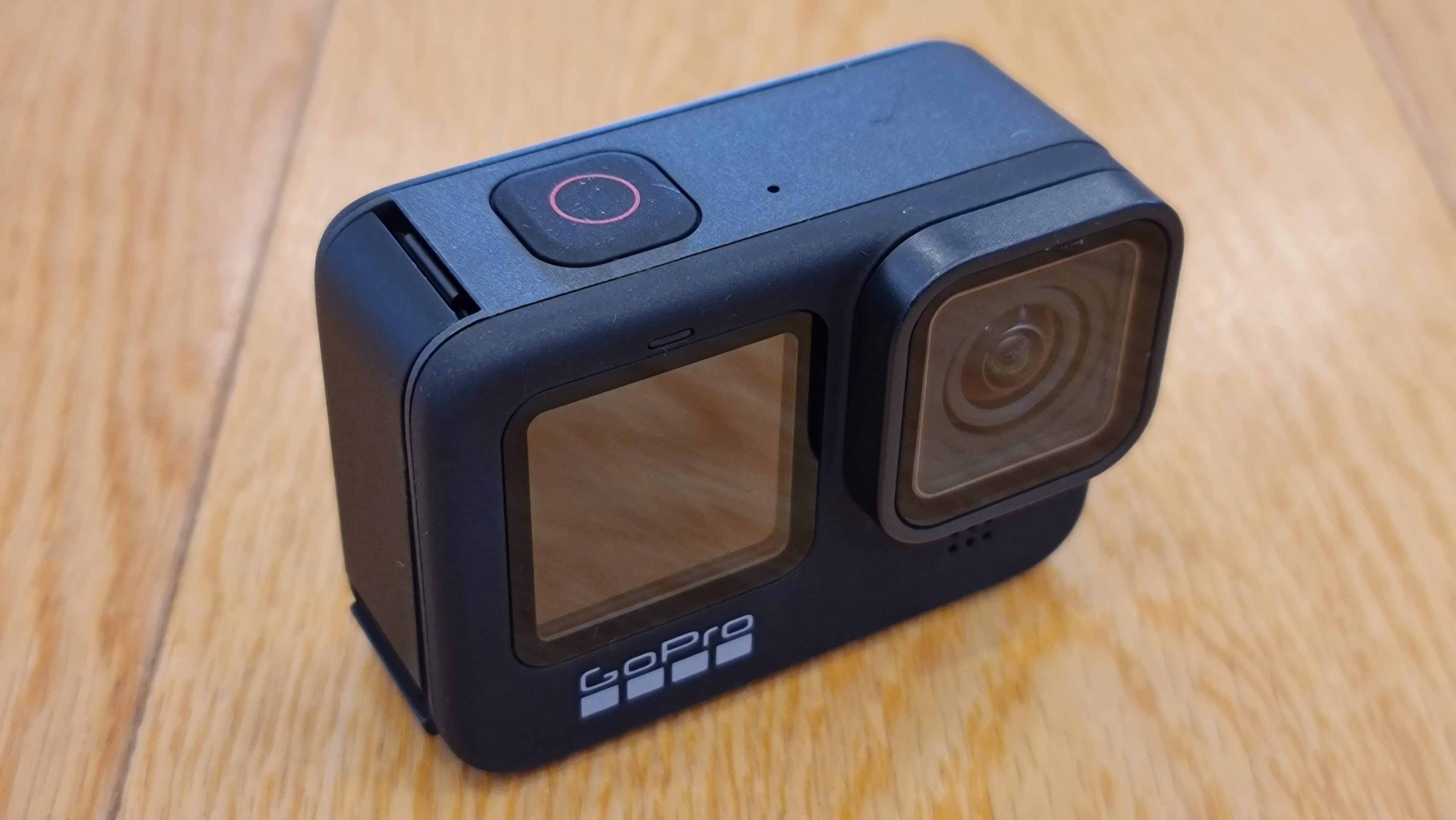 I've never owned a GoPro and I've only used one a handful of times over the years. I'm not totally sure why that is - the basic idea is great; a camera you can take anywhere and use in any conditions... hot, cold - even underwater.
I think my main issue is I don't really like being hot, cold or underwater.
Also... ever since digital cameras and smartphones came along, I've always found I feel a bit insecure using a camera on which I can't instantly monitor what I'm shooting.
I mean, what if someone blinked?
Okay, grandad, time to catch up with some recent developments.
The GoPro HERO9 Black is many, many steps along the evolutionary scale from those early GoPro's I've dabbled with in the past.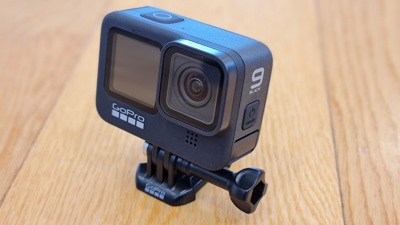 The most obvious advance being that whole extra screen on the front. This was an inevitable progression for GoPro, as most owners have been shooting themselves for years - just having to guess if they were in the shot or not, unless they'd invested in an optional "Display Mod" - the flip-up screen designed specifically for selfie pics, vids and lately, yes - even live-streaming. Now, GoPro has essentially made its own mod obsolete. The small, 1.4-inch forward facing LCD display is bright, clear and works so well I keep forgetting it's not a touch screen like the much bigger screen on the back.
You can use the HERO9 Black as a webcam too - enhanced by the fact the mic quality is also damn dependable.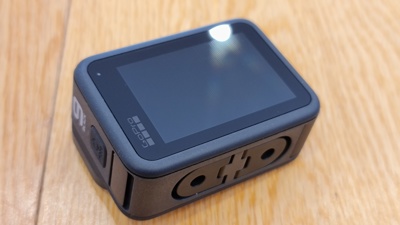 Depending on when you may have dipped in or checked out of the GoPro story, some of the other attributes I'll be outlining here may or may not be news to you. Certainly, I had no clue how far things had progressed. Features like being waterproof down to 33 feet and the versatile mounting system - that stuff I kind of expected. But the sheer range of shooting modes; burst shots, cinematic, time lapse and slo-mo - for a know-nothing bozo like me it's actually a bit overwhelming. I've been particularly blown away by the HyperSmooth 3.0 stability control - whether you're running up a mountain or just walking down stairs, between that and the built-in horizon levelling, it's almost as if you and the camera are on gimbals.
In short, the HERO9 Black takes genuinely good photos - up to 20MP and outstanding video - even up to 5K if you want.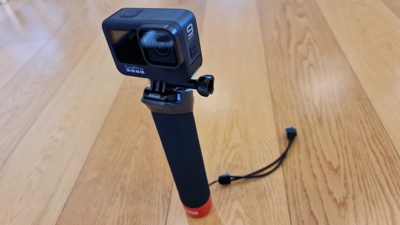 But as I've already suggested, there are many more reasons for getting into GoPro's than the cameras themselves. There's an entire ecosystem of mods and accessories to enhance your action-shooting experience. From the simple Handler - the floating handgrip pictured here that not only helps you keep hold of your HERO9 Black in all conditions but will prevent it sinking if you drop it in the drink - to the Max Lens Mod which offers even more stabilisation features and an ultra-wide, 155-degree Field of View.
Although perhaps the most compelling aspect of GoPro ownership is the Quik app - the easiest way to convert your vids and pics into something interesting for the rest of the world to watch. What's crazy is, you don't even need a GoPro to make use of the app. You can use it to turn any media you've shot into a great edit, no matter the phone you're using.
This new version of Quik is a combination of its previous incarnation and the former GoPro app - but it's far more powerful and also gives you the ability to control your paired GoPro camera. And I do mean powerful. If you've ever sat at a PC trying to transfer video and picture files from your camera, only to get bogged down reformatting the file types, editing each clip or pic and adding effects and titles, only to spend another age waiting for the whole thing to export itself to a useable finished file, you'll know it can take hours to come up with just a few decent minutes of edited content. That's if everything doesn't crash halfway through.
Quik leaves all that behind. One tap loads your recorded files into the "Mural" homescreen. This literally takes a few seconds, then those cuts are available for you to select for your project. Actually, calling it a "project" makes it sound like hard work. This definitely isn't. A tap of the movie button and Quik takes over, trimming to time then adding music and transition effects. At that point, if you like what you see, it's immediately shareable to Youtube, Instagram... wherever. Remember, this is all from your phone.
If you do want to complicate things, you're allowed. Customise titles, choose filters and cinematic styles, use music from GoPro's library or add your own. Each cut can be trimmed to a different length of your choosing, you can speed up the action or go into slomo - even highlight important points you think the app may have missed.
I've had a pretty good mess around with all the options but I've found, generally speaking, Quik knows what it's doing first time out. Either way, the whole process takes minutes not hours. It's easily the most intuitive and user-friendly phone-based video editor I've used to date.
Nothing is perfect though and that's true here too. For example, you don't get all the features the app has to offer without paying a subscription. It's not an exorbitant subscription but it's something to consider. You'll also need to pay GoPro for another sub if you want your content to auto-upload to the cloud, although this may not be a priority for you if you already have access to other cloud storage.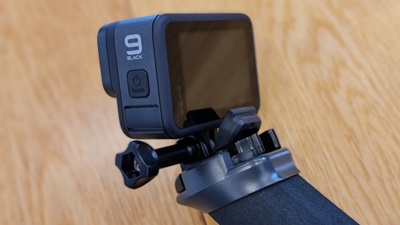 As for the camera, I love everything about it except its controls and its battery life. The touch screen is too fiddly and unresponsive to my fat fingers. It tends to either ignore my taps altogether or register them as a long press, which usually brings up an options menu instead of firing off the function I'm going for. This is offset by the fact there's a nice big, physical Mode button on the side to toggle between Time Lapse, Video and Photo and also once I've chosen a setting, that's usually the one I'll stick with for the whole shoot.
I was definitely surprised how quickly the battery drains though - and GoPro claims there's "30% more battery" than before but I guess with two bright, colourful screens to light up, there's only so much you can do. Luckily, spare rechargeable batteries are only NZ$34.99 and they're very easy to swap out.
Overall though, very few downsides. After just a couple of weeks, I'm converted. The combination of a full-featured, almost indestructible camera and a foolproof video editing app has convinced me I can actually do this stuff. All I need now is some action. My video of me putting away washing and cleaning windows isn't perhaps quite what GoPro had in mind... but you get the picture.
Click here for more information and pricing on the GoPro HERO9 Black.
Click here for more information on the Quik mobile video editing app.