The Cheapest 5G Handset In Town
Author

Publish Date

Tue, 2 Mar 2021, 1:51PM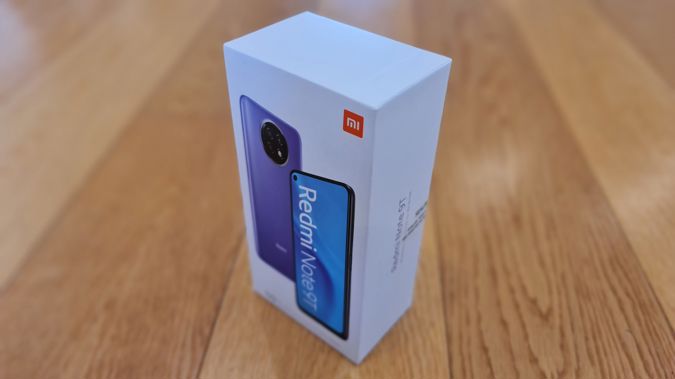 The Cheapest 5G Handset In Town
Author

Publish Date

Tue, 2 Mar 2021, 1:51PM
There have been many promises made about 5G.
It's going to change our lives, apparently. We're standing at the threshold of a whole new age of connectivity. At last we'll be able to work, play, meet and collaborate with anyone, anywhere in the world.
Our smart devices will become smarter than ever, anticipating our every moves - possibly predicting our hearts' desires and presenting them to us before we even knew we wanted them.
Fantastic advances in medicine, automation, design and manufacturing are all but moments away.
Oh, and we'll be able to download the entire first season of Queen's Gambit in under a minute.
What a glorious time to be alive - if you can afford a phone to access it...
$398.99.
Not a bad price for a phone. That's what Xiaomi's Redmi Note 9T is retailing for right now.
But for a power user like me, there are certain features I've become accustomed to and while I might be prepared to do without one or two, generally the compromises involved in getting a phone down below four-hundred bucks are just too much for me to deal with.
So let's list off some of the things you might find on a high-end flagship that you should never expect to see on a handset in this price range...
Storage. 
Surely one of the first things to go when the price comes down is internal storage space. Long gone are the days when you could get by with 16GB - most of that would be taken up with your OS and app installation files these days. Even 32GB will have you deleting photos and videos on a regular basis just to keep the handset working. Luckily, the Redmi Note 9T comes with 128GB of storage which stacks up nicely with most mid to upper tier devices. What's more, that space is in the form of the brand new UFS 2.2 flash storage which promises faster write speeds than ever. Pretty classy. And unlike many top-end flagships on the market today, you have the extra option of microSD storage too. So no real compromise there.
Processing Power. 
Now this is a bit unusual. While the many of the Android phones available in New Zealand use a Qualcomm Snapdragon processor, here Xiaomi has gone with the 7nm MediaTek Dimensity 800U and 4GB of RAM. I haven't come across this configuration before and I've got to say I'm pretty impressed. I've had the odd temporary freeze when I've got a lot of apps open at once but other than that, I've found the Redmi Note 9T to run very smoothly, streaming, downloading and connecting to accessories with ease. Obviously, this is no laptop replacement like some of those multi-thousand-dollar devices attempt to be but it actually chuggs along surprisingly reliably and my usual frustration of having to handle a budget device has yet to manifest.
Design.
When I learned there was a choice of colours, Nightfall Black and Daybreak Purple, I fully expected to be sent a boring old black one - such is the phone reviewer's fate. Not this time though - imagine my delight when I opened the box and discovered the purple variant, not to mention a basic clear case and wall charger too, never a given these days. In fact, I've been a bit reluctant to use the case as not only is it a bit bulky, on top of an already fairly large handset but the rear cover of the phone has a very cool, textured surface that almost feels like leather - quite grippy and fingerprint-proof. Between that and the unusual triple-lens-in-a-circle rear camera module, the Note 9T is quite distinctive compared to many of the anonymous, generic-looking, glass rectangles out there right now. I approve of the fingerprint sensor under the power button on the left side too - it's fast and reliable and totally ergonomic. You have the option of face unlock as well, although this doesn't work as quickly.
The 6.53-inch screen is big but not quite edge-to-edge. Actually, there's a noticeable chin at the bottom and a reasonable-sized punch-hole for the selfie-cam in the top-left corner. Most of the time the 19.5:9 aspect-ratio display is perfectly adequate - plenty big enough for video consumption although you might want to play around with the colour scheme a bit to get it as vibrant as you like. There's quite a selection of settings to achieve this. Unfortunately for me, I tend to use my phone outside and in the car a lot and the Note 9T's FHD+ DotDisplay does not perform well when viewed through polarised sunglasses. This makes actions like outdoor selfies and in-car navigation quite a challenge. I'd go so far as to say the screen quality is the one feature Xiaomi has skimped on the most to bring the price of this Redmi phone into line.
Battery Life.
I've found less expensive phones often out-perform their pricier counterparts when it comes to holding their charge, due partly to less demanding hardware. If the processor isn't pushing the limits and the display isn't offering cutting-edge refresh-rates and resolution, your battery is obviously going to last longer. Sure enough, the Redmi Note 9T is no exception here, especially given we're dealing with a 5000mAh cell; quite respectable, even by flagship standards. Be warned though, some of the power savings come at a cost. Xiaomi's MIUI 12 operating system (built over Android 10) is extremely aggressive when it comes to putting background apps and processes to sleep. Stopping this from happening so you continue to get notifications from certain apps can be a bit of a challenge - there seem to be several different settings accessed from several different menus that affect this and tracking them all down to turn them off is no easy feat. However, if having a phone that lasts you a long day and into the night on a single charge is your main priority, the Note 9T is definitely a winner. No wireless charging option of course but I can't think of a sub-$400 phone that does that so I wouldn't expect it.
Stereo Speakers.
I don't know what's going on here. So much for being a budget phone. Yes, there's a 3.5mm jack for wired headphones if that's your thing but there's also a decently powerful stereo speaker setup, using the earpiece as the left-hand speaker. This won't replace any half decent bluetooth speaker but it's fine for casual Netflixing or a bit of background atmos while you're writing a phone review. Even more impressively, Left and Right swap over automatically if you hold the phone the other way.
Camera.
After the middling performance of the display, camera quality would be my only other major criticism of this device. I'm not saying I didn't take some great snaps - far from it. Some of the portrait shots in particular came out super sharp and poppy - perfect for sharing. It's just that using the camera has been a bit hit and miss, most shots great but the odd one out of focus, over exposed or just... wrong. I've found the best method is to just take heaps of pictures and throw away the bad ones. It's a shame as there are some quite good features on offer within the camera app - sadly, not all of them come off. This even more evident when shooting video - why offer the option of shooting in 4K when the result is simply too choppy and laggy to watch?
Water Resistance.
Yes, the Note 9T is even water resistant - with a liquid-repellent P2i nano-coating to help protect the device against accidental spills and heavy rain. Now, don't confuse this with the submergeable IP ratings of the far more expensive devices, I wouldn't imagine anything good would happen if you accidentally went swimming with the Note 9T in your pocket. However, it should definitely survive splashes or a heavy squall, so feel free to take it on your run with you, no worries.
5G.
Of course, this is the big one, which is probably why it's written on the back in white letters. No other phone in New Zealand offers you 5G connectivity at this price. Yes, our 5G network is still only just beginning to roll out but it is expanding all the time. So if you live somewhere it's expanding to, you may as well take full advantage of it. Download speeds really are quite impressive and I've found even when I've only got a 4G+ connection I'm still faster than my fibre at home. You've got to be happy with that.
Look, I'm not saying there aren't limitations here - that's why the phone sells for less than four-hundred bucks. I'm just pointing out those limitations are ones you might well be prepared to live with. As far as I'm concerned, there are only two that really bother me; display quality and camera performance. If you're looking for a phone to shoot the next low-budget, cinematic blockbuster on, this clearly ain't it. On the other hand, it looks pretty funky, runs surprisingly smoothly and has excellent battery life. If those are the things you care about most, or you're just desperate to jump on the 5G bandwagon, there's no doubt the Redmi Note 9T 5G is the most economical way to do it.
Click here for more information and pricing on the Redmi Note 9T 5G.