The Bug You Want
Author

Publish Date

Wed, 1 Sep 2021, 4:14PM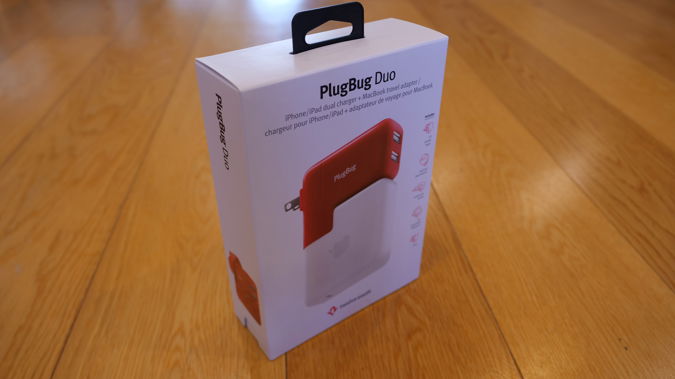 The Bug You Want
Author

Publish Date

Wed, 1 Sep 2021, 4:14PM
How did charging get so complicated?
MicroUSB? USB-C? Lightning? Wireless?
Volts or watts?
Actually… what's the difference?
Why won't my phone charger charge my laptop?
Why doesn't that USB port on my laptop charge my phone?
Why does that cable have little plugs on both ends? Where's the big plug?
And the most important question of all; why do I need so many bricks? One laptop plus one phone plus one smartwatch equals three oversized plugs to pack and remember every time I go anywhere. (You know… when we used to be able to go somewhere?)
Travel gadget gurus Twelve South to the rescue again.
The PlugBug Duo may not look like much (other than it's red) but it does have a very important trick up its sleeve.
I mean, of course it's already a pretty useful device - as you can see, there are a couple of full-sized USB charging ports so by packing this single brick, you're already ahead of the game - one charger for two devices.
The other bit of good news is the PlugBug Duo comes with a selection of five different swappable plug types - well, that's good news once we can actually get to China again. Or Canada. Or the U.K. Or Singapore. Or Europe. Or Japan. Or the U.S. 
Okay, I realise that could be some time away but you can always try out a few different ones and pretend you're in another country for a while. You know… if you've got a bit of time on your hands.
But seriously, this is a major benefit once we can travel internationally as you won't need two adapters for two chargers - in fact, you won't need an adapter at all; just swap out the plug before you go and you're golden.
Oh, did I say two devices?
Now for the trick…
If you own just about anything Apple, from iPads to MacBooks to iPhones, you've probably come across one of those two-piece charging bricks with slide-off plug. In fact, you may not even realise the plug slides off but take a look - if there are two bits joined together, give them a tug.
The really exciting thing about the about the PlugBug Duo is it also comes apart - with a PlugBug tug, if you will. This means the brick for your iPhone, iPad or MacBook will also slide onto it and now our little red wonder is charging three devices simultaneously. From a single outlet.
Ah, Twelve South, once again you've taken a simple idea and executed it perfectly.
The elegance and convenience of this concept is not to be underestimated, as clearly pointed out on the Twelve South website… "Imagine how awesome that would be in an airport or a coffee shop where outlets are scarce. No more having to decide which item to charge before you board a plane or on a break at a conference."
And nobody said you have to use this as a travel accessory - anywhere where power outlets and USB ports are in short supply - like your desk at work, probably - the ability to charge phone, laptop and earbuds all at once seems pretty essential.
Even the bedside table can become a charging station; if you want that phone, smartwatch and eBook to all charge while you're asleep, without a device like the PlugBug Duo, you'll need to find three separate power outlets on your side of the bed - or four if you have a bedside lamp as well. With this single brick, you can streamline all that dramatically.
There are limitations, of course. For a start, this isn't the smallest charger in the world, especially once you've piggybacked it onto the power brick for your iPhone or MacBook. So although it stays slim enough to only take up one space on a multi board, you're not going to fit it easily behind a cabinet against the wall.
And don't expect super-fast charging if you're using both USB slots. The top slot alone fires out 12W at 2.1amps but that drops down to 6 watts at 1A per device once you add a second. Unfortunately, that also means you can't use either USB slot to power a device like Apple HomePod, as that requires its own 20W supply.
However, pretty much anything else that charges via USB will plug in here.
And did I mention it's red? Why don't they make everything in red? Surely it's most people's favourite colour, right?
At $79.95 right now on the New Zealand Apple Store, I think the PlugBug Duo is pretty reasonable value. I'd consider paying that just for the extensive collection of international plug adapters. Combine that with the ability to charge two devices simultaneously while piggybacked onto another power brick and you're really getting your money's worth.
Oh, and don't forget; it comes in red.
Click here for more information on the Twelve South PlugBug Duo.