THE BEAST GETS BETTER BIT BY BIT
Author

Publish Date

Tue, 10 Sep 2019, 6:46PM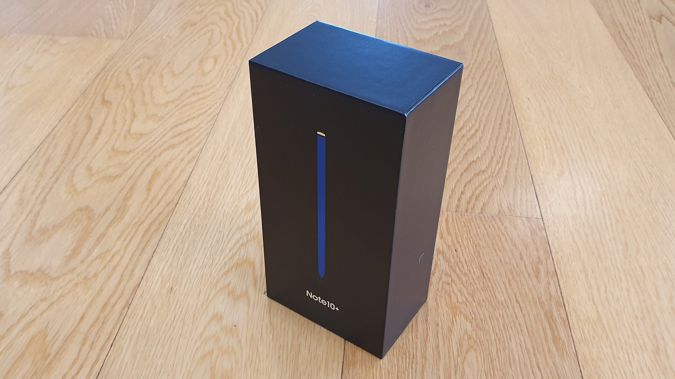 THE BEAST GETS BETTER BIT BY BIT
Author

Publish Date

Tue, 10 Sep 2019, 6:46PM
Peak phone.

Not a thing. Never will be.

Oh sure, there may have been a time some people thought phones couldn't get any better... but they did. I'm convinced they always will - until they're just a chip in our brain.

Even then, there's always a better chip.

The Samsung Galaxy Note 9, which came out about this time last year, was a phone of unprecedented power and functionality and if someone gave you one today, I'm confident most people would still think it was the best phone they'd ever used.

Now there's a new one...

The Galaxy Note 10+ has more grunt under the hood than an American muscle car and it's better looking too.

It comes in 256GB and 512GB versions - yes, the base storage size is 256GB, which you can expand out by a whopping 1TB via microSD. The Note 10+ also packs a huge 4300mAh battery and an insane 12GB of RAM.

Those would be impressive stats for a laptop, let alone a phone. So it's no surprise you can use this phone as a laptop. Samsung's desktop option, or DeX mode has come a long way in a short time. You can now plug the Note 10+ into just about anything with a screen and start using the phone via DeX's Windows-like interface. This is more useful than ever, due to Samsung strengthening its partnership with Microsoft. Integration of Office365 apps is seamless, fast and efficient. More and more apps have been optimised for the DeX experience and even if they haven't, most function well enough when you force them to via the DeX Labs option.
But of course, adding a keyboard and a mouse isn't the only alternative method of controlling the Note 10+. A Note isn't a Note without its stylus. To be honest, there aren't exactly a host of new stylus-based operations, after all, it already did a hell of a lot. As before, not only can you make notes, edit and overwrite pictures and documents, capture, copy and send text and images, you can also just use the thing as a bluetooth remote, controlling the camera, media playback and presentations. What is new, is the stylus now supports air gestures, allowing you to flick through slides or raise and lower the volume just by waving it in the air like a magic wand. If Harry Potter had a phone, it'd be a Note 10+. You can also translate text just by hovering the stylus over the word or phrase in question. There's even the option to convert your handwriting to text, although, because I have the handwriting of a dyslexic chimp with no fingers, this didn't work particularly well for me.

All of this witchcraft happens in real time, due to the Note 10+'s aforementioned suped-up processing power.

This also comes to the fore when filming. The Note 10+ now offers a Live Focus (or Bokeh) video option. This means the same blurred-background effect we've come to love for our portraits, selfies and food shots can also be applied to our vids. It works brilliantly and can still be used in conjunction with filters and other effects. One such effect that's another new edition is the AR Doodle. Using either the stylus or your finger, you can highlight or sketch over faces or objects and your artistic additions (monocles, false moustaches, buck teeth etc) will stay in place while you shoot your clip. This is thanks to the new time-of-flight sensor, which means the phone can tell how far away something is and apply 3D effects accordingly.

Other than that, the rear-facing camera configuration is similar to what we saw on the Galaxy S10+ earlier in the year - with a fantastic wide-angled lens for impressive outdoor shooting and vastly improved night-time performance. Interestingly, Samsung has stuck with a single lens selfie camera on the Note and they've moved the punch-hole to the centre, as opposed to the right-hand corner position on the GS10. I actually can't remember what that second front-facing lens was supposed to do, as the pictures and video I've shot with the Note definitely stack up. If the photo quality on this phone isn't the best on the market, it's definitely right up there. Some handsets may be able to out-perform it in terms of zoom-power and shooting in the dark, but not by much and the fast, smooth performance of the software just about makes up for any of those shortfalls.

As I just mentioned, the 6.8inch Infinity-O display has relocated the punch-hole to the middle, which is a great move as it turns out there's often something important in the top right-hand corner. This is because the top right-hand corner becomes the top left-hand corner when you hold the device in landscape for watching video content. If that content happens to be sport, the score is often shown in that corner, so on the Note 10+, you'll actually be able to see it. If you think watching sport on a phone seems ridiculous, remember, this is a Samsung screen and it's huge. Don't knock it till you've tried it.

Cosmetically, this is the most edge-to-edge, bezel-less Note we've ever seen - and the fact Samsung has released a big Note and a little Note this year obviously means they've conceded the traditionally more square, more bulky device has never been as appealing to certain portions of the flagship market and 2019 has meant a makeover of sorts.
Certainly the curved edges and the prism effect of the Aura Glow colour option pictured here make this Note the prettiest ever, no contest. Don't worry, faithful Note nerds - just because they've made it beautiful, doesn't mean they've compromised with any other features. It's still IP68 water and dust resistant and it still charges wirelessly, in fact faster than ever in conjunction with the new Wireless Charging 2.0 stands now available. There are some pretty clever covers to choose from too, featuring stands, notification displays and even programmable LED options.

Okay, one thing is missing - Samsung has finally made that most controversial of decisions and removed the headphone jack. I still don't really understand why this matters so much, I'm a bluetooth guy and have been for years, but I guess some people will never let go... of their cords.

As you can tell, I'm an unashamed Note 10+ fanboy and I truly find this device almost faultless. Almost. There's one thing about it that doesn't just bother me, I actually hate it. For some inexplicable reason, a small notification appears at the bottom of the screen when you put the Note 10+ on to charge. It simply tells you it's charging and how long till 100%. Then when it gets to 100%, it tells you it's reached 100%. And keeps telling you. All night long. This is all with the screen off. And with the screen-off-display off. In my dark bedroom. Which is no longer as dark as it was, because of this stupid notification I didn't ask for and can't turn off. It's such a small thing. But man I hate it. Fix it now, Samsung. I'm begging you. Fix it and you might just have a perfect phone, worth every cent of its premium price tag.

It's too easy to criticise the Note 10+ for being "not that much better" than the 2018 version, but when that phone was amazing, even incremental improvements mean this year's is amazinger.


Click here for more information and pricing on the Samsung Galaxy Note 10+.