The ANZAC speech written by ChatGPT, and what it means for modern warfare
Author

Publish Date

Wed, 26 Apr 2023, 2:34PM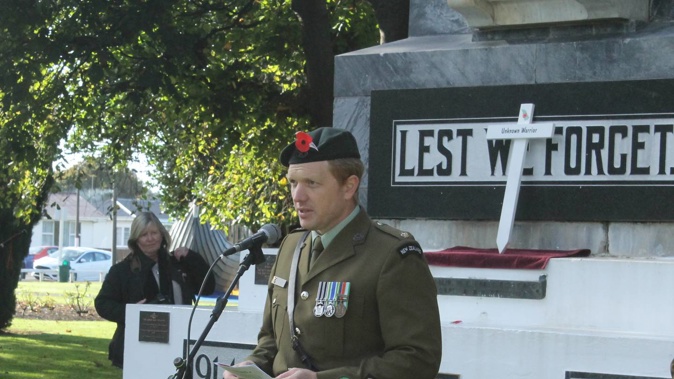 The ANZAC speech written by ChatGPT, and what it means for modern warfare
Author

Publish Date

Wed, 26 Apr 2023, 2:34PM
"I hate to say it, but society's got better at killing one another."
Those were the words of Major Richard Short as he addressed a crowd of about 400 at a chilly dawn Anzac service in Dannevirke.
Short used his time in the spotlight to ponder what the future of warfare could look like, and what technology would be used in any future wars.
The service was the first of two held to commemorate Anzac Day at the Dannevirke domain and was attended by representatives of a number of organisations.
World War II veteran Bonny Bodley, at 102, thought to be the only surviving veteran of that war from the area, also decided to attend the service.
WWII veteran Bonny Bodley braved the chill to attend the dawn service. Photo / Leanne Warr
Short, the president of Dannevirke and Districts RSA, spoke on technological advances and said he had used new artificial intelligence Chat GPT to write a large part of his address.
"That was not possible a year ago. That is new artificial intelligence that can do things that we have not imagined.
"Yet a year ago when I stood here and delivered a speech, it was not possible for that to be completed."
Wreaths were laid beneath the cenotaph in the Dannevirke Domain at the civic service. Photo / Leanne Warr
Short said that according to some sources, about 20 million people died in World War I.
"But to be honest, the exact number is not known."
He said it was a loss that the world had never seen and the reason why was because of advancements in technology.
That war saw "significant technological advancements such as tanks, aeroplanes and machine guns that revolutionised modern warfare."
Short said they had gone from the horse and cart to flying in the sky, or from muskets being fired every minute or so to machine guns firing hundreds of rounds a minute.
"Today we've seen incremental advancements in the field of military technology since World War I."
That included artillery that was accurate to within one metre that could fire out beyond 120 km.
"Human innovation has once again improved our ability to inflict destruction. And this is the things that we know about."
Short said if society went to war again, we could be certain there would be some new technologies that "none of us know about".
"That will be capable of destruction on a scale which we do not have a reference point for."
The problem was we don't know, he said.
"Just as the soldiers in World War I didn't know what to do when they saw a tank for the first time cressting over their trenches."
He did ask Chat GPT what the new challenges would be and the answer was cyber warfare, space warfare, biotechnology, quantum computing and artificial intelligence.
"World War I has taught us that new technologies make unpalatable losses.
"Since technology continues to advance, let's not forget that future wars will be even less palatable and could involve suffering beyond our historical examples, considering the new technologies which could be involved."
An estimated 600 people attended the civic service and 400 attended the dawn service. Photo / Leanne Warr
The parade before the Civic Service. Photo / Leanne Warr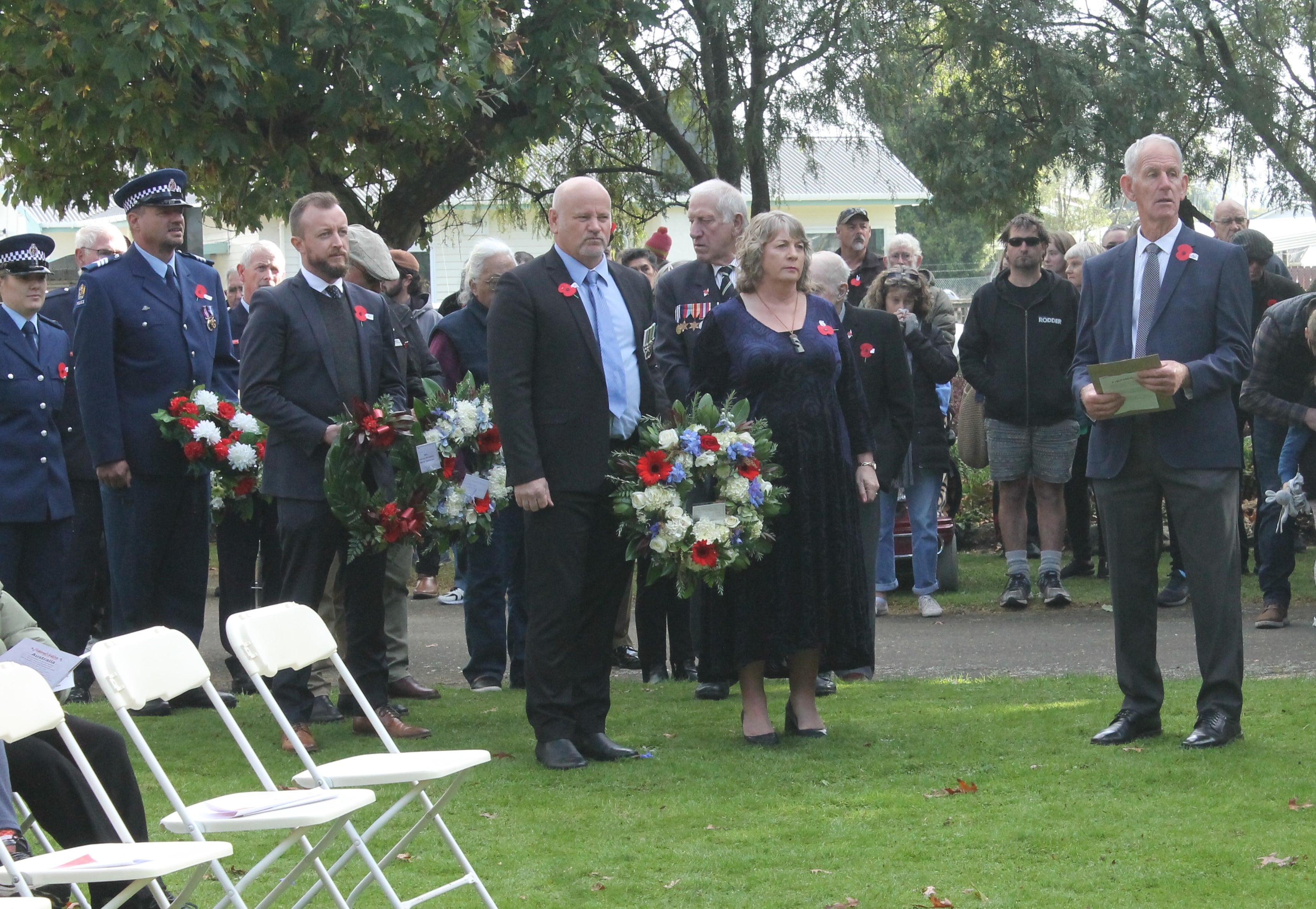 Tararua District Council chief executive Bryan Nicholson with Mayor Tracey Collis with the wreath. MP Kieran McAnulty and local police await their turn. Photo / Leanne Warr
A civic service was also held, attended by about 600 people, including Mayor Tracey Collis and Wairarapa MP Kieran McAnulty.
Police, fire service, local schools, St John, Tararua District Council, Dannevirke Community Board and others laid wreaths beneath the cenotaph.
Take your Radio, Podcasts and Music with you