THAT EXTRA CLEAN FEELING
Author

Publish Date

Mon, 18 Nov 2019, 9:38AM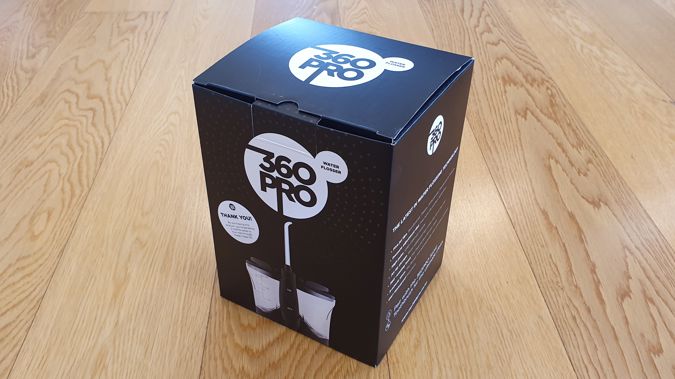 THAT EXTRA CLEAN FEELING
Author

Publish Date

Mon, 18 Nov 2019, 9:38AM
We all know we're supposed to do it.

We've been told to our whole lives - well, since we've had teeth anyway.

But... it's just such a pain.

Flossing.

Nobody's arguing with the benefits; healthy gums and teeth. Reducing the risk of gingivitis. In fact, recent research has shown there may even be a connection with oral health and Alzheimer's disease.

And that's before you get to the simple fact leaving tiny bits of food to rot between your teeth is fairly disgusting and it doesn't help your breath smell any good either.

But flossing...

It's just so fiddly. Certainly the last thing I feel like doing just before going to bed.

I'm keen to make myself more kissable though...
The answer, as it turns out, is simple - a waterflosser, specifically the 360PRO Waterflosser.

There are both cordless and plug-in versions, which have their own advantages but here I'm looking at the plug-in. Although bigger than its cordless stablemate, it really doesn't take up much room on the bathroom vanity - in fact, it's actually quite streamlined and curvy, a well designed tech addition to your ensuite.

If you've never come across a waterflosser before, it's basically a water blaster for your teeth, shooting out a tiny, high-pressure stream of water from an angled jet tip which can be easily rotated to reach between every single tooth. With the 360PRO, you simply remove the 600ml reservoir from the base unit, fill it up and put it back in place. Then it's just a matter of setting the pressure dial to your preference, switching on and letting the 360PRO do its thing. Just a word of warning; you'll want to make sure the jet tip is in your mouth before you switch that switch, otherwise you'll be sending a stream of water across your bathroom, maybe all over your mirror, or in a worse-case-scenario, all over your partner.

The first time I ever used one, I was amazed how effectively any residual food scraps were squirted out from between my teeth. In fact, after the three minutes it takes to use up all the water in the tank - which is easily long enough to floss all teeth from back and front - everything feels so clean, brushing seems like an added bonus.

The advantages over conventional flossing are obvious; no waste for a start. But for me, the most important thing is the ability to floss those big back teeth I'd never be able to access with my fat fingers and a length of thread.
The 360PRO actually comes with five specialist jet tips, including periodontal(gum), tongue cleaner and even an orthodontic tip which is an absolute godsend for those with braces - traditionally a bit of a nightmare to keep clean and healthy. These tips are easily accessible from the storage compartment in the lid. There are also alternate standard tips included in contrasting colours so other family members can use the 360Pro too. 
Not only am I left with that cool, fresh, clean feeling after using the 360PRO, in my reasonably short time using it in conjunction with the 360PRO Sonic Toothbrush, I've noticed a visible reduction in the build-up of plaque I'm prone to between my rather crooked bottom front teeth. If only the waterflosser was powerful enough to straighten them too!

Like the Sonic Toothbrush, the 360PRO Waterflosser is available in both white or the uber cool, irresistible black. Pretty obvious what my preference is.

Another nice little touch from the 360PRO team is their donation of two toothbrushes to Foster Hope NZ with every waterflosser sold, so not only will your mouth feel better, your soul will too.

At just $149, the 360PRO seems like amazing value for money, especially given its solid build quality and stylish design. It's definitely a lot more fun than wrapping a length of dental floss around your fingers every night before bed. I'm not sure how much more kissable I am, but I feel more kissable and that's got to count for something.


Click here for more information and pricing on the 360PRO Waterflosser.