Take Back Your Connectivity
Author

Publish Date

Thu, 21 Jul 2022, 7:28am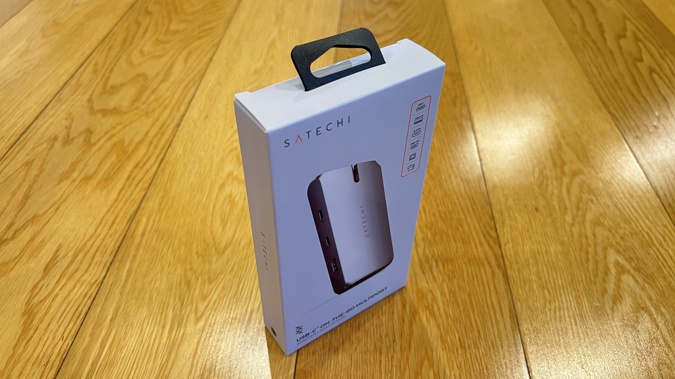 Take Back Your Connectivity
Author

Publish Date

Thu, 21 Jul 2022, 7:28am
Port theft; it's an epidemic.
It seems like every time I set up a laptop or tablet there are less of them.
There used to be plenty; USB-A's, card readers, display adapters... I even remember back in the day when I had a laptop with separate 3.5mm jacks for audio-in and audio-out. What a time to be alive.
But now they've taken them all away. And let's be honest, if it's an Apple device we're talking about, they've never exactly been generous with providing ways to plug other things into your thing.
I know in theory our lives should be completely cable-free by now but like clean energy and cheap, functional public transport, not all theories have quite come to fruition just yet.
Fixed LAN lines are still generally faster and more reliable than Wi-Fi. Connecting to a monitor with a cable still means better image quality and less lag. And no matter how big your internal drive is, it's never enough storage.
Like it or not, you're gonna need a hub.

The USB-C On-the-Go Multiport Adapter from Satechi is probably all you need.
It's all very well plugging your laptop into a dock at the office or in your study at home - that means a nice big monitor, hard-line internet and full sized keyboard and mouse, right?
Not much use if you're somewhere else though. The Satechi On-the-Go Adapter gives you access to much of that functionality wherever you end up.
It's about the size of a small phone, perhaps a little thicker, but much, much lighter. In fact, at only 125 grams you're pretty much guaranteed to not even notice it in your handbag, satchel or briefcase.
Before we go on, let me quickly list what the On-the-Go Adapter brings to the table; USB-C PD charging, 2 USB-A data ports, another USB-C data port, gigabit ethernet, reader slots for both full-sized and microSD cards, an HDMI port and perhaps most interestingly of all - a VGA port.
Yes, old-school I know but I've used quite a few of these USB-C hubs now and this is the first one I've encountered with a VGA connector. I happen to think this might be pretty useful for a lot of work-from-homers who might have an old monitor sitting around, gathering dust - I know I have one.
What you may not have realised is it's not just laptops that can utilise the extra ports the On-the-Go Adapter offers - I've used it with iPads, phones and even my Chromecast.
Don't look at me like that. A hub like this is a great way to add ethernet connectivity and extra storage to a streaming dongle like a Chromecast - pretty useful if your Wi-Fi is a bit dodge. Just one caveat here; if you are adding a LAN connection to your TV dongle, it'll probably require a power source with a bit more juice than the one supplied with your streaming stick. Satechi does sell higher-wattage wall chargers but there isn't one included with this device.
However, in most cases, charging is possible via your connected gadget's usual power brick - you just plug it into the On-the-Go's USB-C PD input, then use the onboard USB-C cable to connect to your primary device. This lead is just a short one, cunningly concealed inside the adapter when not in use. Satechi has also included a longer, high-quality USB-C cable in the box.
That means if you love using your iPad (or some other kind of tablet) but find the on-screen keyboard limits your productivity, this is a fabulous way to add other input methods and yes, even a larger screen. You might be surprised how many devices you can add things like keyboards and mice to. What's more, given how much it costs to upgrade storage on an iPad or MacBook, simply plugging in an external drive via USB-C or USB-A might prove a lot more budget-friendly.
I'm not suggesting Satechi's USB-C hub is necessarily more useful than any other similar product - after all, there are more and more options on the market every day. However, after using several different variants, there are a few things that make the On-the-Go stand out. Firstly, as I've mentioned, it's incredibly light, meaning it really does live up to its "On-the-Go" moniker. 
Secondly, it's the first hub I've come across with a VGA option. Unfortunately, this doesn't necessarily mean you can run a dual monitor configuration with one connected via HDMI and one on VGA. Every time I've tried this, the HDMI screen seems to disconnect the VGA one by default. Perhaps this is a limitation of the source device (I tried this with both a Huawei laptop and an iPad) but it's probably something to bear in mind if that's what you were planning on setting up.
Lastly, like most Satechi gear, it just looks really cool. The brushed aluminium finish, the rounded corners, the concealed cable - this is not a massively expensive device but it certainly has a premium appearance and will make a classy addition to any out-and-about desktop.
Click here for more information on the Satechi USB-C On-the-Go Multiport Adapter.