Suddenly There Was Another Flagship Phone
Author

Publish Date

Wed, 8 Jun 2022, 7:34am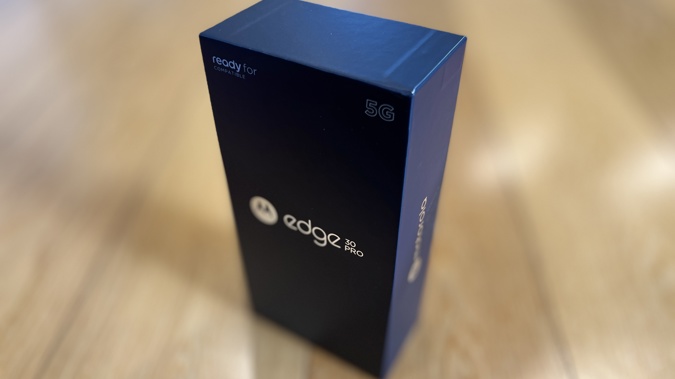 Suddenly There Was Another Flagship Phone
Author

Publish Date

Wed, 8 Jun 2022, 7:34am
Here in New Zealand we haven't always been spoilt for choice when it comes to tech.
Unfortunately, due to our somewhat remote location and relatively small population, it's not always in a manufacturer's best economic interest to supply us with every product, or every model - that's if they even want to do business here at all.
We've even seen some companies market their wares here for a while - sometimes years - only to eventually have a change of heart and disappear again. This can be very frustrating indeed for those customers who've become loyal to that brand in the meantime.
Certainly, over recent years the choice of smartphone seems to have grown smaller, which is never ideal when it comes to comparison shopping. That's not to say we don't have access to some of the best phones the world has to offer - just not necessarily all of the best phones.
Luckily, a name from the past has made it back to our shores.

The Motorola edge 30 pro is undeniable proof one of the oldest brands in mobile phone technology can still cut it with the rest.
Right out of the box it's hard not to be impressed by the curved, Cosmos Blue rear panel. It has a shimmering, translucent finish yet is quite matte to touch so shows hardly any fingerprints. There's also a subtle yet eye-catching Motorola logo in the centre that seems almost holographic - unlike some gaudy branding efforts this one enhances the overall effect rather than detracting from it.
This is a large phone - in fact, I'd go so far as to describe it as bulky. The curved rear edges go some way to disguising how thick it is but it's also reasonably heavy and with a 6.7-inch display, you were never going to fit it easily into your jeans pocket.
However, that Max Vision OLED screen really does stretch from top to bottom and side to side with just the smallest cutout for the selfie-cam. With its 144Hz refresh rate it makes for ultra-smooth, no-lag operation and it's a fantastic size for both streaming and gaming.
I haven't had much experience with Motorola devices before so I was pleasantly surprised with the unadulterated Android 12 operating system. That's right, no superfluous bloatware or unnecessarily complicated double-up apps. There's just a single Moto app that's actually useful; offering tips on the best way to use the phone and providing easy access to customisation settings and gesture controls.
Some of those gestures are also genuinely useful - and unique. A double twist of the wrist will instantly activate your camera - even from the lock screen - while two quick karate chops will turn the torch on or off. This last one is just a great, simple idea that'll save you fumbling around with your shortcut panel when you need light in a hurry.
The camera performance should be outstanding - and in many ways it is. Certainly the 60MP selfie cam might be the best forward-facing camera for shooting selfie video I've ever used. The colour is true, lighting is excellent in most conditions and not only that, the sound is clear too. 
On the other side, the rear-facing array consists of a 50MP main shooter, a 50MP ultra-wide - which is also used for macro shots - and a 2MP depth camera.
Unfortunately, the problem with this setup is there's simply too much you can do with it. It's overwhelming. In the video at the end of this article I rather unfairly accuse the camera app of being, "not intuitive." All I really meant by that is I've become accustomed to high-end handsets doing a lot of my thinking for me. In the case of the Motorola edge 30 pro, there are shooting modes I've haven't even heard of; Ultra-Res, Cinemagraph, Spot Colour... seriously, you're giving me options I never asked for.
The list goes on and on. Yes, there's Night Vision, Live Filter and AR Stickers - some of these at least I've come across once or twice before. And yes, features like Dual Capture, where you can shot from both front and rear lenses simultaneously are definitely useful. As is Cutout, which lets you capture a portrait shot without any background - then you can add one from any other photo in your library.
And that's before you enter Pro mode, where you can adjust all the settings yourself. Honestly, this is all too daunting for me. I just want to point and shoot. Which I've done, and for the most part the results have been good. Yet, without a dedicated zoom lens, not every outdoor shot is a winner.
I found the video stabilisation to be first rate though - definitely worth a mention.
Of course, the thing that makes a lot of that photographic wizardry possible is the Qualcomm Snapdragon 8-Gen-1 chip driving this thing. Motorola was actually one of the first to use this silicon that has unarguably set the standard for Android phones so far in 2022. Certainly everything I've tried to do with the edge 30 pro has happened instantly - if not sooner - and I mean everything. Setup, downloads, multi-tasking - even NFC payments at the supermarket seem to go through straight away.
The other quick thing about this phone is the charging - it loves a fast charge, either wired or wireless. Nice big battery too; 4800mAh which definitely gets it through my long, breakfast radio days without hardly breaking a sweat.
At the end of the day it's actually pretty difficult to find something the "other" flagships do this one doesn't. Other than being slightly heavier and thicker perhaps (and that's by no means a given) the only significant shortfall I can find is the IP52 rating - basically splash resistant rather than actually waterproof like IP67 and IP68 devices are.
Personally, the only niggle I've found using the edge 30 pro is operating the camera - and as I've explained, that's simply because the app isn't idiot-proof enough for me. Other than that, this is an undeniable high-performance, power-efficient flagship with a sumptuous, large display and great charging features - all for under NZ$1200.00 which is definitely less than most other comparable high-end handsets.
Click here for more information and pricing on the Motorola edge 30 pro.