Sonos Still Holds the Crown
Author

Publish Date

Wed, 1 Jun 2022, 6:33am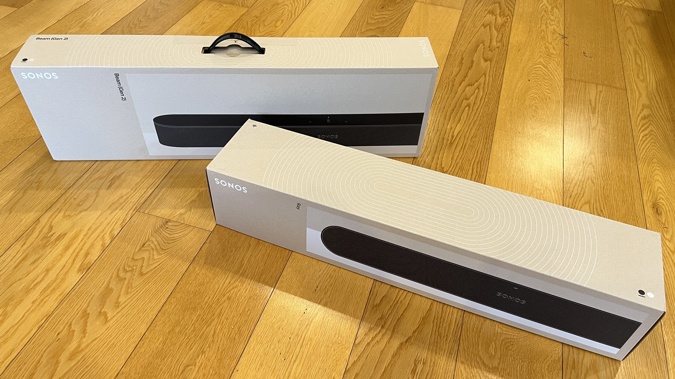 Sonos Still Holds the Crown
Author

Publish Date

Wed, 1 Jun 2022, 6:33am
I still remember my excitement when I installed my first piece of Sonos gear. I was pretty late to the party; so many people had told me about their amazing Sonos setups - raving  about their crazy good soundbars and seamless multi-room audio.
I kept hearing Americans advertising Sonos products on podcasts - everyone seemed unanimous in their effusive praise for the brand. Suspiciously so... surely there was no way the real deal could live up to the hype?
But then I got my own; a Sonos Arc sound bar teamed with a pair of One SL surrounds. Oh boy, turned out they were right. All of them. 
An elegant, streamlined, wireless home theatre that sounded... well... sensational. The power. The dynamic range. The 3D effects. I was in aural ecstasy. I had arrived.
Given it was the original Sonos Beam soundbar that really propelled Sonos into the stratosphere of home sound solutions back in 2018, obviously I was keen to try out the new version as soon as possible. Then, almost out of nowhere, there came an even more budget-friendly option.
So why not give them both a go? All research is useful research, right?

Compared to my Arc, both the Beam (Gen 2) and the all new Ray are just babies. At about 65cm long for the Beam and only 56cm for the Ray, either of these soundbars will fit into spaces the somewhat oversized Arc never could.
Like the Arc, the new devices are available in both black and white and whereas the original Beam was covered in a fabric mesh, the grilles on these soundbars are a much more durable and easy-care, precision-cut polycarbonate.
While the Beam retains its traditional long-box-with-rounded-ends shape, the front of the Ray splays out in a more trapezoid fashion. The major differences are internal, of course. The Beam boasts five amplifiers versus the Ray's four, although the Ray has two tweeters while the Beam has only one. The Beam has four midwoofers, the Ray just two and the bass is handled quite differently in each device too. Despite these variables, both soundbars sound great but more on that shortly.
There are two more obvious differentiators between these models; only the Beam (Gen 2) offers voice control by linking with Amazon Alexa. For some reason Google Assistant is still not available for Sonos in New Zealand. Come on Google, lift your game. To be fair, Sonos' own Voice Control isn't here yet either.
The other big difference is super weird. The Ray only connects via its included optical cable - no HDMI to be seen. I haven't connected anything with optical for about 15 years and I assumed this technology was on the way out. Luckily, there's an optical cable included in the box. The really odd thing about this is Sonos is marketing the Ray as a way to "Take gaming to the next level..." yet neither the latest Xboxes or PlayStation have optical outputs. This doesn't mean you can't use the Ray for gaming - you just have to get the audio feed from your TV instead. Most TV's do have optical ports and if you're using the Ray as your primary audio component of your home theatre, it's the TV you'll be plugged into anyway. That said, it's a lot more complicated setting up my TV's remote to control the Ray via optical than it is to pair with the Beam via HDMI eARC - but I got there in the end.
Sonos also claims setting up either of these speakers is super simple, just a matter of following the steps on the Sonos app. That's kind of true, although many speakers just work when you plug them in and turn them on. The difference here is what makes a Sonos system so superior; Wi-Fi connectivity means reliable, room-to-room control. There are also a host of fine-tuning features in the app you just won't find with other systems - for example, you can adjust the height of your soundscape on the Beam and both speakers offer Trueplay tuning if you have an iOS device. This is a way to teach your soundbar the unique audio characteristics of your room so stereo and other effects can be played accordingly.
Like any Sonos speaker, once you've added the Ray or Beam to your Sonos profile, you can then choose to stream from any of your connected services, or play different things on different speakers if you prefer. The wonder of wireless home audio is literally in your hands. This is where the Beam's voice assistant abilities give it quite the advantage, as you don't even need your phone to control it.
Without getting too bogged down in sound-nerd tech specs, both these soundbars produce top quality audio - I mean, you'd expect no less from Sonos, I've certainly never been disappointed. While you might not consider a soundbar as your first choice for music reproduction, these are both great options - the size and number of speakers in each device almost certainly outpaces your bog-standard bluetooth box.
Then once you get to movie time (or TV time or yes, even gaming time) again Sonos definitely delivers. If you're looking for depth, height and convincing stereo separation, both the Beam (Gen 2) and the Ray really come to the party. I expected no less from the Beam, given its predecessor's acclaimed reputation but I've been just as impressed by the smaller (and significantly cheaper) Ray. I even hid it behind my TV, just to see how that would effect things and it still sounded great.
Neither device offers bone-shuddering bass response - the bass is there, it just won't rattle the windows (or bother the neighbours, for that matter). However, there's nothing stopping you adding the Sonos Sub to your system - although that alone costs more than the Beam and Ray combined.
You also have the option to add a pair of One SL surround speakers to complete your home theatre experience. If you can stretch the budget, I'd definitely recommend this to get the most out of your new system. When it comes to Sonos, the more speakers the better.
While there's no doubt the new, improved Beam is a superior speaker to the Ray, especially given its extra features and more user-friendly HDMI eARC connectivity, to my ears, the difference in out-and-out sound performance is not as dramatic as you might expect. This makes the NZ$449.00 Ray exceptional buying and the money you save might be better spent on a sub or surrounds.
Either way, I'm sure you'll be just as excited as I was when you get that box (or those boxes) home and finally experience some Sonos for yourself.
Click here for more information and pricing on the Sonos Beam (Gen 2).
Click here for more information and pricing on the Sonos Ray.