Some of Us Actually Want to Be Watched
Author

Publish Date

Mon, 6 Dec 2021, 2:12PM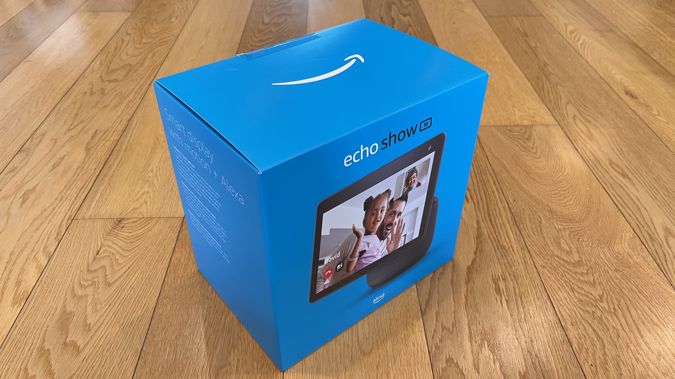 Some of Us Actually Want to Be Watched
Author

Publish Date

Mon, 6 Dec 2021, 2:12PM
It's no secret I love tech.
That means I'm prepared to go a long way to make the most of a new innovation.
I've spent hundreds, if not thousands of hours setting up gadgets, learning how to use them and trying my best to incorporate them into my everyday life.
One type of device that's definitely made my day easier is the smart speaker. Do they do exactly what I want every time I ask?
Not yet. But man it's fun trying to get them to...

Obviously the most notable thing about the Echo Show 10 is its rotating display - but before we get to its motion-tracking abilities, it's worth pointing out the screen is really big. In fact, it's a 10.1-inch display with good clarity and colour. This means it's actually not terrible for watching streaming services like Prime Video and Netflix. Once you've linked your account, you can simply ask Alexa to play whatever programme you're in the middle of and it will start playing the show right where you left off.
A decent, large display also makes for one half of a quality video call. The other half comes down to how good your camera is.
For too long, Amazon Echo Show devices have been woefully under-resourced when it comes to camera quality. The Show 10 tips all that on its head. The 13MP camera finally brings genuine video-call capability to this device, aided even further by its clever tracking abilities. Not only will the Show 10's screen snap to face directly towards you when you call Alexa's name, it usually does a reasonable job of tracking where you are in the room.
This means however you've set up your home screen - whether to show off your wedding photos or just give you news updates - you'll be able to look up and take it in at a glance, wherever you are.
On the one hand, I guess the Echo Show 10 takes up more shelf/table/bench space than ever before - after all, you've got that big display swinging around almost 360-degrees. But again, that's not mandatory. When setting up the Show 10, you get to adjust its range of rotation to your preference. If you've placed it close to a wall, there's no point in having it swing all the way around just because it's tracked someone walking out of the room.
A few people (and a lot of critics) have found this functionality to be rather "creepy." I totally get it; no-one likes the idea of any kind of tech following and reacting to their slightest move. However, this version of the Echo Show seems to be dramatically more responsive than its predecessors and if that's due to its "active listening" abilities, then I'm right on board.
Just like all the other big tech manufacturers, Amazon makes a lot of very detailed promises about privacy and encryption. It's also easy enough to deactivate functions like motion tracking and there's even a physical shutter you can slide over the camera. Do I trust any those companies keep those privacy promises? Not especially - but I care about the ability to play the song I want by the artist I requested much more, so I can definitely live with a bit of creepy tracking.
In saying that, how rewarding your listening experience will be varies wildly depending on which streaming service you've made your default provider. I'm not talking about sound quality here - I'm confident you'll have no complaints in this department. The Amazon Echo Studio is still one of the best sounding smart speakers I've ever used and given the base of the Echo Show 10 looks strikingly similar to the Studio, I wasn't surprised to find it performs almost as impressively, audio-wise. It's big enough to generate warm, roomy bass and the dual, front-firing tweeters cover off the rest of the soundscape admirably. Don't worry; the speaker doesn't rotate, only the screen - so you won't get any weird, sweeping sound effects as you move about.
No, the listening experience I meant is about usability. Yes, I can now ask Alexa to play Apple Music (assuming I've linked my subscription through the app) but I can't use most of the more specific commands like my favourite; "Play Something I'd Like." Spotify fares much better, although recently I discovered you could no longer create a "station" of your own based on a particular artist or song - even though you can still do this using the Spotify app. I'm assuming a lot of these more user-friendly tricks have been reserved for use with Amazon's own music streaming service, in the hope you'll shell out for another subscription there. As yet, I've resisted, so I don't know that for sure.
I hate to think about the IP disputes involved in all these companies sharing even the small amount of functionality they do. What a shame we can't just all get together and share the best bits of everyone's tech in one smart home hub. With the addition of Netflix and Apple Music, the Echo Show 10 certainly comes close.
Especially given it can connect to and control the vast majority of other IoT devices - now utilising Amazon's Sidewalk networking (if you agree at setup) to create a connection between devices like security cameras and doorbells that is stronger and more reliable than ever. The feeds from those cams look great on that big screen, by the way.
In terms of voice recognition and accurately following instructions, I'm not as satisfied as I used to be with Alexa. My theory is this is due to the sheer number of third-party devices and services the Echo family can connect to - making Alexa a kind of techy Jack-of-all-trades, master-of-none. Sadly this means even after all this time, there's still a fair amount of repeating yourself or being more specific to get Alexa to do exactly what you want. At least now, thanks to the rotating, motion-sensing display, Alexa is looking at you while you talk to her - and that's a pretty clever wee trick.
The Echo Show 10 is perhaps the most elegant combination of smart speaker and smart display yet - both elements are of extremely high quality and that's why I think it's probably worthy of its NZ$439.00 price-tag. If you're someone who likes to follow recipes while up to your elbows in flour, or perhaps you're learning an instrument via a video tutorial you need to stop and start hands-free - then the Echo Show 10 might just prove indispensable. 

Click here for more information and pricing on the Amazon Echo Show 10 (3rd gen).