Solving the Parents' Smartphone Dilemma
Author

Publish Date

Tue, 8 Jun 2021, 1:08PM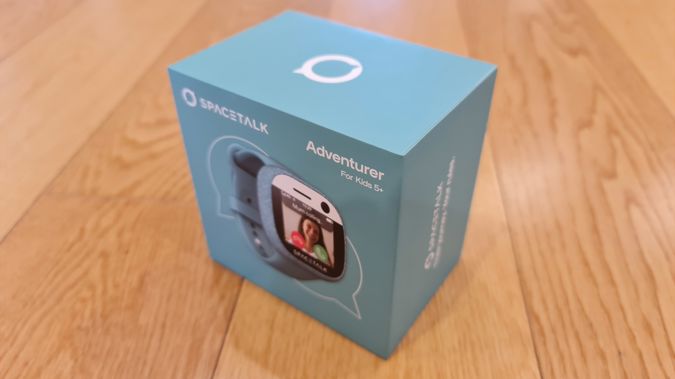 Solving the Parents' Smartphone Dilemma
Author

Publish Date

Tue, 8 Jun 2021, 1:08PM
It's a question most parents struggle with and have been since mobile phones became affordable; at what age does my kid really need a phone?
Obviously, for every child it's different.
If they're involved in a lot of extracurricula activities - music practices, dance classes, sports training - you can't always arrange a fixed time for mum or dad's taxi service to arrive. That can mean putting a phone in their little hand a lot earlier than you might have planned.
Then there's the peer pressure... damn that rich best friend who always seems to get the latest generation handset for Christmas. That can be a tough thing to explain to an 8, 9 or 10 year-old.
The real question is; do they actually need a phone?
What if there was another way to keep tabs on them - even contact them - without an actual phone and all the inevitable, unavoidable evils (ie: social media) that come along with it?...
I can't lie, the Spacetalk Adventurer is not as cool as a "real" smartwatch - not to my eye anyway. But then again, I'm not the target market. So who is? That's complicated.
Like any product designed for children, given it's usually the parents doing the purchasing, the Spacetalk Adventurer has to appeal to both tech-savvy 5-12 year-olds and their respective money-makers as well.
I am not well placed to comment on the wristwear desires of a modern pre-teen. When I was that age, digital watches were still pretty cool. One friend of mine even had a tiny little calculator on his. Pretty high-tech.
I could be wrong but I feel like these days, kids are demanding a bit more. So here's my test; it's Christmas day and it's time to open the presents. When they pull the Spacetalk Adventurer out of its box, are they going to be genuinely excited or is this a pretend-you-love-it then stash-it-safely-in-the-bottom-of-the-wardrobe kind of a present?
While I think Spacetalk has got a lot right here, there's one important thing that seems a bit off to me - how the Adventurer looks. It looks like a kids' watch. It's oversized and plasticky - in fact, it's so large, I think some littlies would find it quite uncomfortable to wear. The colours are okay - Ocean (light blue) Coral (light orange) and Mist (lime green) but at almost 1.5cm thick and with SPACETALK written across the bottom of the screen in reflective letters, there's no mistaking this for an Apple Watch, Fitbit or Galaxy Watch - and I'm pretty sure most kids know exactly what those are, even at age 5.
That doesn't necessarily mean they won't want a Spacetalk Adventurer though - and I suppose what Spark (the retailer) is hoping for is that Spacetalks will become all the craze at primary schools throughout New Zealand. ...and they might, because they actually do what they do pretty well.
The colour LCD screen works a lot like the ones on those big brand smartwatches, although you have to double-tap the display to wake it up - there's no gyro-enabled lift-to-wake option here. Other than that, you swipe to navigate your way around the limited number of apps and settings on offer.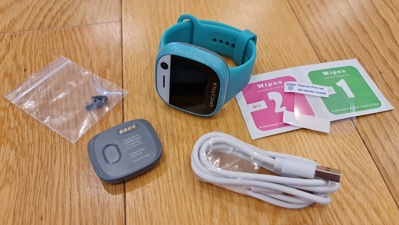 The Spacetalk Adventurer contains its own standalone sim card, which means it can literally be used like any other phone to call or message. Because it has both mic and camera, you can even send and receive photos, videos and voice recordings - but not to just anyone. Whoever sets up the device initially chooses which contacts the watch has access to. Those contacts can be called by the watch, even it they don't have the Spacetalk app installed, so for example, if Nana is on pick-up duty, the wearer of the watch can ring her when they need her if her contact details have previously been loaded onto the device. The app is required for sharing messages, photos and videos though - and when I say sharing, I mean sharing amongst the designated Spacetalk contacts; there's no easy way to copy any media created with the watch to another device or social media app.
In fact, that's the main attraction for parents here; you get to create and control your own, private social network - no outsiders allowed. In this way, you're giving your kid the feeling that they're creating and sharing content, just like professional streamers do on YouTube, Twitch or Facebook Live - the only difference being you know every member of the audience.
This is by no means a fully functional fitness tracker, although there is a simple fitness app that measures heartrate and the number of daily steps walked or run. What the Adventurer does have is a built-in GPS, so you can keep a close eye on the exact whereabouts of your beloved little monsters at all times - whether they've gone off to the park or you dropped them at the mall. What's more, you can use the Spacetalk app to send you regular location updates and also set up "Safe Zones," so you'll be notified every time they leave or enter any areas you've specified. Basically, if they aren't where they're supposed to be, you'll know about it and you can contact them to find out why.
As much as I've tried to stop myself, I can't help comparing the Spacetalk Adventurer to other smartwatches I've used and owned. This way madness lies, as there are limitations everywhere. There's no ambient light sensor, so kids will need to go into the settings and adjust the screen brightness manually if they want to be able to use the watch outside in bright sunshine. Some of the on-screen controls are simply tiny - almost impossible for my adult-sized fingers to accurately access, especially once you open certain apps,
Meanwhile, other things are great. There's an alarm, a stopwatch, weather forecasts and an enormous list of notification tones to choose from. Weirdly, there are only three (quite boring) watch faces, although you can use your own pictures as a background. Importantly, the device is IP67 water resistant, so it'll survive the shower or any accidental dunkings with no issues. It also comes with a tailor-made screen protector included in the box to try and keep scrapes and scratches to a minimum.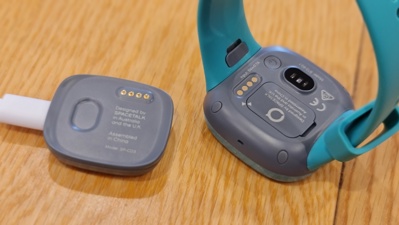 I have to say, I was expecting a bit more from the battery - it'll survive a day with no issues... perhaps two but realistically, it needs to be charged nightly via its own, unique magnetic cradle.
At $379, this is certainly no toy and there are definitely some pretty functional smartphones out there for around that price. However, at a young age, a phone can be more like a Pandora's box, a mobile gateway direct to the internet and all its perils. The Spacetalk Adventurer gives you the calling, messaging and location data a phone would, while keeping all the online weirdness at bay for a little while longer.
There is an ongoing monthly subscription but it's nowhere near the cost of running a phone - especially given the ability to group chat and send and receive multimedia messages.
Honestly, I don't think too many self-respecting 12 year-olds are going to be keen on wearing one of these, no matter which colour you choose - but your 5-8 year old might just think it's the smartest watch they've ever owned.
Click here for more information and pricing on the Spacetalk Adventurer Kids Smartphone Watch.