SO WHAT DOES THAT PLUS GET YOU?
Author

Publish Date

Tue, 14 Jul 2020, 10:03AM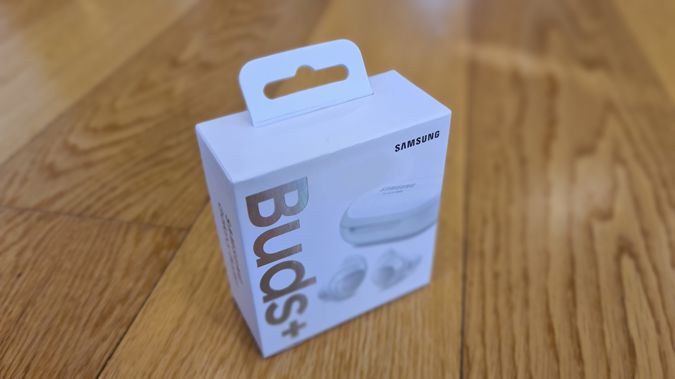 SO WHAT DOES THAT PLUS GET YOU?
Author

Publish Date

Tue, 14 Jul 2020, 10:03AM
I've never conducted a scientific survey on what people what people want most from their earbuds.

But if I did, I'm pretty sure fit would be the number one concern. There's nothing worse than having to constantly readjust one or both of your buds during a run or workout. If they're true-wireless buds that issue is even more of a concern; no-one wants to feel like half the set of earbuds they've just spent hundreds of dollars on is about to wiggle out of their ear and bounce off down the street.

Everyone is different though - we all come in different shapes and sizes. If you're like me, even your own ears come in different shapes and sizes - so the challenge of providing the perfect fit is a curly one indeed.

Then again, I've used buds that are secure enough but aren't actually all that comfy. It's a fine line between a design that's light and well balanced and that tight seal to keep background noise out and the earbuds in.

That's why Samsung took what it already had and improved it...

When the original Samsung Galaxy Buds came out, they immediately became one of my favourite accessories. The fit was excellent, they were comfortable enough to wear for long periods, battery life was good and they sounded great. Of course it wasn't long before other earbuds came along that did some of those things even better - although not many beat the Samsung version in every area, so they still hold up pretty well, all things considered.
Now Samsung brings us the Galaxy Buds+ with a host of little tweaks, some more obvious than others. If you just gave them a quick glance you could be forgiven for thinking not much has changed at all; for example, the case is almost exactly the same shape and size although it now has a glossy finish rather than the matte exterior of its predecessor. I've always found this giant pill shape slips easily in and out of my pocket and like the first one, you can charge via USB-C cable or plonk it down on any Qi wireless charger (including Samsung handsets with reverse-charging capability). There's fast charging now, via USB-C of course - you can get about another hour's listening from just three minutes' charging. Although running the Buds+ flat could be a bit of a challenge given you'll get approximately eleven hours on a full charge. That has to be one of the longest battery lives out there for a device like this and there's another full charge (eleven more hours) stored in the case.
The LED indicators work the same way as before - a tiny LED inside the case to let you know how charged the buds are and an equally tiny LED on the outside to show you how charged the case is. I'm a fan of tiny LED's - the tinier the better. For a more accurate indication of bud battery level, just open Galaxy Wearable. This is the app to access a wide variety of options and customisations, from preset EQ's to which apps to allow notifications from. These notifications can be read aloud as a quick summary, or in full if you prefer. The app also lets you choose some functions to assign to the touchpads on each bud, although single, double and triple taps are already spoken for. These are not physical buttons as you'll find on some buds, which can be uncomfortable to use because you're pushing on something already pushed into your ear. They require only the lightest touch to operate. This has its own drawbacks of course, as I often accidentally start, stop or skip when taking the buds out and putting them back in the case. There's even an experimental feature that let's you adjust the volume with a double tap on the edge of each bud but my fingers are far too fumbly to make this work with any reliability so I've toggled it off.

In terms of functions available, I can't think of any I need the Buds+ don't have. There's even an ambient sound slider so you can choose just how much outside world to let into your personal mix. This is thanks to a combination of one internal and two external mics, which also creates vastly improved phone-call performance. Most people I've been talking to have had no idea I was on a headset.

The AKG-tuned speaker setup is another invisible feature that's been dramatically upgraded. The first song I happened to cue up was Walk Across the Water by the Black Keys, a slow rock jam, expertly mixed to show off every element of the band; from bass, to lead guitar to those signature, over-reverbed vocals. I was instantly blown away by how clearly and distinctly each of these elements were brought through. Samsung has introduced a new, two-way dynamic speaker system and boosted the driver, all in the effort to improve clarity and produce a more natural listening experience. It works. When sounds from all frequency ranges are given their own space, you can fully immerse yourself in the music at a lower volume. That's not to suggest the Buds+ can't blast your brains out if you really want them to (yes, that's an exaggeration for comic effect) but I've found I simply don't need to wind them all the way up to enjoy my playlists to the fullest.

But the ultimate test for any set of earbuds brings us full-circle to my introduction; how well do they fit? The original Galaxy Buds are still in the top two or three I've tried when it comes to a secure, comfortable fit so the Buds+ had a lot to live up to.

I'm very pleased indeed.
My basic trial is to wear the buds for my usual 7km run. It's hilly, there's varied terrain and I'm generally stumbling along like a blind man. Although the Buds+ look quite similar to their predecessors, there is now a selection interchangeable of wing tips as well as ear tips so you can customise each bud to fit as perfectly as possible. As it happens, the default medium size they came with out of the box felt pretty good, so off I set. 7kms later and I never touched them once. Comfy, secure, tight seal, sublime. They feel so good, I can't stop wearing them and I often sneak one in when I'm doing jobs around the house so I can keep listening to my podcasts. Because they have such a small, streamlined form factor, they're not super noticeable when you're wearing them anyway. They're IPX2 rated, making them sweatproof and because they never fall out, they are my new workout earbuds of choice, end of story.

The Galaxy Buds+ have better battery life, they sound better and they are the best fitting buds I have worn to date. When I tried the original version, I honestly didn't think there was much room for improvement. I've never been so glad to be proven wrong.


Click here for more information and pricing on the Samsung Galaxy Buds+.