So Many Phones. How to Choose?
Author

Publish Date

Mon, 2 May 2022, 12:58pm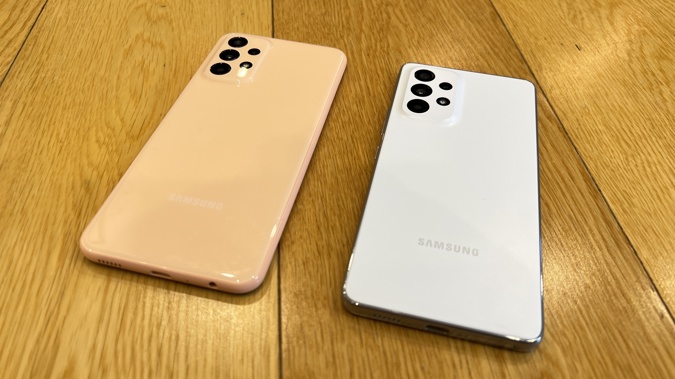 So Many Phones. How to Choose?
Author

Publish Date

Mon, 2 May 2022, 12:58pm
I don't have the stats to back it up but I have the feeling Samsung is absolutely killing it in the mid-range smartphone market.
And the strategy is so simple, it's brilliant; flood the market with a model for every price point.
And I mean all of them - from the $199.00 Galaxy A03 right up to the Galaxy A73 at $849.00 - there's a total of six new A-Series handsets for Kiwis to choose from this year.
This would be an extremely long (but totally compelling) review if I ran through the pros and cons of every single one, so I've chosen two of the likely biggest sellers to give you a bit of an overview...
The Samsung Galaxy A23 is NZ$499.00 and the Samsung Galaxy A53 5G is NZ$749.00 - but there are plenty more differences than just a $250 price gap.
The first is in the name; note the "5G" is missing from the A23. This is not to say a 5G model doesn't exist, just for some reason it's not widely available in New Zealand. No major issue really although last year's A22 is available in a 5G variant - for fifty dollars more than the base model. Perhaps Samsung has found customers in that sub-$500 bracket aren't as likely to shell out for the extra data 5G speeds can easily cost you. Who knows? The point is, if you care about 5G, in 2022 you'll need to move a little further up the A-Series line.
The other immediately noticeable difference is the rear panel - polycarbonate for both handsets but a much glossier, cheaper-feeling iteration on the A23 which I found greased up with smudges and fingerprints rather easily. Meanwhile, the matte finish of the A53 feels more high-end - especially combined with the matching metal side-rails. Both phones come in black, white, blue and peach (the A53 colours are actually all "Awesome" apparently). I really dig the (Awesome) white and silver combo my A53 review unit came in. After playing with a peach A23, I'm not as convinced this is the colour of the future.
As you can see from the pics, you're never short of cameras with either of these phones - both sporting quad-rear-facing arrays. Obviously, the details are in the fine print; camera quality is usually the primary differentiator between price brackets and although both devices offer main, ultra-wide, depth and macro cameras, the A53 absolutely slays its budget sibling in terms of hardware. For example; the main sensor on the A53 is 64MP while the A23's is good-but-not-great at 50MP.
The difference is even more stark when you flip the phones over; an impressive 32MP selfie-shooter VS just 8MP. And yet...
When using both devices the camera experience is quite similar. This is due to a basically identical operating system, Samsung's sublime One UI 4 - the same OS you'll find on even the tippy-toppiest Galaxy flagships. Obviously the raw picture quality suffers somewhat with the A23's less powerful cameras but in terms of effects, filters and other options, the camera app is just as user-friendly and consistent as ever. I'm not sure you want to be attending too many video meetings through the eyes of an 8MP selfie-cam but I certainly managed to click off a number of Instagrammable shots with the A23 - the inclusion of the depth-sensor makes for quite decent bokeh portraits.
Meanwhile, photos from the A53 were pretty decent all round. Some people (nerds) complain about Samsung's tendency to oversaturate the colours a little but when you're capturing a rainbow, surely you need a bit of colour?
The other big factor when considering how much to pay for a phone is processing power. (Well, it should be a factor, anyway - too many people don't really consider it and suffer buyers' remorse as a result). Here, there's no contest at all between the two devices and I'd argue the superior performance of the A53 is worth the extra $250 alone. Generally, other than when first powering up the A53, I found using it to be a snappy, smooth, reliable experience. Apps opened smartly, navigation was fluid and both the under-screen fingerprint sensor and face-unlock worked promptly and dependably.
On the other hand, I encountered many stutters and some crashes when pushing the A23 a bit harder. I also came up against a fingerprint problem. The A23's sensor is under the power button, on the side. Usually I actually prefer this kind of sensor - your thumb is generally already on it when you pick up the phone. But for some reason my A23 kept thinking I was trying to unlock it with my fingerprint when I wasn't even holding it - as a result disabling biometrics after the five failed attempts I hadn't actually made. We've all heard horror stories of people locking themselves out of their phones when they've forgotten their passwords so I quickly disabled the fingerprint login to avoid such a disaster.
Don't let me give you the impression the A23 is unusably slow and clunky; it's not as bad as all that. Its 6GB of RAM and 128GB of internal storage is certainly nothing to be sneezed at. It's just that the A53 works so well, it makes the A23 seem quite sluggish by comparison.
However, some comparisons slant slightly the other way; the A23's screen is just a smidge larger; 6.6-inches over 6.5 on the A53. Display quality isn't quite there - the A53 offers the extra smoothness of 120Hz Super AMOLED, although the A23's 90Hz FHD+ TFT screen is perfectly watchable too.
And while both phones sport healthy 5000mAh batteries, my impression was the A23 actually lasted quite a bit longer on a full charge - no doubt due to its less demanding graphics and processing requirements.
While neither phone charges wirelessly (that's actually a deal-breaker for me) the A53 does do fast charging. The more expensive phone also comes with an IP67 water and dust-resistance rating and has stereo support unlike the much tinnier-sounding mono speaker on the A23.
There are plenty of other, more subtle, hidden enhancements the A53 brings to the table that more than justify its higher asking price. In saying that, I've been surprised how similar it feels to use both these phones for my every-day requirements; playing podcasts in the car, listening to music via bluetooth earbuds, pairing with the Samsung Galaxy Watch4, checking emails, clicking off the odd pic here and there, tracking parcels, running my smart-home devices - all these things worked faultlessly on both phones. They both have a modern look to them, great battery life and large displays.
I guess the point is, rest assured there's probably a Galaxy A-Series to suit you. Did I help you decide which one? Maybe not. Sorry about that.
Click here for more information and pricing on the Samsung Galaxy A23.
Click here for more information and pricing on the Samsung Galaxy A53 5G.