SMART, BUT GOOD LOOKING TOO
Author

Publish Date

Tue, 12 May 2020, 5:38AM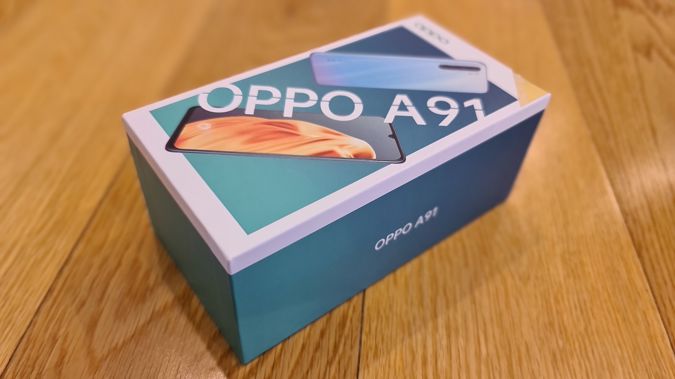 SMART, BUT GOOD LOOKING TOO
Author

Publish Date

Tue, 12 May 2020, 5:38AM
Sometimes I think the phone makers have lost the plot.

Just because you can put it in a phone, doesn't mean you should. Especially if your customers didn't even ask for it in the first place.

Right now there seems to be a crop of high-end handsets out there, so jammed full of extra tricks and features, not only are they priced way beyond most normal people's budgets but they're actually pretty darn ugly too.

Surely there's no point in owning a phone with more processing power than a lunar lander if it looks like a brick and doesn't even fit in your pocket...



The OPPO A91 might be the compromise you've been looking for.

The image above really doesn't do the A91 justice, because it's one of the prettiest phones I've used in a long time. Available in Blazing Blue or Lightening Black (no, that isn't a spelling mistake; the black is Lightening in colour, not lightning-like) Not only is the rear casing a gleaming, glowing, eye-catching work of art that seems to reflect light in about ten different ways, it's one of very few handsets I've come across that has a matching metal frame around the outside edge. So not only is the A91 comfortable to hold because of its curved sides at the back, it also looks much more colourful than many other phones.

It's light and it's slim as well. The 6.4" AMOLED display is plenty big enough for most users and yet, because of the high screen-to-body ratio, the whole device is no bigger than it has to be - even the quad-camera module on the back is as compact as it possibly can be. Instead of an unsightly, bulky, squarish collection of lenses, seemingly clamped onto the back of the phone as an afterthought, the A91's 48MP Ultra Wide Angle Macro Quad Camera is a skinny little row of sensors tucked neatly into the corner. Yes, it's still raised out from the back of the phone, although hardly noticeable if you're using the clear case that's included in the box.


These mid-range OPPO devices usually punch well above their weight in terms of camera performance, so I was keen to start snapping off a few pics with the A91. As I've come to expect, the on-board AI does an excellent job of identifying common scenes and objects, automatically adjusting the settings accordingly. Don't get too excited about the zoom capabilities as there's no telephoto lens here - OPPO's gone for a macro shooter instead. This means cool food and flower shots but distance shooting will get pretty grainy pretty quick.


What really impressed me were the shots from the 119 degree ultra-wide angle lens. OPPO has come up with a nifty little trick called Distortion Correction to keep the fishbowl effect of your wide shots to an absolute minimum. As you can see here, the light, detail and colour look great too.

As usual for an OPPO handset, it's the portrait and selfie shots where the A91 comes into its own. There are just so many options for bringing out the very best in any face - even mine. Not only can you choose to smooth skin (or not to) but you can target the shape of particular features like nose, eyes and chin. And that's before you get to the multitude of filters and other effects on hand to create genuinely stunning, Insta-ready pics in moments. There's also some pretty cunning anti-shake technology to keep your videos extra-steady and a lot of that AI beautification stuff works on the videos you shoot too.

But of course, a phone is more than just a pocket camera - even an OPPO phone. What other features does the A91 bring to the table?

The in-display fingerprint sensor is excellent - fast and reliable. This technology really seems to have come of age in 2020 and combined with tiny selfie-cam notches and gesture-based navigation, we should all now expect the high screen-to-body ratio the A91 offers.

The face unlock also works well, although only in portrait. Given many phone users are gaming or watching video more and more, I'd like to see greater emphasis on screen rotation. In fact, while the technical operation of the A91 was generally fast and smooth (as you'd expect with 8GB of RAM and 128GB of storage) the software experience feels a little old-fashioned. The home screen doesn't rotate into landscape, there's no native email app or browser and because ColorOS 6.1.2 is based on Android 9, not the latest version 10, recent features like Dark Mode just aren't there. Battery optimisation is also far too aggressive, with some push notifications going AWOL after a while and I had trouble keeping my Fitbit connected too. I'd like to be able to say I fixed these issues with a deep dive into the battery, app management and permissions settings but alas, the A91 was just plain determined to put some processes to sleep in the name of extending battery life.

The upside of that is that yes, you do indeed get great battery life - the 4025mAh battery sails through a long day with no issue and OPPO's VOOC Flash Charge 3.0 is some of the fastest charging technology in the business.

No wireless charging of course and no IP dust/water resistance either - those features are usually the first to go when making the mid-tier compromise. On the other hand, NFC and contactless payment are also often missing at this price point - but thankfully, given our current click and collect culture, paywave is an option on the A91.

If it's good camera and battery performance you're looking for and a genuinely pretty phone, the A91 fits the bill. It's light, thin but still offers solid, big screen performance with a fast and consistent in-display fingerprint reader. Plenty of RAM and storage - all that adds up to a lot of premium features for around $649... that's at least half the price of most high-end flagships with a lot more than half the functionality.


Click here for more information on the OPPO A91.