SMALL... IN ALL THE RIGHT WAYS
Author

Publish Date

Fri, 3 Apr 2020, 10:41AM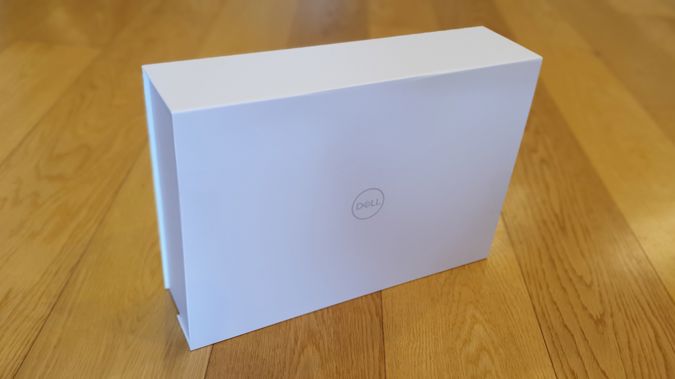 SMALL... IN ALL THE RIGHT WAYS
Author

Publish Date

Fri, 3 Apr 2020, 10:41AM
Once in a while I find myself reviewing a device with genuine "wow" factor.

Personally, the way I measure that isn't from my own impression but from the reactions of other people when they see me using it.

The latest little laptop from Dell definitely has "wow" factor. I know this, because people literally keep saying, "Wow. That's cool!"...

Yes, when I unboxed the Dell XPS 13 9300, even my cat wanted to know what the fuss was about. Who could blame her? Strikingly elegant from the outside in machined aluminium, a classy, matte finish that doesn't show fingerprints. Even more distinctive once opened, especially in arctic white, with the eye-catching woven glass-fibre palm rest.

The build quality here is genuinely first rate - despite how slim and light the device is, everything feels reassuringly solid, from the stability of the hinge mechanism to the rock-hard Corning Gorilla Glass 6 edge-to-edge touch panel.

That 13.4-inch screen really is something else. So unbelievably thin, yet with the most narrow bezels I've ever seen on a laptop. It truly deserves its InfinityEdge moniker, even the slightly wider bottom bezel is pretty much hidden by the offset hinge design. The touch operation is accurate and responsive but what has impressed me most is how non-reflective the screen now is, making the 9300 so much more usable in bright, outdoor or backlit conditions.

Colour, definition and clarity are wonderful. The 16:10 aspect ratio makes both media consumption and desktop productivity feel significantly less cramped than the 3:2 or 16:9 displays found on most other devices.
Because of those almost non-existent bezels, the whole laptop seems more like a much smaller, 11-inch notebook. That's not to say things feel cramped at all; like the screen, the keyboard also stretches right to the very edge. There's plenty of space for plenty of keys, including dedicated Home and End keys. Due to the taller aspect ratio of the screen, the corresponding lower half of the laptop has surprisingly ample palm rests (both UV and stain resistant) and a nice, big trackpad. There are three backlight settings to suit your preferences and there's also a power key that doubles as fingerprint reader for secure login. The sensor works very reliably and extremely quickly with one small drawback - the key is positioned where you'd find the Delete key on most other keyboards. This means I've accidentally turned the screen off a few times when I've been in the middle of typing something up. I'm sure I'll get used to it.

Especially given logging on and off is fast and efficient, either via that fingerprint reader or using the 720p Windows Hello camera for face unlock. The webcam is far from the best quality camera I've used on a laptop or tablet but it's perfectly adequate for video chats and most importantly of all, like most things on the 9300, it's tiny, taking up no extra space whatsoever on the top bezel.

The bottom-mounted, side-firing speakers are loud, rich and powerful, creating a fairly accurate listening environment for most media, although lacking full-on bass boom if you're watching something with a lot of explosions or listening to some EDM. There's a very comprehensive suite of both Dell and Intel sound and vision apps to tweak things the way you want. In fact, the sheer volume of pre-installed support software is probably a bit over-the-top; there are apps for updates, performance, device registrations, tips and tutorials... but it's not like you have to use them if you don't want to.

The configuration of XPS 13 9300 I'm using to write this on is pretty high end, to say the least. The 10th-gen IntelCore i7 CPU is teamed up with 16GB of RAM and a substantial (and fast) 512GB M.2 PCIe NVMe SSD. The integrated Intel Iris Plus graphics capabilities have now reached the point where anyone but the most fanatical gamers will be satisfied with the performance. To date, nothing I've thrown at this device has caused it to stutter, lag or even hiccup. Audio and video editing, streaming, gaming... everything performs admirably, which is of course what you should expect from a $4000+ laptop.
Some people complain about the lack of connectivity options; there are just two Thunderbolt 3 ports, a microSD card reader and a headphone jack. But bear in mind, Thunderbolt means versatility - charging, external displays, fast transfer speeds - and there's a Type-C to USB-A adapter in the box. These days, so many of my peripherals connect wirelessly, either via WiFi or bluetooth, my lack-of-port-anxiety levels have definitely plummeted.

What I will complain about - and it's perhaps my only complaint - is battery life. I know it takes a lot of power to run a 4K display and I know there are all kinds of things I can do to the settings to conserve battery consumption but here's the thing; I don't want to. If I've paid over four grand for my laptop I want my 4K and I want it to last all day. Unfortunately, while I do get several hours use from a full charge, I certainly wouldn't risk being out on the road without the 9300's power adapter. Even more unfortunately, it does not charge particularly quickly, although I appreciate the flexibility of having Thunderbolt ports on both sides so the cable is always out of the way, wherever you need to plug in.

Given none of us are about to embark on much long-haul travel any time soon, that kind of extended-life battery use is perhaps less of a concern at the present time. Oh well.

I've been using the XPS 13 9300 for a while now. In fact, I keep trying to find more excuses to use it. That's because the more I use it, the more I like it. It has more than enough processing and graphics power for anything I need. The display is perhaps the best I've seen on a laptop to date and the design touches like woven white glass-fibre palm rests are just so damn cool. Taking all that awesomeness into account, I can definitely forgive the average (not actually bad) battery performance.

Overall, the 9300 feels like a reliable, high-performance, future-proofed device that looks pretty classy with it. Small in size, but big on "Wow!"


Click here for more information and pricing on the Dell XPS 13 9300 laptop.